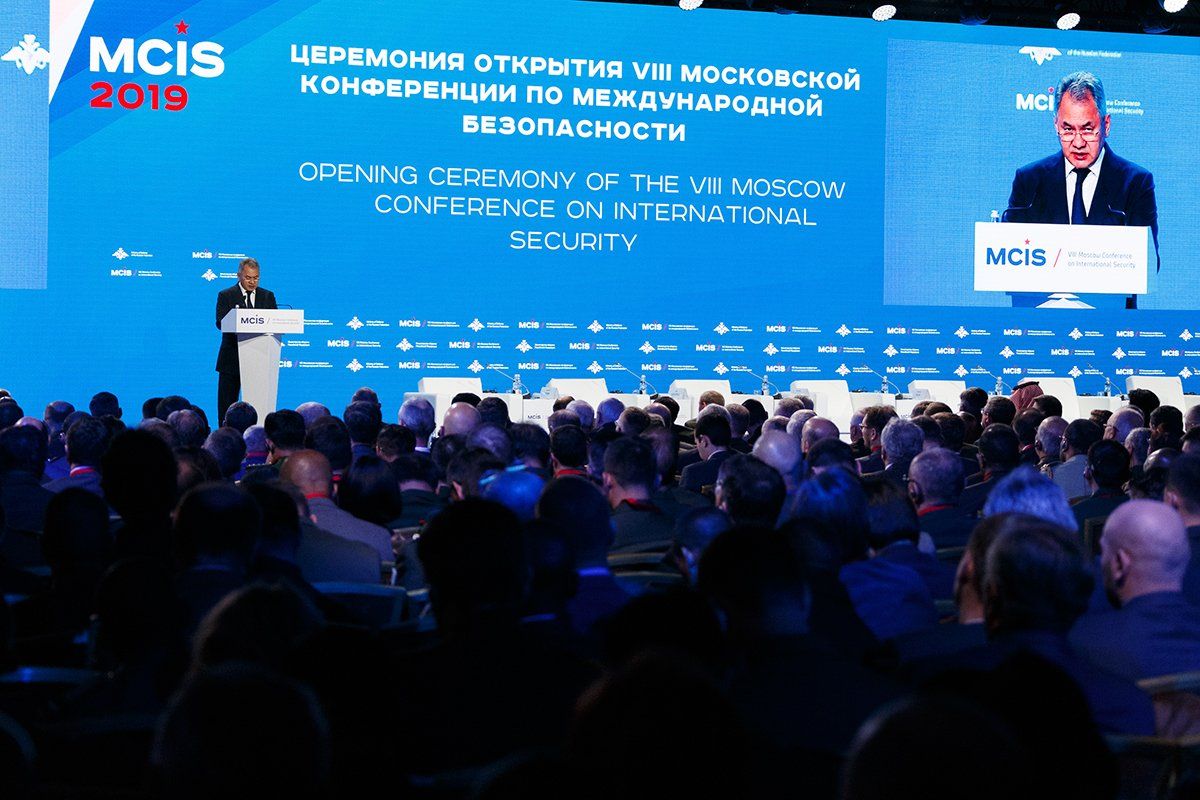 Russia's leading defense officials have warned of growing conflict around the world and argued that the United States was the source of deteriorating global security.
Speaking at the Eighth Moscow Conference on International Security, Russian Defense Minister Sergei Shoigu argued that "the top trend of the current moment is the accumulation of potential conflict in various regions of the world." He said that "frozen conflicts are being activated" and "new centers of potential armed confrontation are being formed, many of which are initiated from outside."
"There are still combat operations in Yemen. Conflict in Libya is entering a new phase. Tensions remain in Syria and Iraq. Terrorist groups are becoming more active in Africa. The western part of this continent is leading in the number of hijacked vessels seized by pirates," Shoigu added, also claiming that "steps are being taken to push neocolonial interference in the domestic affairs of sovereign states," including in Afghanistan and Southeast Asia.
He then called out the U.S. by name. Shoigu specifically criticized Washington's decision to leave bilateral arms control agreements such as the Intermediate-Range Nuclear Forces (INF) treaty in February and the Anti-Ballistic Missile (ABM) treaty in 2002, a move he said "was aimed at undermining the deterrence potential of Russia and China."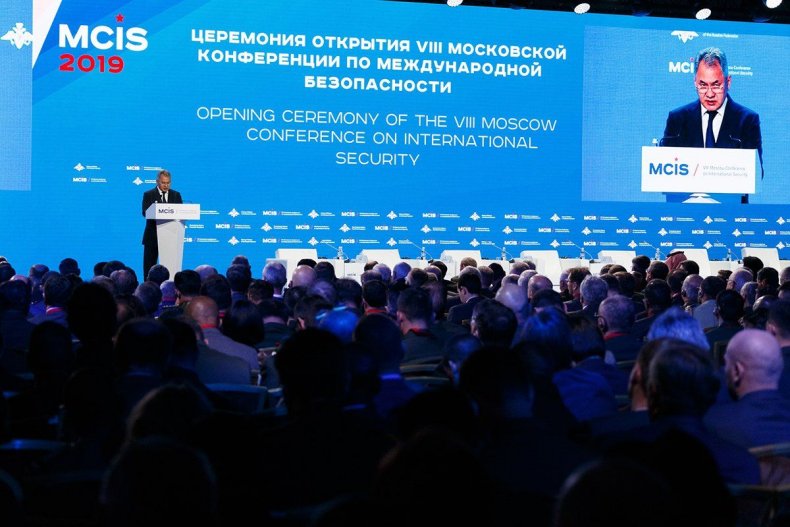 During a March 2018 interview with NBC News, Russian President Vladimir Putin referred to former President George W. Bush's exit from the 1972 ABM as "exactly the time and moment" that an "arms race" began between the two top military powers. With the subsequent U.S. suspension of the INF, the Russian leader has threatened to target not only any once-banned missile systems ranging from 310 to 3,420 miles in Europe but their "command centers" in the U.S. as well.
Russian officials have also sought to pressure Washington into starting talks to renew another nonproliferation deal, the New Strategic Arms Reduction Treaty (START), that limits their nuclear arsenals. Secretary of State Mike Pompeo told Congress earlier this month that President Donald Trump was interested in launching preliminary talks to extend a treaty slated to expire next year, but—as with the other failing agreements—the two rivals have struggled to find common ground for discussions.
In addition to squabbling over missiles and nuclear weapons, the U.S. and Russia were attempting to advance clashing foreign interests in regions such as Africa, Europe, the Middle East and other parts of Asia. The two supported rival factions in conflicts in Syria and eastern Ukraine, which was located near the tense border that separated Russia from members of the U.S.-led NATO Western military alliance.
Thousands of miles away in Latin America, Moscow has backed Venezuelan President Nicolás Maduro against U.S.-led attempts to oust him in favor of parliament speaker Juan Guaidó, creating yet another international standoff that has reinforced both the U.S. and Russia's view of one another as a foe.
"It is noteworthy that in order to justify their policies, Western countries classify the Russian Federation as a threat to national and coalition security," Valery Gerasimov, the chief of the Russian military's general staff, told the Moscow conference on Wednesday. "This serves as a strong argument for justifying the unleashed arms race and contributes to the deterioration of Russian-American and Russian-NATO relations, which are already at the lowest level in history."
"The internal political struggle in the United States disallows an opportunity to start a constructive dialogue between Moscow and Washington, provokes the development of anti-Russian hysteria and returns the world back to the Cold War era of confrontation," Gerasimov added, also warning of a "new missile arms race" should the pair prove unable to strike new nonproliferation accords.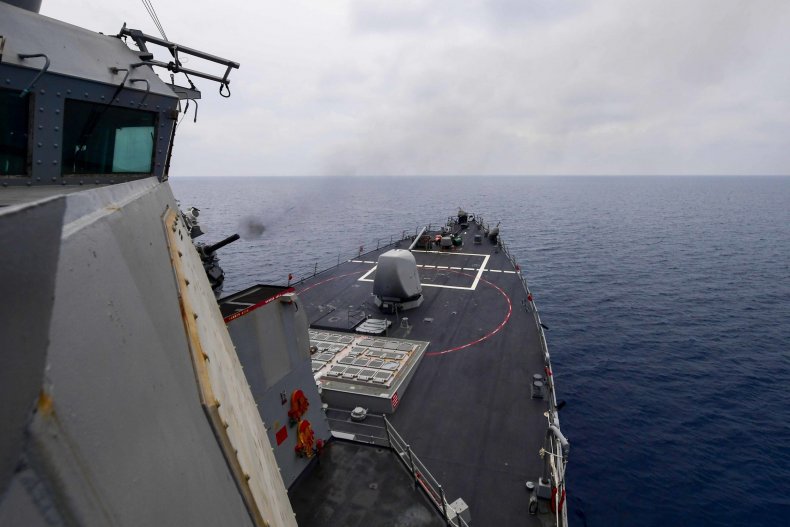 The U.S. has arguably been the world's sole superpower since the collapse of the Soviet Union in the early 1990s, but Putin has sought to challenge this title by developing state-of-the-art weapons such as new cruise and hypersonic missiles said capable of defying even the most advanced defenses. Meanwhile, the Pentagon has flexed its yet-unrivaled global reach with U.S. ambassador to Russia John Huntsman joining a dual aircraft carrier strike group Tuesday in the Mediterranean Sea.
"Each of the carriers operating in the Mediterranean at this time represent 100,000 tons of international diplomacy," Huntsman said, according to a Navy press release. "Diplomatic communication and dialogue coupled with the strong defense these ships provide demonstrate to Russia that if it truly seeks better relations with the United States, it must cease its destabilizing activities around the world."
The Mediterranean was one of many regions in which Moscow has been expanding its influence, but it was not alone. Iran joined Russia in investing in Syria's west coast, as did China, which has already bought into ports across the lucrative region. All three of these countries have expressed an interest in developing a more multipolar world order and were among those present at Wednesday's conference.
Russian Deputy Defense Minister Alexander Fomin told Moscow-based newspaper Argumenty i Fakty earlier this month that representatives of the U.S. and NATO were invited to attend the annual event but declined.