China Claims Record Communist Party Members As Xi Jinping Eyes Centennial
The Communist Party of China says it is the world's "largest Marxist ruling party" after revealing membership figures of nearly 92 million ahead of this summer's crucial centennial.
Senior members of the party's Central Committee addressed the press from Beijing on Tuesday as they marked the 100-day countdown to the symbolic celebrations on July 1.
However, unlike past celebrations to observe important anniversaries, there will be no military parade on Tiananmen Square for the milestone. Instead, each member of the party and the People's Liberation Army will be taught loyalty to party ideology and their leader, Xi Jinping.
Card-carrying party members numbered at 91.91 million as of December 2019, an increase of 1.32 million from the year before, said Wang Xiaohui, deputy head of China's Publicity Department.
As the "largest Marxist ruling party in the world," Wang said, the Chinese Communist Party would be celebrated by performances, exhibitions, seminars and symposiums. There would also be a party-wide campaign to learn the party's history, including prominent figures and their teachings.
The 100th anniversary will emphasize the "historic achievements" China has accomplished under Xi after he became the country's leader in 2012, officials said.
The Communist Party chairman will also hand out commemorative medals to "outstanding" members, as well as card-carrying individuals who have been in the party for over 50 years.
The PLA and its more than 2 million active troops will celebrate the occasion at their stations but will be drilled in absolute loyalty to Xi, said Li Jun, who is with the Central Military Commission's Department of Political Work.
The campaign will teach soldiers to be "loyal to the core," Li added, with a focus on the ideologies of Xi Jinping Thought.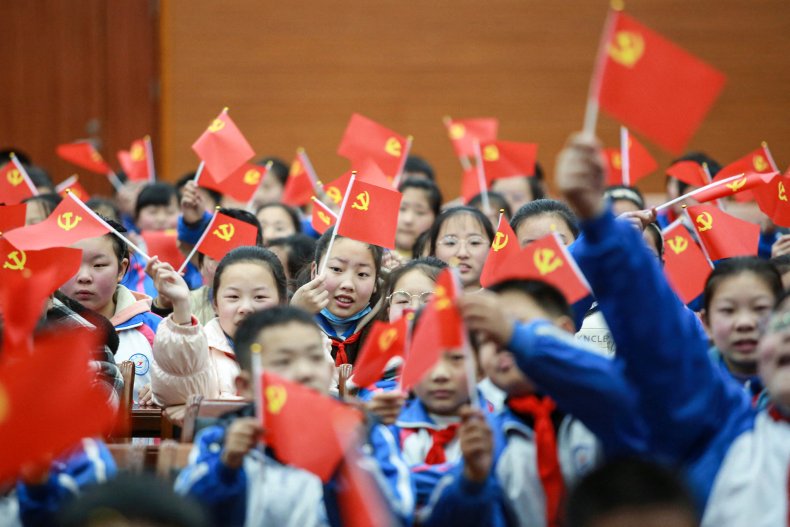 Overseeing the party's centennial is crucial to Xi, who is hoping to secure a historic third term next year, analysts say.
As he prepares for leadership challenges from other factions, the party is highlighting significant achievements—such as last year's claim it had eradicated absolute poverty in China.
Some observers believe China's more bullish attitude to international relations is also linked to Xi's chairmanship ambitions in 2022, when he may have to compete with more hawkish challengers.
According to China watchers, Xi is casting his eyes on two other milestones as part of his legacy: the 100th anniversary of the People's Liberation Army in 2027 and 100 years of the People's Republic of China in 2049.
China's more than 90 million Communist Party members were hit with visa sanctions in the final weeks of the Trump administration last December.
Accusing the party of "malign influence," including propaganda and espionage campaigns on U.S. soil, the State Department restricted B1/B2 non-immigrant business and tourist visas for party members and their family to one month from 10 years.