China vs. Elon Musk: Scientists Develop Plan to Destroy Starlink Satellites
A team of Chinese researchers has reportedly published a study calling for anti-satellite capabilities that could disable Elon Musk's Starlink satellites if deemed necessary.
The study was led by Ren Yuanzhen, a researcher with the Beijing Institute of Tracking and Telecommunications, and co-authored by scientists within China's defense industry according to the South China Morning Post, which has seen the publication.
The study is said to call for "a combination of soft and hard kill methods" that could be used to stop some Starlink satellites from working.
Starlink is a satellite internet network developed by Musk's company SpaceX. It involves thousands of small satellites in low-Earth orbit that beam down an internet connection to paying customers.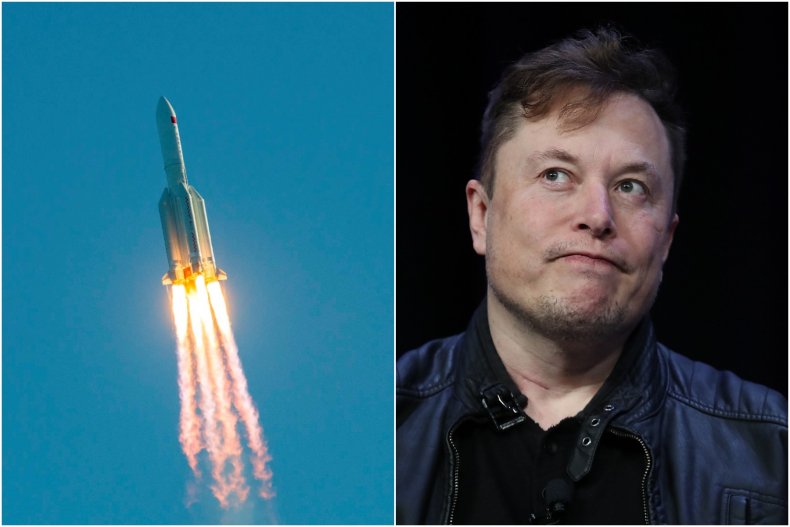 One concern amongst the scientists was that the Starlink network could be used to vastly increase the data transmission speed of U.S. military vehicles like fighter jets.
It's not clear exactly what methods could be used, though the study notes that the approach should be "low-cost, high-efficiency" and that the whole network is a problem rather than individual satellites, South China Morning Post reported.
This could mean that a missile-based approach may be unlikely, considering Starlink is composed of thousands of small satellites, and using missiles to destroy them all would almost certainly not be low-cost or high-efficiency. Thus, lasers, microwave technology, or even smaller satellites could be used to defend Chinese interests.
Newsweek contacted SpaceX ahead of publication and did not receive a response.
Dimitrios Stroikos, an expert in the politics of outer space at the London School of Economics and Political Science, told Newsweek: "There is [a] wide range of destructive and non-destructive counterspace capabilities that in theory China could develop and use to do this, including direct-ascent ASAT attacks, co-orbital ASAT attacks, electronic attacks like jamming and spoofing, directed energy like lasers, and cyber attacks.
"However, given that Starlink is a constellation of thousands of satellites, this means that it is resilient and harder to disrupt its services.
"Chinese concerns about SpaceX posing a national security threat are compounded by the recent role of SpaceX in providing high-speed internet services in Ukraine, which has highlighted the potential geopolitical importance of the commercial sector in conflict zones or regions where accessing internet is under control.
"In any case, although the recent Chinese study is important, it is not surprising in the current geopolitical context of space activities. But it should be seen for what it is: a proposal. It should not be seen as part of China's current space strategy."
While Starlink has commercial users it has also been put to military use, pushing data across the U.S. Army network at a faster rate than previously capable.
This military capability, plus the fact that SpaceX has launched more than 2,650 satellites into space in just a few years and aims to launch thousands more, has led to concerns among countries with which the U.S. has political tensions.
Earlier this month, Dmitry Rogozin, head of Russia's Roscosmos space agency, apparently sent a threat to SpaceX CEO Elon Musk after Starlink technology was supplied to Ukraine and used to help Ukrainian forces against Russia in the countries' ongoing war.
According to an English translation posted by Musk, Rogozin said that Musk was involved in supplying Ukraine with "military communication equipment" and that he would "be held accountable like an adult."
In addition, China last year wrote to the U.N. General Assembly Committee on the Peaceful Uses of Outer Space to report that its national space station had to carry out collision avoidance maneuvers after "close encounters" with Starlink satellites on July 1 and October 21 last year.
Update, 05/27/22, 4:46 a.m. ET: This article was updated to clarify that Newsweek had contacted SpaceX for comment.
Update, 06/09/22, 11:28 a.m. ET: This article was updated to include a comment by Dimitrios Stroikos.