Elon Musk Jokes He May Die After Twitter Row With Russia's Dmitry Rogozin
Elon Musk tweeted "it's been nice knowing ya" after he appeared to be threatened by Dmitry Rogozin, head of Russia's space agency Roscosmos.
Musk, the multi-billionaire boss of Tesla and SpaceX, took to Twitter on Monday to publish a screenshot of what he said was a statement attributed to Rogozin and sent to Russian media outlets.
The alleged statement described how Russian forces had learned from captured Ukrainian military commander Colonel Dmitry Kormyankov that Ukrainian soldiers were making use of SpaceX's Starlink satellite internet system by using equipment that had been delivered to them via military helicopters sent by the Pentagon.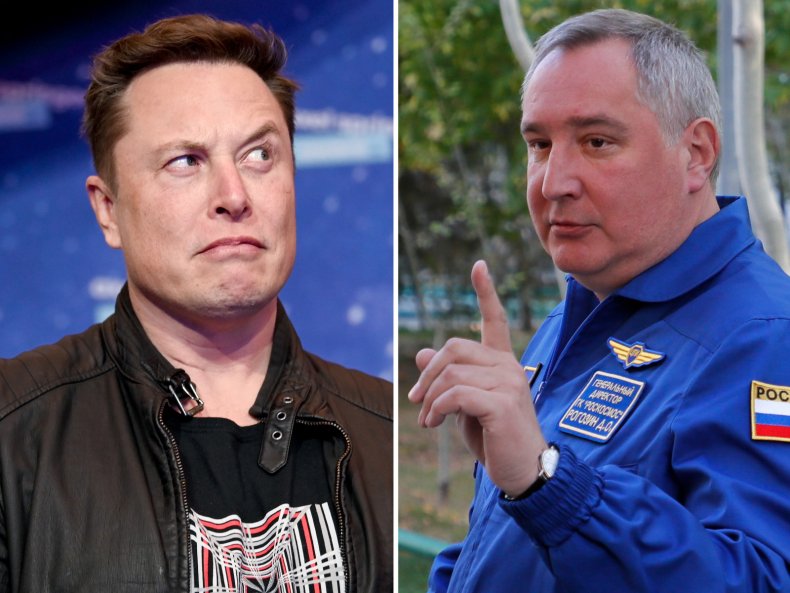 "Elon Musk, thus, is involved in supplying the fascist forces in Ukraine with military communication equipment," the statement read. "And for this, Elon, you will be held accountable like an adult—no matter how much you'll play the fool."
Newsweek was unable to independently verify the statement attributed to Rogozin. The statement did not provide any details on what being "held accountable" would mean.
In a subsequent tweet, Musk wrote: "If I die under mysterious circumstances, it's been nice knowin ya."
A few hours later on Monday morning, Rogozin tweeted Musk directly in response, writing, translated from Russian: "No one needs you. Stop fooling around."
He accused Musk of supplying military communication equipment to Ukrainian forces, whom he labeled as "nazis", and added: "Think, Elon, which side are you on?"
Russia appears to have been aware of SpaceX's assistance to Ukraine via Starlink for some time. SpaceX has reportedly sent millions of dollars worth of the satellite internet equipment to Ukraine so that people there can continue to access the web despite communication disruptions, and Russia has attempted to hack the service.
Dave Tremper, director of electronic warfare for the Office of the Secretary of Defense, praised Starlink's efforts to repel such attacks during a C4ISRNet defense conference last month, stating that the company had "slung a line of code and fixed it".
Rogozin, a hardline supporter of Russian President Vladimir Putin and his regime, has repeatedly made provocative statements throughout Russia's internationally-condemned ongoing military invasion of Ukraine.
Some of Rogozin's threats have included taking Russia out of the International Space Station partnership and creating another, military-focused space station. Experts have told Newsweek that such ambitious space threats are unrealistic and that it would be impossible for Russia to achieve significant advances in space currently given the country's financial situation and political isolation.