Russia's lofty space ambitions, which include a Mars mission and an independent space station, have a "zero percent" chance of success under Vladimir Putin, former NASA astronaut Scott Kelly has said.
Russia has been left increasingly isolated from the rest of the world after its widely-condemned invasion of Ukraine, which has been ongoing for more than two months, and its space program is likely to have been affected too.
Shortly after Russia launched its invasion in February, President Joe Biden announced U.S. sanctions that he said would, among other things, "degrade their aerospace industry, including their space program."
Russia has also taken action to distance itself from other nations including cutting off rocket engine supplies to the U.S. and suspending research cooperation with Germany on the International Space Station (ISS).
Yet the country's Roscosmos space program boss Dmitry Rogozin has given the impression that he is undeterred by these developments.
When the European Space Agency confirmed it was suspending its ExoMars rover mission with Roscosmos, Rogozin said Russia would carry on developing a Mars research mission alone.
When the backlash against Russia persisted following the war in Ukraine, he said that not only would Russia be continuing with plans for its own Russian Orbital Service Station but that it might have an "applied-military" purpose, according to Russia's state-owned TASS news agency.
Scott Kelly, a former commander of the ISS, who has been an outspoken critic of Rogozin and of Russia's invasion of Ukraine via his popular Twitter account, told Newsweek that Rogozin's ambitions are not grounded in reality.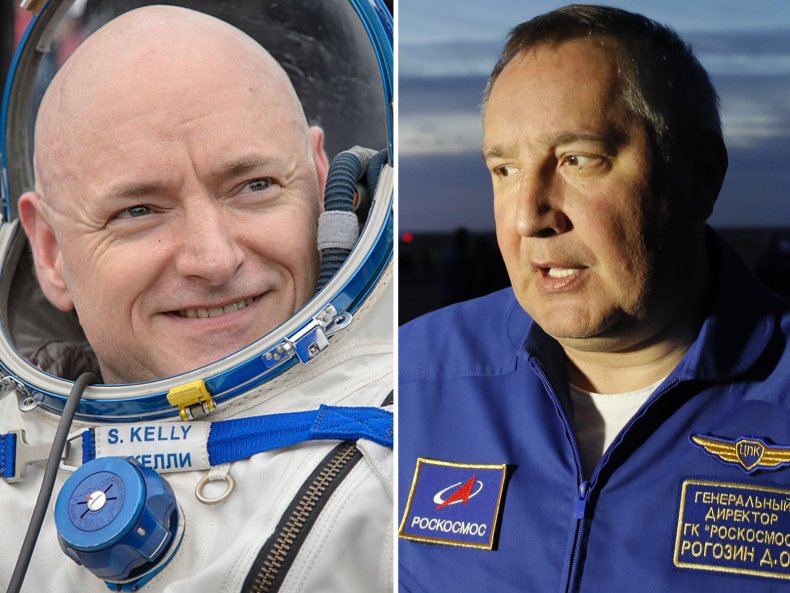 "I'm pretty sure there's probably a 0 percent chance of this being successful," he said, in reference to Russia's Mars plans. "They don't have any money. You know, it's expensive.
"They also are not that sophisticated as a spacefaring nation. I mean, they've got one thing that works well that can launch three people into space and bring them home pretty reliably… that's about it," he said. "And you need a lot more than that to go to the moon or go to Mars. Particularly, you need the money. So the future of their space program, as a result of Putin's invasion of Ukraine, is pretty bleak."
Kelly added that he hoped that the U.S. and Russia can continue cooperation through the lifetime of the ISS; the two countries are key partners in continuing its operation and Kelly described Russia as "critical and important there". For one thing, Russian technology is responsible for ensuring the station stays in its desired orbit.
"Having said that, once the International Space Station is over, whether it's due to them leaving or us getting to the natural end of its lifetime in 2030 perhaps, I don't see us ever cooperating with them again ever under Putin," Kelly said. "Now, if there was a complete change in their government and their philosophy and how they behave on the international stage, maybe, but I just don't see it happening. So I think their space program's future is very, very bleak."
On April 22, Roscosmos announced that it intends to develop manned space flights in cooperation with China, according to TASS. Earlier, Rogozin had suggested that Russia and China could construct joint modules on China's Tiangong space station, which is already under construction in space.