China Irked by U.S. Medal Table Ranking as Country Leads in Golds
Chinese fans and commentators have taken to social media to complain about the common U.S. news media practice of tabulating Olympic medals by total instead of class, which leaves China in second place, despite winning seven more golds than Team USA.
The American ranking system, which appears to have been consistent throughout past tournaments, has the U.S. at the top of the chart with 79 total medals, followed by China and Russia with 70 and 53 medals, respectively.
The counting method has annoyed some followers of the Tokyo 2020 Olympics, including in China, where social media users are accusing U.S. news outlets of bias and being deliberately spiteful.
More complaints emerged online after Chinese gymnasts Guan Chenchen and Tang Xijing edged out Simone Biles to clinch gold and silver at the Women's Balance beam event on Tuesday. China's gold count currently stands at 32, with Team USA second with 25, and host nation Japan third with 21.
The U.S. medal table appears not only unconventional when compared to the rest of the world, but also fails to align with the International Olympic Committee, which ranks countries by gold medals, but has an option to sort by total as well.
The graphic below, provided by Statista, illustrates the Tokyo Olympics medal table as of August 4, 2021.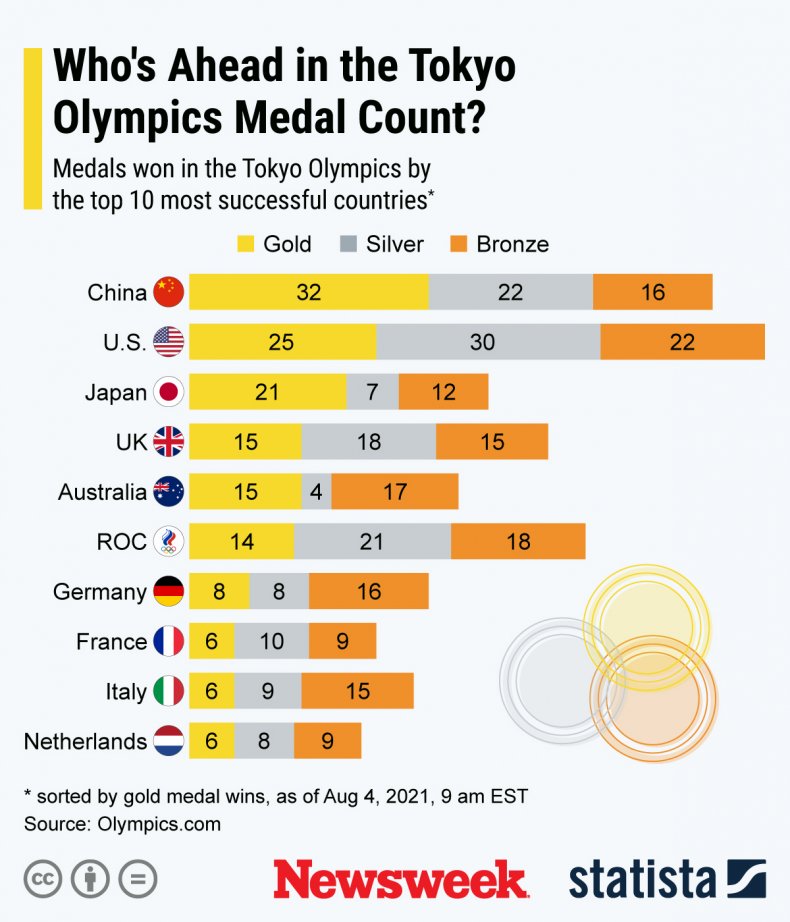 However, the American tabulation method is not only common—currently used by NBC, Yahoo Sports and and the Washington Post, among others—its use is also not reserved to U.S. media only. The U.S. Olympic and Paralympic Committee counts total medals, too.
The British Olympic Association—or Team GB—by contrast, follows IOC methodology.
The New York Times, which displays both types of medal charts on its website, addresses the topic saying: "As of Wednesday at 7:30 a.m. Eastern time, China stood atop the official Olympic medal table, which sorts nations based on their number of gold medals. That's how much of the world does it, using silver and bronze only to break ties."
"By another measure, the United States leads because it has the most medals overall (77, at last count). Publications in the U.S., including The New York Times, often take this approach," the paper added.
The controversy over whether to rank the Olympic medal table by golds or total has a long history. The IOC has no official policy, but its 'gold-first' method has been adopted almost universally across the world, except in the U.S.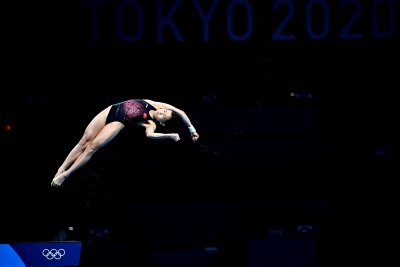 The U.S. method of total medals goes back a long way—it predates the 2008 Olympics, but it was the Beijing Games where the table became an issue.
China won 48 gold medals, and 100 overall. The U.S. won 36 golds, but 112 medals overall.
Having the U.S. topping the table in the American media while the hosts and the rest of the world acknowledged China's supremacy created something of a stir, with headlines such as "America refuses to accept defeat in Olympic medal count" and "USA accused of medal table spin."
It's not just the U.S., though, that prioritizes total medals. Russia was also keen on that method, as it would have placed the country second at Athens 2004, above China, rather than in third.
Press reports from 2008 quoted Russia's Olympic committee spokesperson saying ranking countries by the number of golds instead of total medals was "a stupid idea."
However, several Russian media providers are currently using the gold-first method, which puts the Russian athletes in sixth place, despite having the third-highest total medals.
What is of more practical concern is money—many countries prioritize funding for sports on the potential for getting gold medals.
While China and the U.S. may come away with differing views on who "won" the Tokyo Games, the true winners and losers will be athletes in other countries who may not get the financial support if their medal hopes are looking like silver and bronze, and not the allure of gold.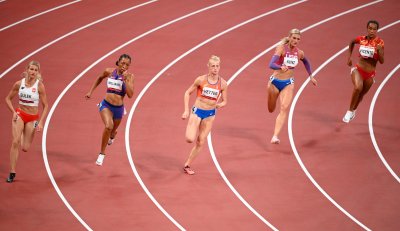 China's present medal count of 32 gold, 21 silver and 16 bronze means Tokyo 2020 is the nation's best-ever Olympic performance away from home. It also won 32 golds in Athens 2004, but it secured fewer of the other two medal classes.
While the remaining events in Japan are unlikely to see China reach the 48-gold high of Beijing 2008, fans at home are still anticipating at least a handful of first-place finishes before the Games end this coming Sunday, August 8.
The most likely wins will come in the table tennis women's and men's team finals. China also is still in the race for the women's 20-kilometer walk, women's 10-kilometer marathon swimming, women's pole vault, women's boxing, 125-kilogram men's freestyle wrestling and more.
It has been a high-pressure Olympic Games for Chinese athletes, who carry immense amounts of pressure into every event and after each loss or even win.
Western news outlets covering China's performances at the competition have also been accused of deliberately selecting "ugly" photos of its Olympians.
Update 8/4/21, 13:05 p.m. ET: This article was updated to include an infographic.