China's Olympians Hounded by Ultranationalistic Fans for Failing to Win Gold
China's Olympic athletes have found themselves under an extra layer of pressure in Tokyo as even the nation's medal-winning athletes are subjected to intense scrutiny and ruthless abuse by ultranationalistic fans at home.
China's rising nationalism—often generated by the government and fanned by state-owned media—has accompanied the country's rapid growth in the past decade, and it has proved to be a double-edged sword, raising concerns among the public.
The wave of national pride sweeping through China's online community during the Summer Games in Japan helped propel some Olympians to victory, but others who fell short at the last hurdle have been branded failures.
None has felt the backlash on Weibo like Li Junhui and Liu Yuchen, the country's badminton silver medalists who lost the men's doubles finals to Taiwan's Lee Yang and Wang Chi-lin on Sunday.
The social media service has more than 500 million active monthly users, tens of thousands of whom hounded the pair following their performance, which was described as "weak," "rubbish" and "the worst loss in [the nation's] history."
Li and Liu Yuchen—ranked fourth in the world—"lacked spirit," one commentator wrote, despite the teammates making it to the event final and winning silver. "Losing is allowed, but losing in such a hopeless way cannot be tolerated," another added, after the pair went down two consecutive sets to lose the match.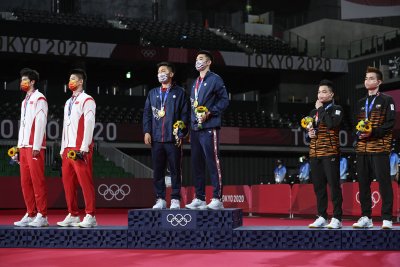 Days earlier, after China's Liu Shiwen and her partner Xu Xin lost the table tennis mixed doubles finals to Jun Mizutani and Mima Ito of Japan, Liu Shiwen bowed on national television and offered a tearful apology for failing to meet the country's expectations.
The pair, who are ranked third in the world, were subjected to similar abuse, partly for failing to bag gold in China's specialist event.
There exists a pattern to Chinese ultranationalism that also is heavily dependent on the opponent. The losses to Japan and Taiwan, two countries with a long history of strained tensions with China, appeared to trigger bigger backlashes.
On Weibo, social media users openly mocked the Japanese and Taiwanese athletes. After their victories, the abuse reached their Instagram and Facebook feeds.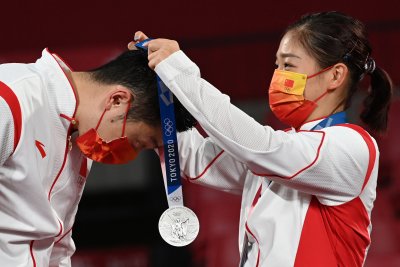 By contrast, Chen Qingchen and Jia Yifan, who lost the badminton women's doubles finals to Indonesia's Apriyani Rahayu and Greysia Polii on Monday, appeared to get off easy.
But the scrutiny follows China's successful athletes off the field, too.
After sport shooter Yang Qian won gold in the women's 10-meter air rifle event on July 24, Weibo users dug up an eight-month-old social media post in which she shared her Nike sneaker collection. The brand has been the subject of an ongoing boycott in the country since March over its commitment not to use what it deems to be cotton sourced by forced labor in Xinjiang.
Yang was dubbed "unpatriotic" for owning clothing from the American company. The 21-year-old won another gold in the mixed 10-meter air rifle final three days later, but not before deleting the Weibo post in question.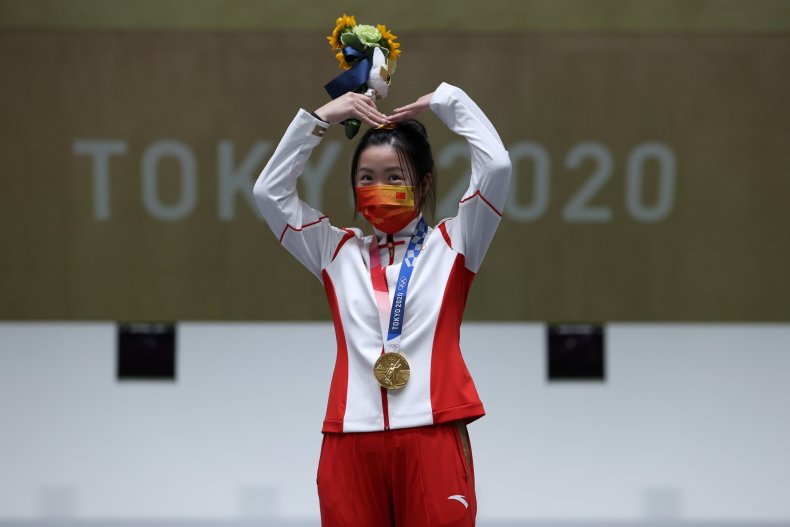 On July 25, Weibo said it had suspended the accounts of 33 users over online abuse directed at Yang's teammate, Wang Luyao. The 23-year-old had placed 18th in the 10-meter air rifle event a day earlier, failing to reach the final.
Wang posted a selfie admitting to a subpar performance and added: "See you in three years." She later deleted the picture following a torrent of abusive comments.
"You're the first athlete in history to lose, admit you did poorly and then post a selfie. You don't seem like a professional athlete. And you're using taxpayers' money to train and compete. It pays to be pretty. Look at how many brainless fans you've gained," one user wrote.
Another added: "What you meant to say is: I've failed the party and the people. I tried my best and will keep trying. See you in three years."
Many Weibo users have expressed shock at the amount of abuse directed at the country's top sportspeople. Observers predict the phenomenon will continue into the 2022 Beijing Winter Olympics.
"What's happened to China?" one Weibo netizen asked. "Whether it be the floods or the Olympics, when everyone is singing to the patriotic tune, no other voices are allowed, otherwise your entire family will be abused. I'm Chinese, but I'm also a person capable of independent thought."