China Laughs as U.S. Tries to Stop Italy From Joining One Belt, One Road Plan
China dismissed U.S. attempts to discourage Italy from joining a growing number of nations looking to do business with Beijing as part of the global One Belt, One Road initiative.
Chinese President Xi Jinping devised the campaign as a way to expand the country's international economic footprint, investing in infrastructure, resources and construction around the world. In what may be the latest venture, Italy was reportedly considering signing a memorandum of understanding to become a part of the One Belt, One Road. The U.S., however, viewed the project as a threat to its own portfolio and attempted to dissuade countries from accepting China's money.
"This position taken by the U.S. side is laughable," Chinese Foreign Ministry spokesperson Lu Kang told a press briefing Friday, as translated by the Hong Kong-based South China Morning Post. "As a major country, Italy knows exactly what policies serve its own interests and it can make its decisions independently."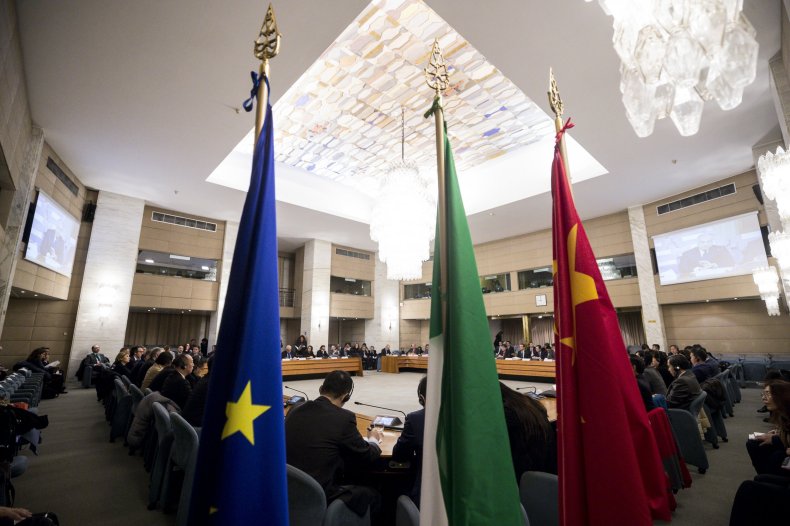 The remarks came after a slew of statements from Washington warning Rome that deals with Beijing were too good to be true and would come at a much higher price than anticipated. Financial Times cited White House National Security Council spokesperson Garret Marquis as calling the One Belt, One Road initiative a "made by China, for China" plan Tuesday, and said the U.S. was "skeptical that the Italian government's endorsement will bring any sustained economic benefits to the Italian people."
The outlet also cited Italian Ministry of Economic Development Undersecretary of State Michele Geraci as having said, "The negotiation is not over yet, but it is possible that it will be concluded in time for [Xi's] visit" later this month. He added: "We want to make sure that 'Made in Italy' products can have more success in terms of export volume to China, which is the fastest-growing market in the world."
The following day, Geraci told The New York Times that, though officials were still not "100 percent sure" of the decision, "there is a likely, good probability" of it going through. He noted Italy's proximity to Africa, a foreign policy priority for China and the venue for billions of dollars' worth of projects being undertaken as part of the One Belt, One Road plan. Geraci told the newspaper that Italy was "more able than others to spot any risks" associated with such trade, and was "in no way tilting the geopolitical axis."
The U.S., however, felt otherwise. After a tumultuous year for ties between President Donald Trump and Xi, whose nations launched a trade war that cost both nations billions, Washington has remained suspicious of Beijing's intentions. On Monday, Secretary of State Mike Pompeo claimed other governments shared the U.S. point of view as Chinese companies "show up with products that aren't world-class, with Chinese labor and an enormous debt package which is almost certainly designed for foreclosure."
"I think too America sat still for too long," he added, speaking to the Iowa Farm Bureau. "We didn't respond to this economic activity, and we're determined to do it. And so you're now seeing American businesses, American diplomats showing up in these conversations, making sure that there's a fact-based discussion about what's really taking place and how it is the case that there are better alternatives than doing some of these deals with China."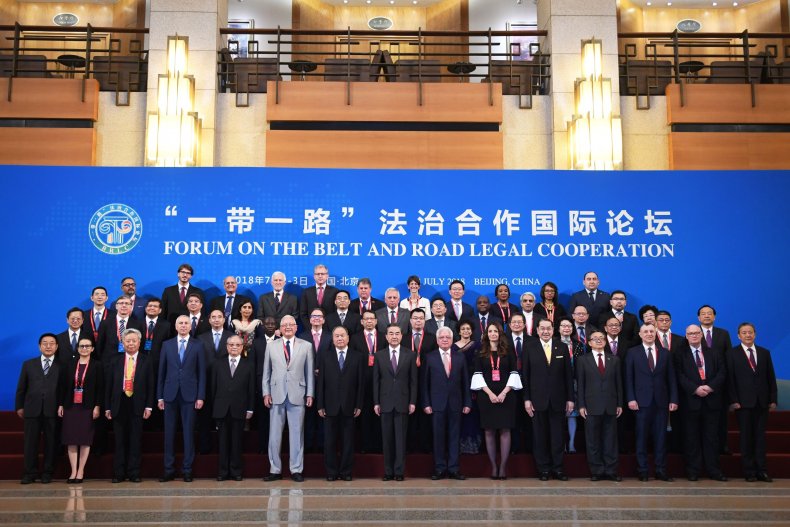 While Italy would be the first G7 nation to join the One Belt, One Road framework, other European Union countries, such as Greece and Portugal, have already signed on to some of the Chinese initiative's project, as have Serbia and other prospective E.U. states in the region, as Deutsche Welles reported Friday. Still, Germany and the E.U. have cautioned against potential Chinese intervention on the continent's internal affairs.
China has remained vigilant, however, in building bridges abroad—both literally and diplomatically. In October, Beijing and Rome formed a joint working group and the two countries came together again in January for the ninth Italy-China Government Committee, during which Chinese Foreign Minister Wang Yi told his Italian counterpart, "China and Italy have respectively become the birthplaces of Eastern and Western civilizations" and "have had a tradition of friendly exchanges," according to a readout published by the Chinese Foreign Ministry.
"Italy is a natural partner in building the One Belt, One Road," the readout continued. "China welcomes Italy to actively participate in the 'Belt and Road' cooperation to benefit the two peoples and jointly promote the interconnection and common development of the Asia-Europe continent."