China Is Learning Lessons From West's United Response to Russia
China is watching the West's collective response to Russia's invasion of Ukraine and is learning lessons that may change its own calculations as it seeks to annex Taiwan, according to senior officials in Washington and London.
When the threat of economic sanctions failed to deter Vladimir Putin and the first of Russia's 150,000 troops began pouring into Ukrainian territory on February 24, Taiwan became a trending topic as observers feared China's President Xi Jinping would be emboldened to make good on his vow to capture the democratic island of 23.5 million people.
However, as Putin's forces failed to achieve their blitzkrieg goals and the war entered its second week, the thinking changed. Ukraine's leaders remained in Kyiv; its armed forces fought back and ordinary civilians joined the resistance. A galvanized NATO and the early effects of the West's unprecedented punishment on Russia's economy began to give China watchers pause.
Taiwan's Foreign Minister Joseph Wu called the Ukrainian resistance an inspiration for the Taiwanese people. Taipei joined several Asian governments in imposing export controls on Russia and landed on Moscow's list of "unfriendly" countries this week.
Russia's forces continue their march toward Ukraine's capital and may eventually achieve their military objectives even as political goals—regime change and the submission of its public—remain out of reach. But the events of the past days have already made China more reluctant to invade Taiwan than just several months ago, Avril Haines, the director of national intelligence, told the House Intelligence Committee on Tuesday.
"The view is both that it is likely to reinforce China's perspective on the seriousness with which we would approach an infringement on Taiwan and in the unity that they've seen between Europe and the United States, particularly in enacting sanctions," she said. "Not just that unity, but the impact of those sanctions I think are both things that are critical to their calculus and something that will be interesting for us to see how they learn those lessons."
In her opening remarks, Haines said China—"an unparalleled priority"—would prefer "coerced unification that avoids armed conflict." The Chinese government has been working to isolate Taiwan and undermine its elected leaders for years, she said. "At the same time, Beijing is preparing to use military force if it decides this is necessary."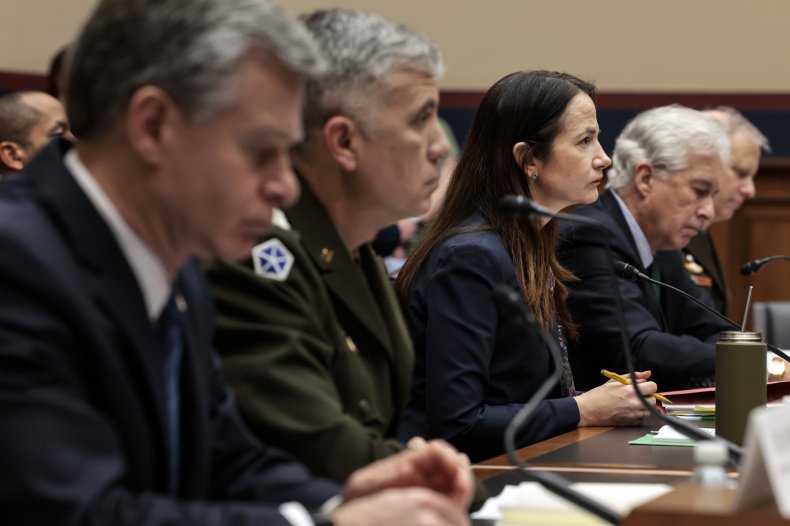 In answer to a similar question, CIA Director William Burns said he "would not underestimate President Xi and the Chinese leadership's determination with regard to Taiwan." However, Burns said Beijing has been "surprised and unsettled" by the difficulties the Russians have encountered in Ukraine.
"Everything from the strength of the Western reaction, to the way in which Ukrainians have fiercely resisted," he said. "I think there's an impact on the Chinese calculus with regard to Taiwan."
Lt. Gen. Scott Berrier, who heads the Pentagon's Defense Intelligence Agency, told lawmakers at the Russia-focused hearing that Taiwan and Ukraine were "two different things completely." He then hinted at the considerable U.S. military presence in Asia.
"I also believe that our deterrence posture in the Pacific puts a very different perspective on all of this," said Berrier. "We do know that [China] is watching very, very carefully what happens and how this plays out."
At a similar briefing of the U.K.'s Foreign Affairs Select Committee on Monday, British Foreign Secretary Liz Truss said Beijing "does not want to associate too closely" with Russia's new status as a "global pariah." She left little doubt that NATO was setting a precedent with its united response and sending a message to China in the process.
"There's also the issue of the importance of showing strength as NATO," Truss said, "because the rest of the world will be watching, including China, on how the West continues to respond."
"Of course, if we see a weak NATO, that is likely to embolden China. So I see a tough policy on Russia and a tough policy on China as being complementary," she said.
Like the U.S., Britain is reducing its dependence on Moscow's oil industry. The U.K. will phase out imports of Russian oil by the end of the year.
Truss told British lawmakers that "the free world" needed to rethink its economic dependence on China, too.