As the United States awoke to the news of Russia's full-scale invasion of Ukraine on Thursday, "Taiwan" shot to the top of Twitter trends as some feared China was likely to emulate Moscow's plans.
Amid images of Russian ground and aerial forces crossing the border into Ukraine in the multi-front offensive, Americans were making bold predictions that the moves by Russian President Vladimir Putin would embolden his Chinese counterpart, Xi Jinping, who might launch his own military campaign to seize Taiwan by force in the near future.
Ironically, leading the grim forecast was former President Donald Trump, who was banned from the social media website after last year's Capitol riot. At a Mar-a-Lago fundraiser on Wednesday, he reportedly praised Putin and criticized President Joe Biden for being weak. "That's why you have Ukraine. That's why you're going to have China. Taiwan is next, and you're going to see the same kind of thing."
In an interview on The Clay Travis and Buck Sexton Show that aired on Tuesday, Trump predicted Xi would move on Taiwan after the Winter Olympics conclude in Beijing. But his former Secretary of State Mike Pompeo, is due in Taipei for a four-day visit on Wednesday, 2 March.
Concerns about the democratic island's future were shared by other elected officials, including Rep. Tony Gonzales, the Republican from Texas who was part of a congressional delegation that visited Taiwan in November 2021. "Today Ukraine, tomorrow Taiwan. The world cannot remain silent while evil men act," he said on Twitter, 90 minutes after Putin launched his "special military operation" against Ukraine.
Tennessee Senator Marsha Blackburn wrote: "Stand with Ukraine. Stand with Taiwan. Stand with Freedom."
For many, it may be difficult to resist the urge to compare the threats faced by Taipei and Kyiv. But both Taiwan and China say the two are not alike. Taiwan and Ukraine both have aggressive neighbors with expansionist tendencies who see history and ethnicity as trumping self-determination. But the similarities end there.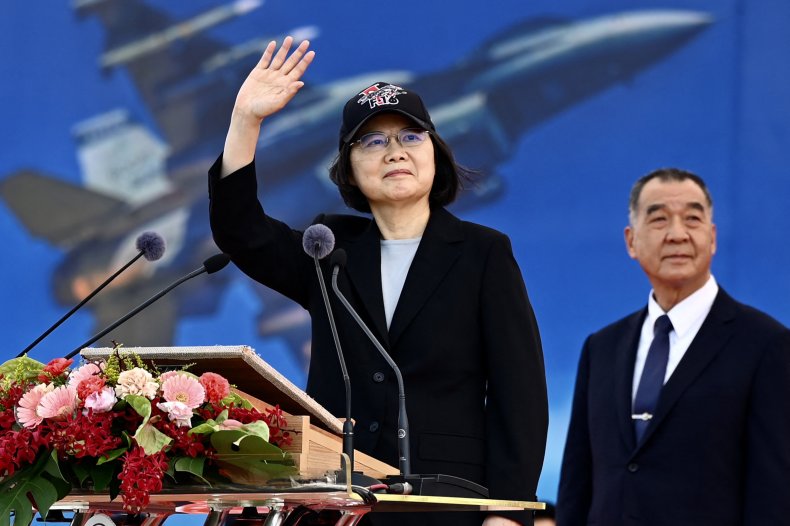 Taiwan's anxieties about China have lasted more than 70 years; it is separated from its belligerent neighbor by the Taiwan Strait, a maritime buffer that is still 80 miles across at even its narrowest point. Crucially, Taipei has counted the United States as its staunchest international backer in the postwar period. While President Biden announced early the decision not to deploy American troops to Ukraine, he has been less guarded about whether the U.S. would defend Taiwan in the event of a Chinese attack, even though official policy is one of ambiguity.
That's not to say Beijing isn't monitoring each of the Biden administration's calculated moves in the Ukraine crisis, or the separate responses from NATO and the European Union. U.S. officials may draw different conclusions to those put forward by Trump, but Secretary of State Antony Blinken, during a recent visit to Australia, said "others are watching" the West's response. Still, we haven't seen the type of extensive intelligence—in the end highly accurate—that preceded Moscow's attack against Ukraine.
The Taiwanese government has backed Ukraine and condemned Russia. Earlier this week, Taiwan's President Tsai Ing-wen convened her National Security Council and instructed troops to remain alert. Taiwan is also likely to join U.S.-led export sanctions against Russia, severing the supply of key technologies.
Tsai's officials aren't panicked by the events in Eastern Europe, and neither, it seems, is Taiwan's public, which has for decades faced the threat of a Chinese invasion. A recent poll found only around one-quarter of respondents believed China would attack Taiwan following the outbreak of war between Russia and Ukraine. A majority, 62.9 percent, said it wasn't likely. According to the survey, 7.1 percent felt an attack was "very possible" and 20.2 percent said it was "not possible at all."