Joe Biden Town Hall—Five Strange Moments You Might Have Missed
President Joe Biden held a town hall in Baltimore on Thursday evening.
During the event, organized by CNN and hosted by Anderson Cooper, the president discussed China's aggression, abolishing the filibuster and gas prices. He also shared details on the stalled negotiations to pass his multi-trillion-dollar social safety net bill.
On the Build Back Better Act, Biden insisted he would not support a work requirement for the child tax credit, as sought by Senator Joe Manchin. He added that a paid parental leave provision has been reduced from 12 to four weeks.
There were also several somewhat unusual moments. Here are a few…
1. Imaginary Jet Pack
At a town hall in July, Biden suggested recent price rises were only near-time inflation. Last week, economists told The Wall Street Journal that high inflation was likely to remain into 2022—and Cooper asked Biden whether or not he agreed.
In the near 20 seconds it took the host to tee up the question, Biden held his forearms out, with his elbows at right angles and fists clenched.
Several viewers on Twitter said it looked like the president was holding an "imaginary jet pack."
In answer to Cooper's question, Biden said he did not think high inflation would last, unless "we don't make these investments." He added that he expected gas prices to come down "into next year, 2022."
2. 'Don't Pay a Cent'
Biden was also asked about the possibility of tax rises for the wealthy.
The president's answer focused on corporations, telling them he hoped they made fortunes but to "at least pay your fair share. Chip in a little bit."
"You have 55 corporations, for example, in the United States of America, making over $40 billion, don't pay a cent—not a single little red cent," he added.
As Biden whispered "don't pay a cent," he made a circle with his index finger and thumb and held it up to his eye.
It's far from the first time the president has used whispering for dramatic effect.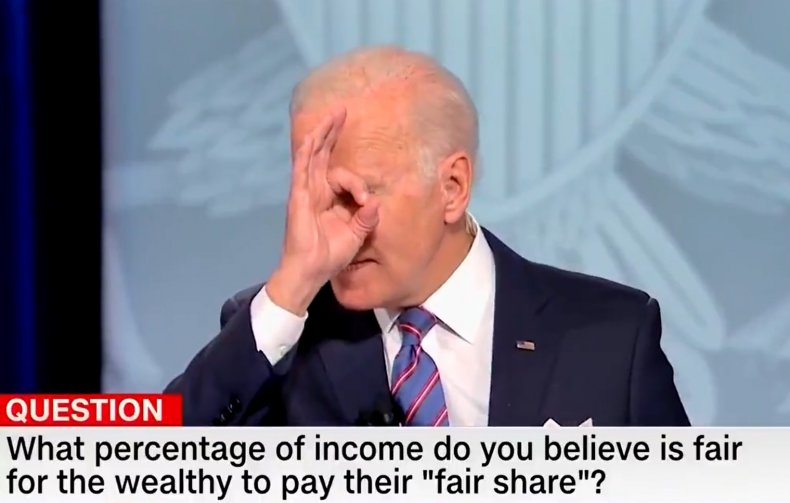 3. Racing Colin Powell
Joe Biden spoke movingly about Colin Powell, who died this week following complications from COVID-19.
The president shared a personal story about his friendship with Powell, revealing that the pair once raced on a Secret Service track.
"He had a brand new Corvette, his family bought him, his kids bought him, and I have a '67 [Corvette] 327 350, and we raced. We raced."
Asked who won, Biden replied: "Well, I won only because he was worried I was going to crash into him."
4. Biden Misspeaks on Taiwan
Biden was asked by an audience member about recent reports of China testing hypersonic missiles.
The president said the U.S. has the "most powerful military in the history of the world," adding that his concern was "whether or not they're [China] going to engage in activities that will put them in a position where they may make a serious mistake."
Biden was then asked by Cooper: "Are you saying that the United States would come to Taiwan's defense if China attacked?"
The president replied: "Yes. Yes, we have a commitment to do that."
The U.S. is legally required to provide Taiwan with resources to defend itself, but has long pursued a policy of so-called "strategic ambiguity" on the question of intervening militarily in the event of a Chinese attack.
The White House was quick to clarify that the president was "not announcing any change in our policy."
"The U.S. defense relationship with Taiwan is guided by the Taiwan Relations Act," a spokesperson said. "We will uphold our commitment under the act, we will continue to support Taiwan's self-defense and we will continue to oppose any unilateral changes to the status quo."
5. Biden Forgets Name of Long Beach Port
Biden also discussed supply chain woes ahead of the holidays.
But the president had to be rescued by Cooper when he appeared to briefly forget the name of the second largest port in America.
"Forty percent of all products coming into the United States of America on the West Coast go through Los Angeles and … what am I doing here?" said Biden.
Cooper interjected: "Is it Long Beach?" To which Biden replied: "Long Beach. Thank you."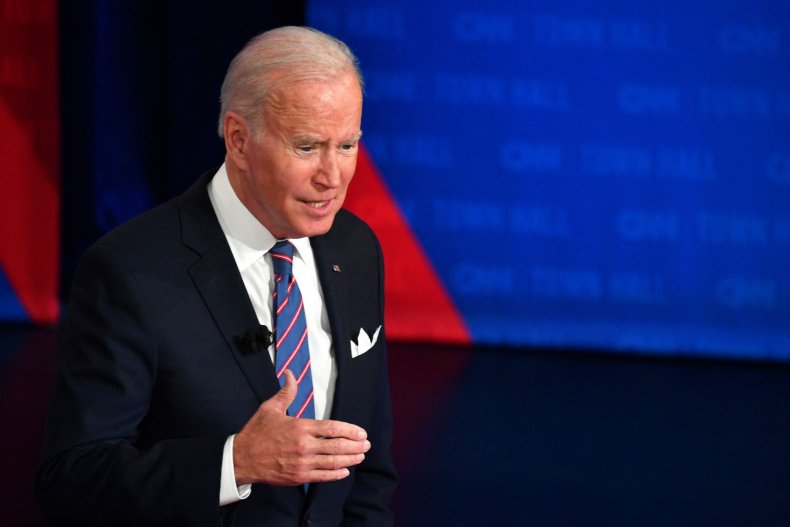 Biden previously announced that the White House has reached an agreement with America's two largest ports, the Port of Los Angeles and Port of Long Beach, to transition to a 24/7 schedule to ease the logjam.
The port at Long Beach, California, handles about 78 million tons of cargo worth about $180 billion every year.
Read the full transcript from the town hall here.