Joe Biden Whispering Video Viewed Over 3 Million Times: 'What Did I Just Watch?'
Footage of President Joe Biden repeatedly whispering during a press conference at the White House on Thursday has been viewed more than 3 million times.
Biden whispered responses to reporter's questions on three separate occasions during a press conference on Thursday evening in the White House East Room, while discussing a $1.2 trillion infrastructure deal that he said he would support if it included a supplemental second package.
The deal, which will be paid for using unused COVID-19 aid funding, will include $1.2 trillion in funding for infrastructure over an eight year period, according to a statement from the White House, but is less than the $2.3 trillion he originally hoped to agree with the Senate.
While answering questions from several reporters about the deal, Biden leaned over his lectern and whispered the responses seemingly to emphasize the key points of the plan and his work as president since being inaugurated on January 20.
When PBS reporter Yamiche Alcindor asked him about additional relief for families amid the ongoing COVID-19 pandemic, Biden leant over the lectern and whispered: "I got them $1.9 trillion in relief so far. They're going to be getting checks in the mail that are consequential this week for childcare."
Later in the briefing, he was asked by CNN reporter Phil Mattingly about how the deal was agreed despite seemingly low expectations, with Biden answering: "I'm not going to negotiate with the press when I'm negotiating privately with my colleagues.
"And these are very tough decisions. I don't in any way dismiss what Senator (Chris) Murphy says about the environment. I don't dismiss it at all."
He then dropped his voice to a whisper, leant over the lectern and added: "I wrote the bill on the environment. Why would I not be for it?"
Biden then spoke about claims from conservatives that some U.S. residents would prefer to collect unemployment checks, currently providing an extra $300 a week amid the pandemic, then return to work, before whispering as he looked out at the press: "Pay them more. This is an employee's—an employee's bargaining chip now."
The president's repeated whispering caused a stir on social media, as a clip of the press briefing shared on Twitter by conservative website Townhall.com has been viewed more than 3 million times.
The outlet's clip was shared and criticized by several prominent conservatives, as former Press Secretary Kayleigh McEnany captioned it: "What did I just watch!?" as she posted it to her more than 2 million followers.
GOP strategist Matt Whitlock captioned a compilation of Biden whispering: "This is nuts."
Rep. Andy Biggs (R-AZ) responded to the clip, saying "'Creepy' Joe just took on a new meaning." Prominent conservative activist Brigitte Gabriel shared a similar sentiment about the same clip, writing: "Creepy Joe is really creepy,"
Prior to the briefing on Thursday, Biden announced the deal alongside senators on the White House driveway, saying: "I clearly didn't get all I wanted. They gave more than I think maybe they were inclined to give in the first place."
However, he later said that he would only sign the deal if tax hikes and spending on social services are included in a supplementary deal, telling reporters in the White House: "If they don't come, I'm not signing it. Real simple."
Newsweek has contacted the White House for comment.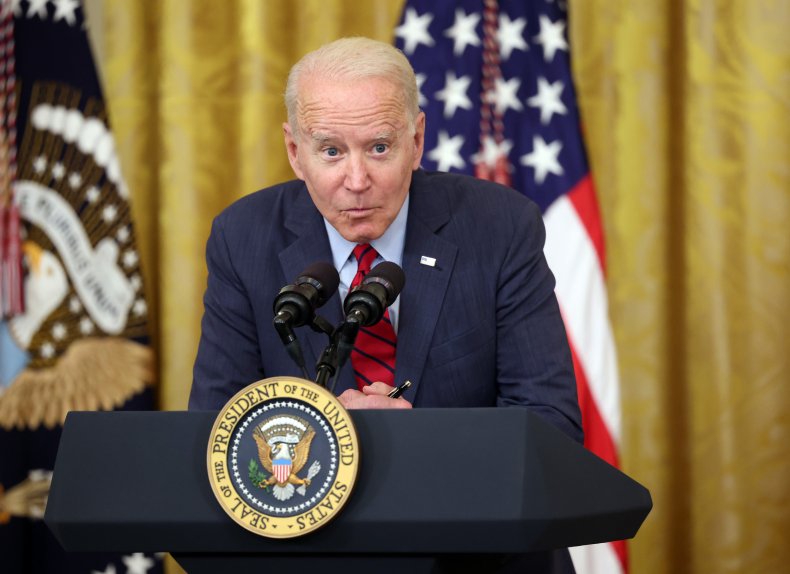 Update 6/25/21, 1:10 p.m. ET: This article was updated with the tweet by Rep. Andy Biggs.