Progressives Blast GOP Calls to End $300 Weekly Unemployment: 'Greed Has No Bounds'
Progressive lawmakers pushed back hard after some Republicans and the U.S. Chamber of Commerce called for ending extra $300 weekly unemployment payments to jobless workers amid the ongoing COVID-19 pandemic.
GOP lawmakers and the Chamber of Congress, a pro-business lobby group that generally backs Republican candidates, blamed extra federal unemployment payments approved by Congress in the American Rescue Plan for the significantly less than expected job growth in April. The Department of Labor released the April jobs report on Friday, showing that the economy added just 266,000 jobs last month despite predictions that it would be closer to 1 million.
But progressives and officials from President Joe Biden's administration were quick to push back against the calls for ending the extra payments, as millions of workers remain unemployed.
"Providing an extra $300 a week in unemployment benefits to low-income families living in desperation is not radical. What's radical is that 719 billionaires became $1.6 trillion richer during the pandemic while the $7.25 federal minimum wage has not been increased in 12 years," Senator Bernie Sanders, a Vermont independent and prominent progressive, tweeted on Saturday.
Sanders pushed back against the Republicans' criticism of the supplemental unemployment on Friday as well.
"No. We don't need to end $300 a week in emergency unemployment benefits that workers desperately need. We need to end starvation wages in America. If $300 a week is preventing employers from hiring low-wage workers there's a simple solution: Raise your wages. Pay decent benefits," Sanders wrote on Twitter.
Representative Pramila Jayapal, a Washington Democrat who chairs the Congressional Progressive Caucus, shared similar sentiments on social media.
"The federal minimum wage has been $7.25 since 2009. For tipped workers, it's been $2.13 for 30 years. The problem is NOT expanded unemployment assistance," Jayapal tweeted.
Representative Ilhan Omar, a Minnesota Democrat who serves as the Congressional Progressive Caucus whip, blasted the calls to end supplemental payments.
"The interests of big business are at war with the interests of the working class. They will spend millions of dollars to take $300 a month away from you and your family, to force you to work for them for pennies. Their greed has no bounds," Omar tweeted.
"Businesses that pay their workers fairly aren't having trouble finding workers," Omar added. "And if your business can't turn a profit without paying people starvation wages, like the $7.50 an hour federal minimum wage, you shouldn't be in business." Continuing, the progressive congresswoman said "we wouldn't need to have this conversation" if businesses shifted the money they spent on lobbying the government to paying workers higher wages.
After the release of the latest jobs report, the Chamber of Commerce was quick to weigh in with criticism of the extra $300 weekly unemployment payments on Friday.
"The disappointing jobs report makes it clear that paying people not to work is dampening what should be a stronger jobs market," Neil Bradley, the lobby's executive vice president and chief policy officer, said. "We need a comprehensive approach to dealing with our workforce issues and the very real threat unfilled positions poses to our economic recovery from the pandemic."
In a statement emailed to Newsweek, Kasper Zeuthen, vice president of communications for the Chamber of Commerce, argued that his organization is taking into account the best interests of businesses and workers.
"It is no secret that our focus is on what is best for America's companies and their workers—and we should all be focused on how we can help our country's recovery and create more jobs," Zeuthen said.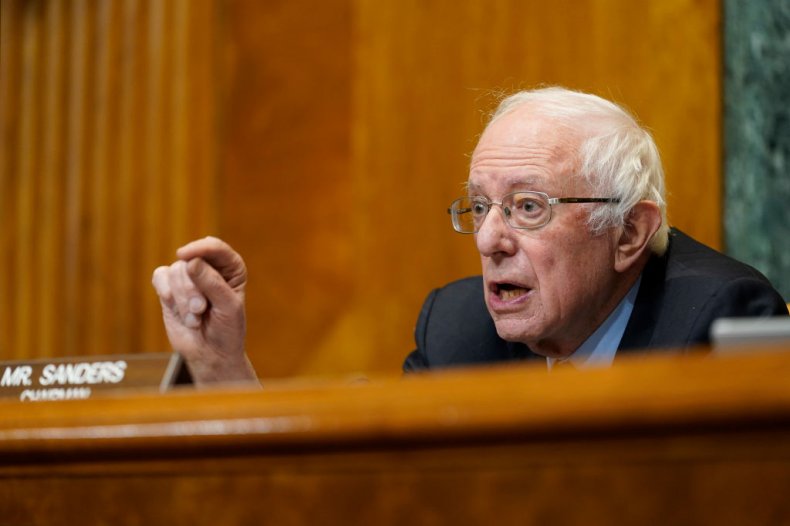 Senator Ted Cruz, a Texas Republican, called Biden "delusional" on Twitter after he told reporters he did not believe the extra unemployment benefits were the cause of the lackluster job numbers. Representative Chris Stewart, a Utah Republican, tweeted that the news in the report was "no surprise," writing that "paying people not to work is bad policy."
"While Dems trap people in a cycle of fear & pay them NOT to work, it's clear the best thing to do is end the crisis-era policies & get Americans back to work," House Minority Leader Kevin McCarthy, a California Republican, wrote on Twitter, slamming Biden over the job figures.
Meanwhile, Treasury Secretary Janet Yellen and Labor Secretary Marty Walsh disputed the Republicans' assessment. They pointed to strong job gains in the leisure and hospitality sectors, which generally hire lower wage workers that would be most likely to be paid more on unemployment than to work.
"This month's report, as far as leisure and hospitality—which includes restaurants—saw the most significant gains," Walsh told Fox News on Friday. "Lots of restaurants weren't open full time until recently," he added, saying that restaurants are only open at full capacity in about three-quarters of the country.
Yellen shared a similar perspective with reporters. "If the unemployment bonus was slowing down hiring, one would expect lower job growth in states and sectors where unemployment insurance is particularly high. In fact, what one sees is the exact opposite," the treasury secretary explained.