China Mutes Top Official's Support for Russia's Invasion of Ukraine
Remarks by one of Beijing's most senior political figures in support of the Kremlin's war aims in Ukraine have been omitted from all official coverage in China, a sign that the officially endorsed message to Russia perhaps wasn't meant for Chinese ears.
China's official Xinhua News Agency, state broadcaster CCTV and the Chinese Communist Party's flagship publication People's Daily all reported No. 3 official Li Zhanshu's recent visit to Russia, which began with a face-to-face meeting with President Vladimir Putin on September 7 in Vladivostok in the far east.
In the two days that followed, Li, who chairs the Standing Committee of the National People's Congress, China's legislature, was in Moscow for meetings with senior members of Russia's State Duma, its lowest house of parliament.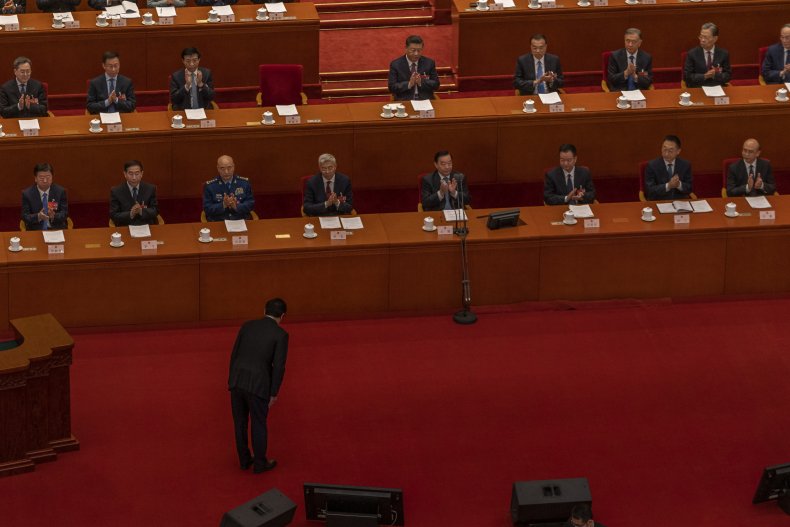 The Duma published press releases carrying a video recording of talks on September 9, when Li was seen delivering Beijing's strongest—and clearest—backing of the Kremlin's position on Ukraine to date, including a pledge of China's "understanding and full support."
"On the Ukraine issue, for example, the United States and NATO are expanding directly on Russia's doorstep, threatening Russia's national security and the lives of Russian citizens," he said.
"Given the circumstances, Russia has taken necessary measures. China understands, and we are coordinating on various aspects," said Li, whose No. 3 status comes from his seat on the seven-man Politburo Standing Committee, the CCP's top decision-making body, led by the party's general secretary, Xi Jinping.
There's a noticeable asymmetry in Moscow and Beijing's respective framing of Li's meetings with the Duma. While the former highlighted comments that showed categorical support for the Kremlin's grievances against NATO—and therefore its rationale for using force against Ukraine—the latter has chosen to omit all references to the war, in both its local and international reporting.
Instead, readouts from China's foreign ministry and state media have focused on Li's praise for the strategic and economic relationship between the two countries.
Li's comments would've pleased those in Russia expecting a stronger response from their neighbor and major strategic partner, although he made no concrete offer of assistance. But China's decision to mute Li's Ukraine-related discussions may not have played well among the bulk of its domestic audience, in which Beijing has drilled the sacrosanctity of territorial integrity for decades.
The message, however, does set the tone for Thursday's talks between Presidents Xi and Putin, both 69, in Samarkand, Uzbekistan, their first in-person meeting since the invasion of Ukraine, and part of Xi's first foreign trip since the COVID-19 pandemic.
Despite early concerns, the United States said Beijing was yet to help sustain Moscow's war effort in any meaningful or material way. Although Xi would be demonstrating moral support for Putin with their public meeting in Central Asia, fear of tarnishing China's international image likely would stop the Chinese leader from changing the country's position.