There are no permanent friends and no permanent enemies, only permanent interests, as the saying goes. And while China isn't party to the conflict in Ukraine, perhaps no country has been scrutinized more for its relations with Russia.
On February 4, just three weeks before Vladimir Putin ordered his troops into Ukraine, Russia's president was in Beijing, standing shoulder to shoulder with his Chinese counterpart, Xi Jinping, to reaffirm their alignment against the West.
What followed was a 5,000-word joint statement in which they declared the China-Russia partnership to be one with "no limits," with "no forbidden areas" of cooperation. At a time when Russian forces were amassing on Ukraine's borders, this bond raised concerns in European capitals—and rang alarm bells after the invasion began.
The West has been perturbed by what it sees as China's tacit support for Russia because of its refusal to condemn Moscow four months into the war. It has accused Beijing of repeating the Kremlin's line against NATO, opposing military aid for Kyiv and sanctions on Russia, despite Chinese officials' insistence they support Ukraine's sovereignty and territorial integrity.
Following the West's sweeping penalties against the Russian economy, U.S. officials, including Pentagon policy chief Colin Kahl, see few choices for Moscow other than to further align itself with Beijing.
To be sure, China views its relationship with Russia—the only major power with enough clout to back Beijing in meaningful ways—as geostrategically vital, too. Together, experts see a joint effort to degrade the U.S.-led liberal order and replace it with one more amenable to authoritarian systems.
But this alignment, which Beijing says is based on "non-alliance, non-confrontation and non-targeting of third parties," may come at the expense of China's important trading relationships with North America and Europe, which together make up more than half the world's GDP.
Russia, meanwhile, benefits from growing ties with the world's busiest market. Since invading Ukraine, Russia has also increased its financial dependence on China. Without Russia, China might find itself isolated in its systemic rivalry with the United States, which is spans every area from trade and technology to diplomacy and military power.
Russia has said relations with China are a foreign policy priority. Its foreign minister, Sergey Lavrov, said this month that there remained "truly inexhaustible potential" in bilateral ties.
Putin, in a recent call with Xi, said the relationship was at an "all-time high," and constantly improving. The two countries will look to further develop their defense ties, he said, in a dynamic likely to change the makeup of regional security in Northeast Asia.
China argues it has partnered with Russia in order to "protect the UN-centered international system." However, not everyone is convinced their goals will remain aligned in the future.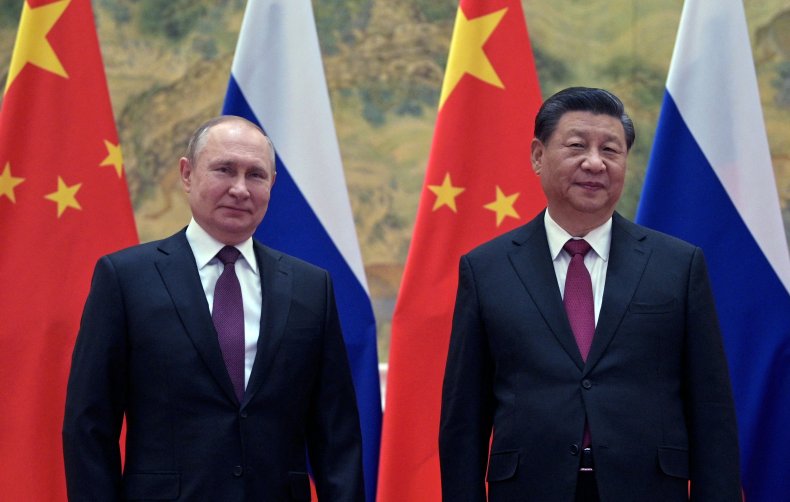 A survey published Monday by Foreign Affairs magazine asked international relations analysts about the prospect of Chinese-Russian ties enduring in the long run. Dozens of subject-matter experts ranked the possibility of continued alignment on a scale from "strongly disagree" to "strongly agree," and confidence in their position from 1 to 10.
"Maintaining good bilateral relations is an obvious pragmatic choice for both China and Russia, as they share similar views on global governance and their economies are quite complementary," said Svetlana Krivokhizh, an associate professor with the Department of Asian and African Studies at HSE University in Moscow.
"However, whether the two countries will be able to manage the growing asymmetry in their relations in the coming years is a point of great uncertainty," she added, agreeing that the ties will last with a confidence level of 7.
Bonny Lin, director of the China Power Project at the Center for Strategic and International Studies (CSIS), agreed that the two countries' ties would endure with a confidence level of 8.
"As U.S.-Chinese competition intensifies, China sees more value in deepening relations with Russia as a close strategic partner. Even if Russia is significantly weakened by the conflict in Ukraine, Beijing may believe that Russia could regain some of its power in the coming decades," Lin said.
Agreeing with a confidence level of 9 was Bonnie Glaser, director of the Asia Program at the German Marshall Fund of the United States.
"Although not all Chinese and Russian interests coincide, both Beijing and Moscow seek to weaken U.S. global domination and adjust the international system so it is more favorable to their shared interests," she said. "This is unlikely to change for the foreseeable future."
Jude Blanchette, Freeman Chair in China Studies at the Center for Strategic and International Studies, strongly agrees that the ties will last with a confidence level of 10.
"There is no other major power that shares as much of Beijing's and Xi's broad worldview as does Russia and Putin. This hasn't changed in the wake of Putin's disastrous war against Ukraine and explains why, even now, Beijing refuses to condemn Moscow's actions," he said.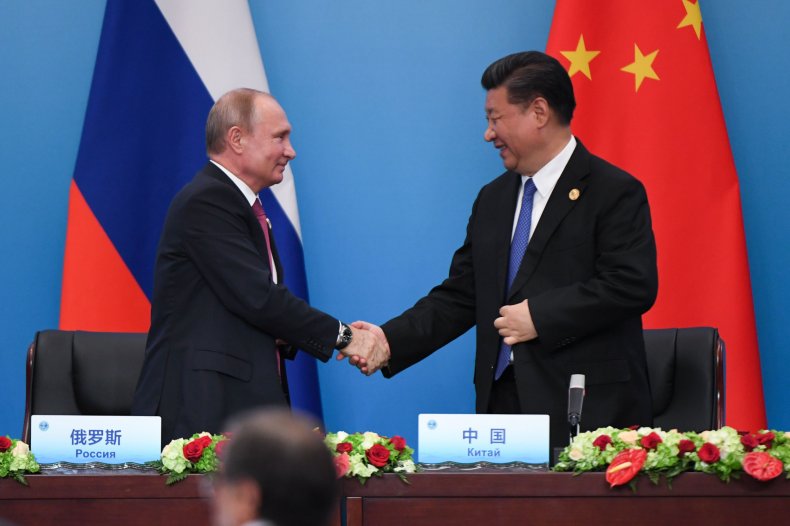 Respondents to the Foreign Affairs poll were split. With a confidence level of 8, Wang Jisi, president of the School of International Studies at Peking University in Beijing, strongly disagreed that the long-term alignment between the two countries will endure.
"An alignment or friendship is durable only when the two sides not only show their solidarity but can afford to discuss their disagreement candidly and openly. The Sino-Soviet alliance in the 1950s was claimed to be 'unbreakable' and 'seamless.' But when their differences were made open, the friendship soon turned to hostility," he said.
Alina Polyakova, president of the Center for European Policy Analysis, also disagreed with the idea that the Russian-Chinese ties will last, with a confidence level of 9.
"The Russian-Chinese relationship is not a durable alliance but, rather, a partnership without substance. Russia's disastrous war in Ukraine leaves Beijing in a difficult position: its economic interest is with the West and Russia's pariah state status is not helping relations with the West. One will have to give," she said.
"The gap between the comprehensive national strength of China and Russia is widening day by day, Russia has a strong concern about China, and China and Russia have different national identities,' Feng Yujun, professor and vice dean at the Institute of International Studies at Fudan University in Shanghai, wrote.
"China's development has been achieved within the existing international order, which Russia strongly wishes to overturn," Feng added, disagreeing with a confidence level of 9.
Nadezhda Arbatova, a professor who heads the Department of European Political Studies at Russian Academy of Sciences, also is in disagreement, with a confidence level of 10.
"Some time ago, one top Chinese official said, 'China has the largest population in the world and Russia has the largest territory in the world. We organically complement each other.' Most likely it was meant as an optimistic forecast," she said. "However, later on, these words were deleted from the record, because their meaning could be interpreted as a sinister prospect for Russia.
"In fact, this implies very real future problems in the relations of the two neighboring nations. Despite the fact that Russia and China are portraying their relations as virtually an alliance ('strategic partnership'), in reality they are only situational partners," she said.
"The current Russian-Chinese closeness is based on their international conflicts with the 'collective West' led by the United States. Besides, Russian and Chinese domestic order is an opposition to the Western liberal democracy. Nonetheless, Russia basically belongs to European culture, which presently goes through the 'Eurasian' aberration. Sooner or later it will come back to its European vocation, all the national peculiarities notwithstanding. Its anti-Westernism will be abandoned as ideology," Arbatova added.
"In contrast to this, China is an embodiment of genuine Asian culture and nationhood striving for global expansion as a superpower of the 21st century. This implies long-term controversies with China's close and faraway neighbors."