U.S. Alarmed by China's Support of Putin's War in Ukraine
U.S. Secretary of State Antony Blinken on Thursday criticized China for continuing its close relationship with Russian President Vladimir Putin while his war in Ukraine rages on, saying the two countries' diplomatic ties "should raise alarm bells for all of us who call the Indo-Pacific region home."
Blinken made the comments during a speech hosted by the Asia Society Policy Institute at George Washington University in Washington, D.C. He outlined President Joe Biden's policy with China during the speech while also touching on issues related to the war in Ukraine.
America's top diplomat said Russia's invasion has backfired, adding that "Putin has failed to achieve a single one of his strategic games. Instead of erasing Ukraine's independence, he strengthened it. Instead of dividing NATO, he's united it. Instead of asserting Russia's strength, he's undermined it. And instead of weakening the international order, he has brought countries together to defend it."
Blinken then addressed Beijing's naval exercises in the South China Sea and its aggression toward Taiwan, saying Chinese President Xi Jinping was "advancing unlawful maritime claims." He then linked China's actions with Russia, saying Beijing "purports to champion sovereignty and territorial integrity while standing with governments that brazenly violate them."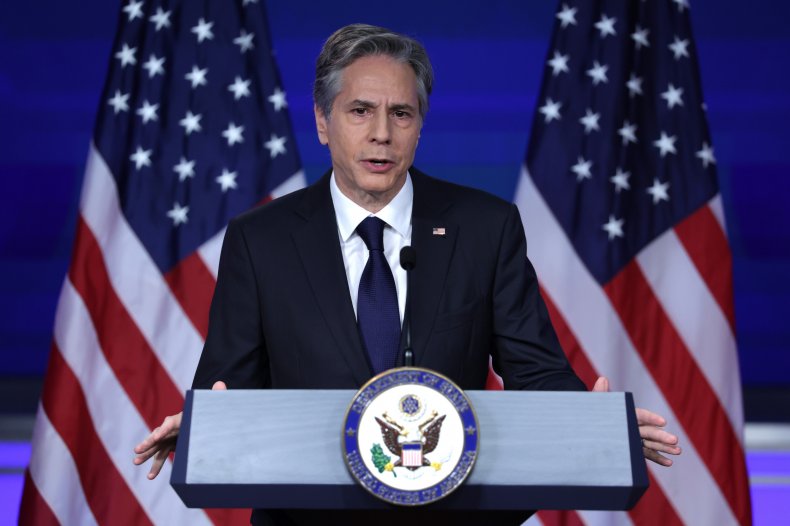 "Even while Russia was clearly mobilizing to invade Ukraine, President Xi and President Putin declared that the friendship between their countries was, and I quote, 'without limits,'" Blinken said.
Blinken also discussed how China and Russia flew joint strategic bomber patrols near Japanese and South Korea air defense zones on Tuesday as Biden was concluding a trip to Asia.
Blinken noted that while Putin has not relented with his attacks in Ukraine, the U.S. still considers China a more serious power.
"Even as President Putin's war continues, we will remain focused on the most serious long-term challenge to the international order. And that's posed by the People's Republic of China," Blinken said. "That is the only country with both the intent to reshape the international order and, increasingly, the economic, diplomatic, military and technological power to do it.
"Beijing's vision would move us away from the universal values that have sustained so much of the world's progress over the past 75 years."
Blinken reiterated that the U.S. remains committed to honoring the One China Policy, which recognizes China's position that Taiwan is part of China, but he said the Biden administration maintains an "abiding interest in peace and stability" in the Taiwan Strait region.
"We do not support Taiwan independence, and we expect cross-strait differences to be resolved by peaceful means," he said. "Our policy has not changed. What has changed is Beijing's growing coercion, like trying to cut off Taiwan's relations with countries around the world and blocking it from participating in international organizations."
Newsweek reached out to the Chinese Foreign Ministry for comment.