China's Top Officials Signal Russia Support Ahead of Xi-Putin Meet
Signs of China's continued backing of Russia in the past week have set the tone for the first in-person meeting between Presidents Xi Jinping and Vladimir Putin since the invasion of Ukraine six months ago.
Xi is due in Kazakhstan on Wednesday, for what will be his first foreign trip in more than two years, following an abundance of caution during the pandemic. From September 15 to 16, Xi will attend an annual leaders' gathering of the Shanghai Cooperation Organization in Samarkand, Uzbekistan.
In Russia's far eastern city of Vladivostok last week, Putin confirmed that he would meet his Chinese counterpart on the sidelines of the SCO summit.
The two leaders, both 69, have built a strategic partnership based on a common front against the West in general and the United States in particular. Xi hosted Putin in Beijing for the opening of this year's Winter Olympics, a meeting that concluded with a 5,000-word joint statement declaring a "no limits" partnership between the two nations.
Their last in-person talks came just three weeks before the Russian president ordered his forces into Ukraine. Xi and Putin have spoken at least twice on the phone since. Their latest face-to-face talks will take place just weeks before Xi is expected to secure a near-unprecedented third term as leader.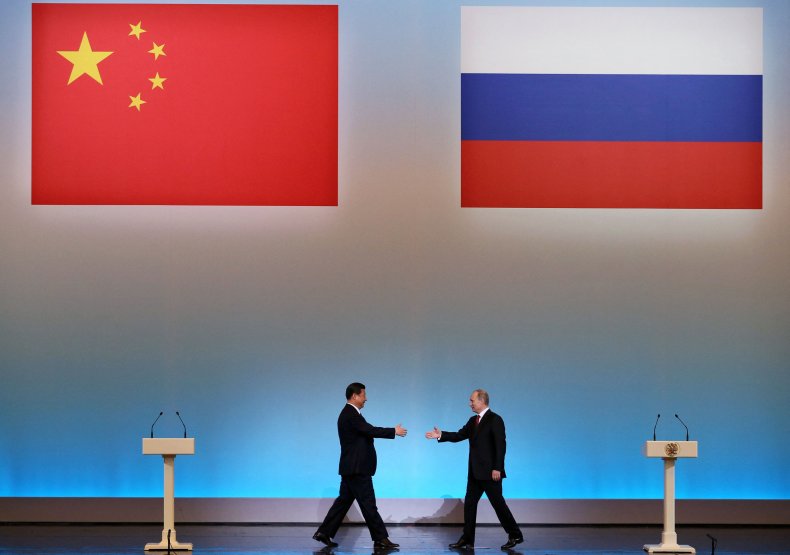 Beijing, which stresses the principle of territorial integrity to uphold claims to Taiwan and elsewhere, has been careful not to publicly side with Moscow over its own territorial and ideological battle with Kyiv. However, Beijing also hasn't stopped the Kremlin from confidently touting what amounts to unquestionable Chinese support for its cause.
Ahead of his trip to Central Asia, Xi dispatched Li Zhanshu, the Chinese Communist Party's No. 3 official, to meet Putin in Vladivostok and other senior Russia political figures in Moscow. Li chairs the Standing Committee of the National People's Congress, China's legislature.
In a September 9 meeting of officials including Vyacheslav Volodin, chair of Russia's State Duma, its lower house of parliament, Li said: "China understands and supports Russia on issues that represent its vital interests, in particular on the situation in Ukraine," according to a readout on the Duma's website.
"We see that the United States and its NATO allies are expanding their presence near the Russian borders, seriously threatening national security and the lives of Russian citizens. We fully understand the necessity of all the measures taken by Russia aimed at protecting its key interests, we are providing our assistance," Li was quoted as saying.
"On the Ukrainian issue, we see how they have put Russia in an impossible situation. And in this case, Russia made an important choice and responded firmly," the Chinese official reportedly said.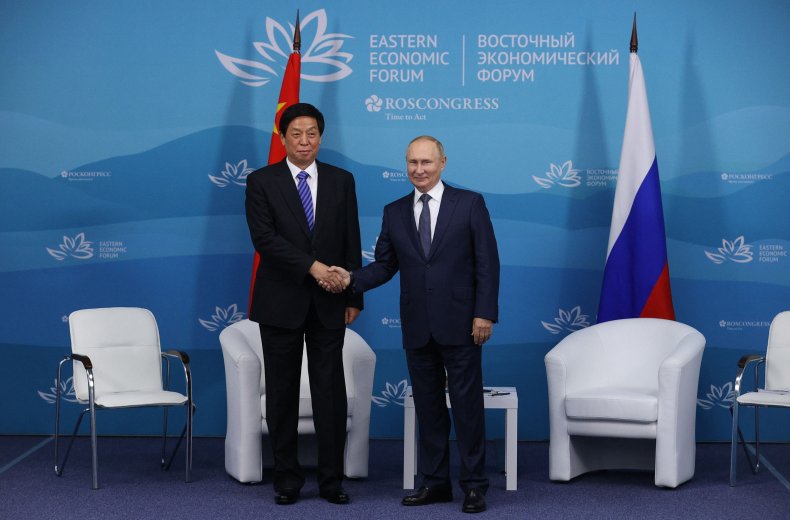 During one-on-one talks with Volodin the day before, Li is said to have underscored similar sentiments. China's No. 3 declared that Beijing and Moscow "should not halt" cooperation because of Western sanctions, said the Duma. "We should find new formats of cooperation."
By contrast, readouts by China's foreign ministry and its state news outlets made no references to Ukraine when discussing Li's visit to Russia. However, it wasn't the first time Moscow's state institutions had painted a less conservative image of Chinese support than Beijing itself was willing to do.
Following a June 15 call between Xi and Putin, the Kremlin said the Chinese president "noted the legitimacy of Russia's actions to protect fundamental national interests in the face of challenges to its security created by external forces."
In the days after their February 25 call—shortly after the invasion of Ukraine began—the Russian embassy in Beijing said Xi "respected the actions of the Russian leadership in the current crisis."
Beijing didn't mention either view in its official accounts of the two phone calls. There were no follow-ups or corrections either.
On Monday, the Chinese foreign ministry said Yang Jiechi, the country's top foreign affairs official, met with Russia's outgoing ambassador to Beijing, Andrey Denisov.
"China is willing to work with Russia to continuously implement the spirit of high-level strategic cooperation between the two countries, safeguard the common interests of both sides, and promote the development of the international order in a more just and rational direction," Yang told Denisov, according to the ministry's readout.
At a United Nations Security Council briefing last week, China's deputy permanent representative, Geng Shuang, blamed the West for risking "a prolonged and expanded conflict" by providing arms to Ukraine.