As China Loses Zero-COVID Battle, It Switches Tactics for Trolling America
China waged a more successful war against COVID-19 for much of the two years since the global pandemic broke out, but that changed recently. As infections have dropped drastically in the U.S. in recent weeks, China has been hit with a dramatic new COVID surge brought on by the Omicron variant.
The change in fortunes have also brought a shift in China's rhetoric. Officials from the Communist country had previously chastised the U.S. approach to the pandemic while boasting about its strict zero-COVID policy that includes strict safety measures and immediate lockdowns. In recent weeks, though, various authorities from China now bring up America's high inflation or the war in Ukraine as themes in attacking the U.S.
China's National Health Commission reported 1,226 new domestically transmitted COVID-19 infections with confirmed symptoms for Wednesday, which marked a slight decline from 1,860 a day earlier. However, over the past 10 weeks, China has reported more new local symptomatic cases (over 14,000) than it recorded for all of 2021, Reuters reported.
Rising inflation struck China toward the end of 2021 and into 2022, but it started easing in February. With new lockdowns in place due to the COVID surge, inflation could soon spike there again. Nonetheless, that hasn't stopped some Chinese officials to hit out against the U.S. for its inflation, whereas those same officials once used COVID-19 as a means of mockery.
"While top #US arms manufacturers boasted of the conflicts in #Ukraine as a boon for business, American people are suffering from soaring prices and higher inflation," Hua Chunying, China's assistant minister of foreign affairs, wrote on Twitter Wednesday.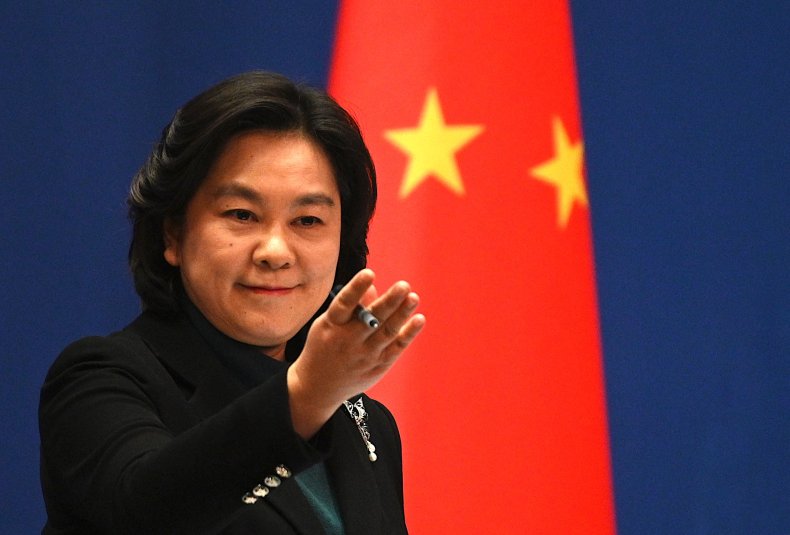 Hua had previously derided the U.S. over its COVID policy, including during a press conference in August 2021.
"Amid COVID-19, American people's right to life and health is not effectively guaranteed, resulting in climbing infections and fatalities. Facing such grave situations, some US politicians adopted policies not to save lives but to shift blames," she said at the time. "U.S. politicians have been trying to spread stigmatizing remarks across the world to declare China guilty and shirk its own responsibilities.
She's not the only Chinese official to use inflation as a new rhetorical weapon against the U.S. Chinese Foreign Ministry Spokesman Zhao Lijian seemingly called America an "Inflation Exporter" in a tweet posted on January 20.
His message also referenced how the U.S.' central bank printed trillions of dollars since the beginning of the pandemic to keep the nation's economy from becoming crippled.
Early into the pandemic, Zhao had tried to pin COVID's origins on the U.S. by spreading a conspiracy theory that American military forces brought the new coronavirus to China, rather than it originating in Wuhan.
Meanwhile, Chinese Foreign Minister Wang Yi focused on the downplaying of COVID-19 by the administration of then-President Donald Trump during an August 2020, press conference.
"In fighting COVID-19, the Chinese people follow experts' advice to wear masks. However, some US politicians attacked this, calling it an example of 'tyranny' and 'no freedom' in China," Wang said during the conference. "At the end of the day, they have been slapped in the face by the reality."
In recent months, Wang has dropped COVID-19 references while discussing U.S. policy. However, he recently suggested the U.S. and NATO shared some blame for causing Russia's invasion of Ukraine.
Last week, Wang said a "Cold War mentality" was part of the reason for the war. The phrase has been used by China recently as a criticism of the U.S., according to German broadcaster Deutsche Welle.
"We must overcome the Cold War mentality and instead focus on peaceful coexistence and win-win strategies," Chinese President Xi Jinping told the World Economic Forum in Geneva in January in what was perceived as a veiled message to America.
Xi added, "The only thing more dangerous is the pursuit of hegemony and the oppression of others who resist the course of history."
Newsweek contacted China's Foreign Ministry for comment but did not hear back in time for publication.