China Begins Damage Control Campaign to Cleanse Pro-Russia Reputation
China has begun a subtle damage control campaign after realizing how its refusal to condemn Russia is affecting its international image.
Three weeks into President Vladimir Putin's military campaign against Ukraine, Chinese officials still do not to call it an invasion and rarely use the word "war." At the highest levels of government, Beijing continues to support Moscow's position on NATO, to abstain at the United Nations and to allow its Foreign Ministry and state media to peddle Russian conspiracy theories about U.S. biological weapons in Ukraine.
Behind the scenes, however, something is beginning to shift. President Xi Jinping has not spoken to his Ukrainian counterpart Volodymyr Zelensky since the hostilities began. But in calls with foreign heads of state, Xi is stressing support for peace talks. His officials, meanwhile, are trying to shake China's "pro-Russia neutral" reputation while starting to show sympathy for Ukraine.
What China knew or didn't know about Putin's plan has been the subject of debate since the invasion on February 24, especially as the bombardment began just 20 days after Xi's declaration of a "no limits" partnership with the Russian president.
U.S. officials said they showed Beijing evidence of the Kremlin's intentions in the hope that Xi might leverage his relationship with Putin to prevent a conflict. In February, China dismissed Moscow's brinksmanship and accused Washington of exaggerating the threat of war.
Over the weekend, President Joe Biden's national security adviser, Jake Sullivan, told CNN that Chinese officials had been aware Putin was "planning something," although they might not have understood the extent of it. "Because it's very possible that Putin lied to them the same way that he lied to Europeans and others," Sullivan said.
At the same time, reports that Russia has requested Chinese military assistance continue to circulate—despite denials from both Moscow and Beijing.
A protracted war in Ukraine and growing international pressure against those aligned with Moscow have laid bare Beijing's options: it either knew about Putin's plan and did nothing, or it too was duped by Russia, its closest strategic partner in the new Cold War against the West.
Both scenarios are bad, but one may be less bad than the other. Beijing appears to have chosen the benefit of ignorance over the unflattering image of having bet on the wrong horse.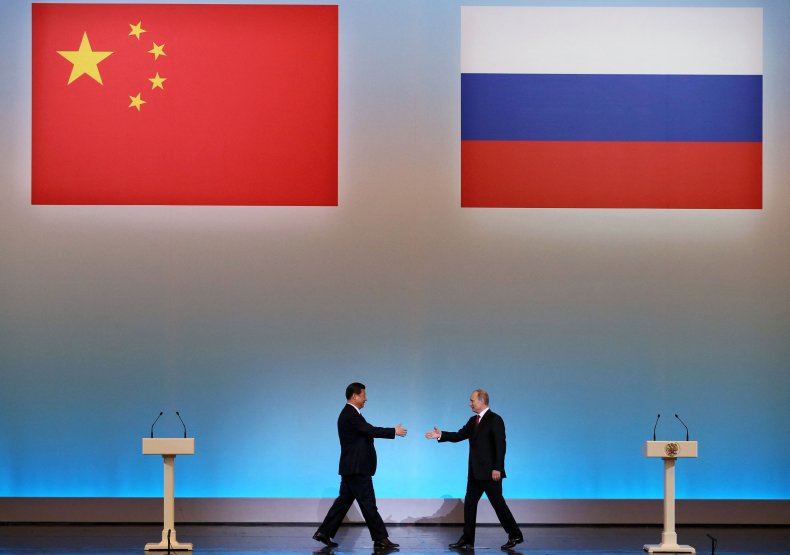 On Tuesday, Qin Gang, China's ambassador to Washington, wrote an op-ed for The Washington Post in which he said: "Assertions that China knew about, acquiesced to or tacitly supported this war are purely disinformation."
He went on: "Conflict between Russia and Ukraine does no good for China. Had China known about the imminent crisis, we would have tried our best to prevent it."
Qin added that China had made "huge efforts to push for peace talks," saying Xi had urged Putin to engage in dialogue with Kyiv on the second day of the conflict.
The ambassador's version of events wasn't fully consistent with the available information. A readout of the call between the two leaders on February 25, released by Russia's embassy in Beijing, stated: "Xi Jinping stressed he respects the actions taken by the Russian leader during the current crisis."
Xi and Putin also "reaffirmed their willingness to further closely coordinate and support each other in the United Nations and other multilateral platforms," the embassy added, before criticizing the West's economic sanctions.
The Washington Post's website is banned in China, but Chinese news outlets have shared translations of Qin's op-ed, which has been met with a mixed response by the public.
There was another example of Beijing's shifting approach on Monday, when China's ambassador to Ukraine, Fan Xianrong, met with Maksym Kozytskyi, the head of the military administration in Lviv. The Chinese embassy relocated to Lviv, close to the Polish border, after the Russian invasion.
"We will respect the path chosen by Ukrainians because this is the sovereign right of every nation," Fan told Kozytskyi, according to Ukraine's state news agency Ukrinform. "China will never attack Ukraine, we will help, in particular in the economic direction."
Cynical observers may think China is playing both sides. Beijing has yet to condemn Moscow openly and won't join sanctions against Russia. U.S. officials say China is already assisting Russia financially and have expressed fears that the support could rise to the level of material aid to help sustain Putin's war. However, there is no indication that China's leadership is willing to go so far, especially as it attempts to salvage its reputation as a responsible major power and member of the UN Security Council.
Follow Newsweek's live blog for the latest on the Russia-Ukraine war.