China Sees Worsening Russia-Ukraine War, Issues First Evacuation Notice
The Chinese Embassy in Ukraine has issued its first evacuation notice nearly two weeks into a Russian invasion it sought to convince its citizens would never happen.
The short bulletin, released via the embassy's official account on messaging and social media app WeChat on Monday, predicted a further escalation of fighting, saying the "worsening tensions" looked to be "rising sharply." The majority of its citizens in Ukraine had already left the country, the security notice said. It urged remaining Chinese nationals to leave "as soon as possible."
The government placed the number of Chinese citizens in Ukraine at around 6,000, the first of whom were evacuated west in buses on February 28, a full four days after the hostilities began. During a meeting of the United Nations Security Council in New York, China's Ambassador Zhang Jun thanked neighboring countries—among them Russia, Belarus as well as NATO member states—for receiving Chinese evacuees.
The topic of evacuations from Ukraine is a sensitive one for Beijing, a government of which the nationalistic rhetoric has left its proud public with high expectations of China's responsibilities and capabilities. Two scenarios have prevailed, among China watchers, surrounding whether the Chinese leadership knew about President Vladimir Putin's plans to invade Ukraine. Both reflect poorly on the government's decision-making—and result in 6,000 Chinese nationals stranded in war zones as Russian shelling began on February 24.
In the first scenario, senior officials in Beijing were said to be unaware of the Kremlin's plans to launch a full-scale attack on Ukraine, despite the close relationship shared between Putin and his Chinese counterpart, Xi Jinping. Its daily dismissal of the U.S.'s non-stop warnings was the result of genuine mistrust of Washington. Its embassy in Kyiv remained operational and issued no travel advisories, in stark contrast to certain Western governments that had urged their citizens to leave the country two weeks earlier.
The first sign of unease came on February 22, shortly after Putin moved to formally recognize Ukraine's rebel regions of Donetsk and Luhansk and sent Russian "peacekeepers" into the Donbas. That morning, China's embassy asked citizens to stay away from "unstable areas" and to begin slowly stockpiling rations.
Around the same time, China's Foreign Ministry spokesperson Zhao Lijian tweeted about U.S. warnings: "American intelligence is a joke."
As the invasion began, China advised its nationals in Ukraine to remain indoors. If traveling by car, the new notice said, citizens were to affix a Chinese flag to their vehicle—advice seen by many back home as an unmistakable sign of the country's strength. Some 48 hours later, however, as reports of heavy shelling emerged and stranded Chinese citizens gathered in metro stations and basements, the advice changed again. Citizens were told not to reveal their nationality or display any identifying symbols, a recommendation that suggested Beijing's backing of Moscow, despite its overt military aggression against Kyiv, may have put its own citizens in danger.
On February 28, as the first Chinese citizens were evacuated by road, the Foreign Ministry deleted a line of text from the transcript of its daily media briefing, after a reporter from The Wall Street Journal asked whether Beijing had "mismanaged the safety" of its citizens in Ukraine. The Journal reported at least one Chinese national had escaped the country by pretending to be South Korean; another Chinese man in now-deleted social media video said he told Ukrainians he was Japanese in order to avoid coming under attack.
Later the same week, China's Foreign Ministry reported a Chinese citizen had been wounded by gunfire while trying to leave the country.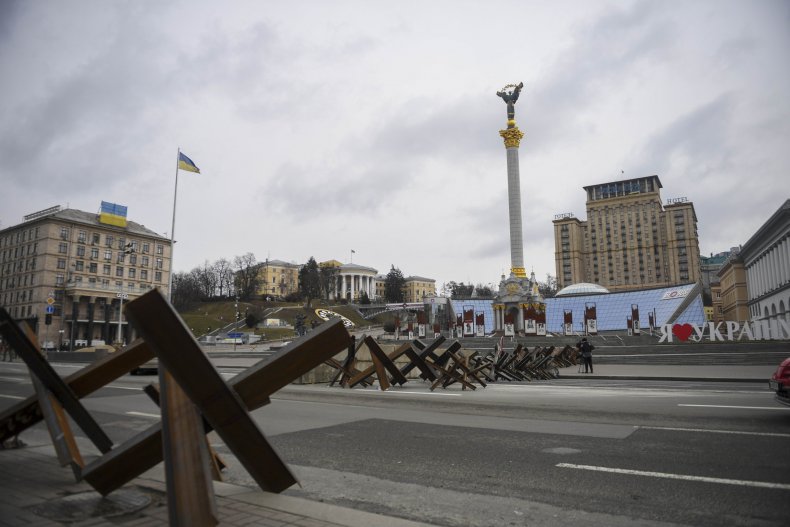 The second scenario is one in which the Chinese leadership—and perhaps President Xi himself—was aware of Russia's plan for regime change in Kyiv, even though the depth of its knowledge would be unclear. After the immediate chaos that was the first day of the war, the Chinese Embassy asked citizens to sign up for chartered flights out of Ukraine, despite the fact its airspace remained closed. The deadline for submission was February 27, but when the day came, Chinese Ambassador Fan Xianrong penned a lengthy letter explaining that the necessary conditions for evacuation had not been met.
Observers trying to piece together the calculations of top leaders in Beijing see the canceled flights as possibly suggesting China had prior knowledge of Moscow's plan to invade but expected Russian troops either to secure separatist areas in the Donbas only or quickly capture major cities and the capital of Kyiv as well as airports in a matter of days. From there, Chinese nationals who had endured the opening salvos of the conflict could be flown back to China from Russian-controlled airports, following the expected capitulation of Ukraine's armed forces and the exile or death of President Volodymyr Zelensky and his cabinet.
But as Ukraine continued to put up a stiff resistance far beyond the first days of its war for survival, and as Russian forces began indiscriminately shelling civilian areas in response, the result for China's thousands of nationals—convinced by their government that war was not possible—became the same: some sheltering in place and others hiding in the homes of compassionate locals, while those calling the embassy in panic were told to fend for themselves or reach Ukraine's western borders on their own.
Meanwhile, on China's main social media service, Weibo, criticism of the government's slowness to act has been censored or drowned out by ultranationalist who accuse the aggrieved of being ungrateful.
Throughout the first 13 days of war, China has denied U.S. claims that it had reached out to Beijing with compelling intelligence and evidence in the hope that Chinese officials could use their leverage to dissuade Putin from engaging in the costly military adventure. It also denied passing said American intelligence to Moscow, or that it had asked Russia to postpone its invasion until after the closing ceremony of the Winter Olympics on February 20.
Follow Newsweek's live blog for the latest on the Russia-Ukraine war.