China: US Should Oblige Russian 'Legitimate, Reasonable Concerns' in Europe
China has called on the United States to satisfy Russia's security concerns regarding NATO expansion in Eastern Europe as a crisis along Ukraine's borders drags on, with Washington warning the Kremlin could order an invasion at any minute.
Moscow has repeatedly rejected the notion that it is planning to attack its neighbor, and Beijing has joined in cautioning against hyped-up potential war scenarios.
"Disseminating disinformation and creating an air of tension is not conducive to resolving the Ukraine issue," Chinese Foreign Ministry spokesperson Wang Wenbin told reporters Thursday. "Clamoring for bloc confrontation and wielding the big stick of sanctions will only impede dialogue and negotiation."
As diplomacy continues to play out, albeit with little signs of progress so far, Wang said Washington should do more to take Moscow's concerns seriously.
"The U.S. side should value and accommodate Russia's legitimate and reasonable concerns over security protection and play a constructive role for all parties to seek a political settlement to the Ukraine issue on the basis of the Minsk II agreement, rather than hype up and sensationalize the crisis and escalate tensions," Wang said.
"China supports all efforts in keeping with the direction and spirit of the Minsk II agreement," he added.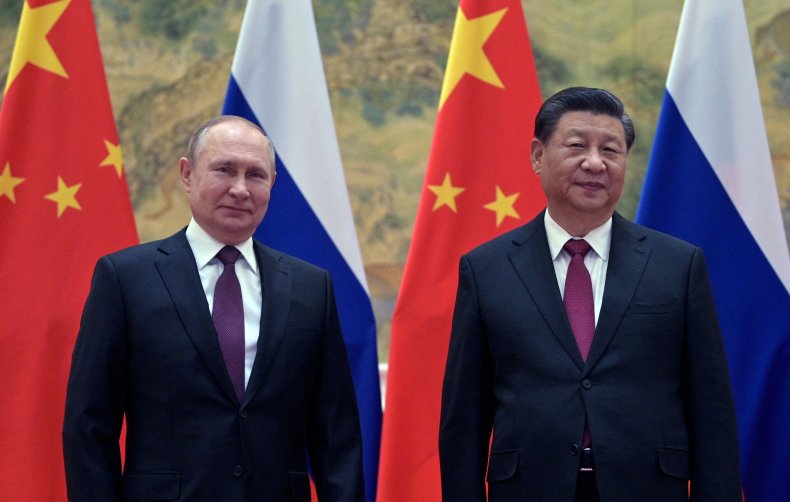 The 2015 Minsk II Agreement was the latest of two back-to-back deals between Kyiv and pro-Moscow separatists at war with Ukrainian troops since 2014, when a pro-West political uprising first brought unrest to the country. Both sides have regularly accused one another of violations, with the West largely backing Ukraine and Russia supporting the rebels.
But a massive Russian military buildup in recent months has sparked concerns of potential military action, concerns Russian officials say are unwarranted.
"It is obvious that the flywheel of the anti-Russian hysteria spinned in the United States does not allow American colleagues to look at things objectively," Moscow's embassy in Washington said in a statement Wednesday. "Self-hypnosis about the inevitability of the Russian attack persists."
But President Joe Biden once again said Thursday that the probability of a Russian invasion was "very high" and could happen in "the next several days."
Defense Secretary Lloyd Austin also addressed China's position on the issue directly during a press conference Thursday at a NATO gathering in Belgium when asked about growing ties between Beijing and Moscow.
"I can't speak to the strength of that alliance. What I can say and I'm not sure it infers anything at all, but we did note with alarm China's tacit approval of Putin's activities here in the region," Austin said. "So I'm not sure that we can make any kind of a direct inference from what you just raised, but certainly, those are things that we'll continue to watch going forward. But I think you raise a very, very interesting and important question."
China has forged a "strategic partnership" over the years but the country's "comprehensive strategic partnership of coordination for the new era" has elevated to unprecedented heights. While eschewing a formal alliance, the tighter-than-ever bond between Chinese President Xi Jinping and Russian President Vladimir Putin was further deepened as the two leaders met earlier this month at the start of the Winter Olympic Games in Beijing for their first in-person talks since the onset of the pandemic.
In a joint statement published after their discussions, Xi and Putin conveyed a united front on the U.S. deployment of missile defense systems in Europe and the Asia-Pacific regions, among other criticisms of Washington's foreign policy track.
While Ukraine was not mentioned by name, the statement went on to say that "the Chinese side is sympathetic to and supports the proposals put forward by the Russian Federation to create long-term legally binding security guarantees in Europe."
These proposals include precluding Ukraine from joining NATO and limits on the Western alliance's military activities near Russia's borders. The Biden administration and allies have so far largely dismissed Russia's position but have reiterated they remain committed to diplomacy as Washington expects a reply from Moscow to the most recent correspondence between the two on the issue in the coming days.
"We are awaiting it. We will give it a very close read," State Department spokesperson Ned Price told reporters Wednesday. "We hope that there is constructive feedback in that. We hope that the Russians are true to their word that they remain willing to engage in dialogue, they remain willing to engage in diplomacy to resolve this peacefully, but we'll have to see."
In the meantime, however, the White House has called on all U.S. citizens to leave Ukraine, a message echoed by a number of allied countries around the world to their own citizens. The U.S. has also moved temporarily relocated its embassy in Kyiv to the second city of Lviv and many other nations have reduced the number of diplomatic personnel in Ukraine.
Russia too has streamlined personnel at its embassy in Ukraine, but China has so far said its embassy and consulates were operating as usual.
As the Olympics continue in Beijing, China has called for the international community to abide by a non-binding, overwhelmingly-endorsed United Nations resolution for an "Olympic truce" set to extend through March 20, a month after the Winter Olympic Games end and a week after the conclusion of the Winter Paralympic Games.
But hostilities have already erupted as Kyiv and the insurgents of Donbas continue to blame one another for ceasefire violations. After a tense U.N. Security Council meeting in which the U.S. and Russia doubled down on their conflicting narratives, China's envoy to the international body once again called for calm.
"Regrettable to see reports of new incidents in violation of the ceasefire on the lines of contact in eastern Ukraine," Chinese permanent representative to the U.N. Zhang Jun said in a tweet. "It is imperative to return to the implementation of the Minsk agreements."
"Facing the current situation, we call on parties concerned to remain calm, commit to the general direction of political settlement, and refrain from escalating tensions or hyping up the crisis," he added.
Zhang also reiterated Beijing's concerns with NATO, issuing a criticism of U.S.-led military activities in Eastern Europe and beyond.
"NATO's continuous expansion is against the trend of times," Zhang wrote. "One cannot pursue its own security at the expense of others. This applies to Europe; it applies to other parts of the world as well. Countries concerned should draw lessons and do more for world peace&regional stability."