China Reiterates Friendship With Russia, Says Both Will Bring World 'Peace'
China reiterated its friendship with Russia on Monday, saying that their relationship benefits their respective citizens and can also help bring international "peace."
During a press conference, Chinese Foreign Minister Wang Yi described Russia as China's "most important strategic partner" and said that their joint ties are "one of the most crucial bilateral relationships in the world." He added, "Our cooperation not only advances the interests of both peoples but also contributes to peace, stability and development in the world."
Unlike the U.S., Europe and other nations, China has not condemned Russia's attack on Ukraine and has declined to take retaliatory action like economic sanctions. China did say that it "regrets" the civilian casualties being reported in Ukraine but emphasized that the "legitimate security concerns" of all parties should be respected.
While China is bolstering its stance on maintaining strong relations with Russia, it is also heavily stressing that it wants global solidarity and peaceful negotiations between both sides in the Ukraine crisis. Wang said that China was prepared to act as a mediator in such talks.
"An international situation already rife with uncertainties is becoming more complex and fluid. At such a critical moment, countries need solidarity, not division; dialogue, not confrontation," he said.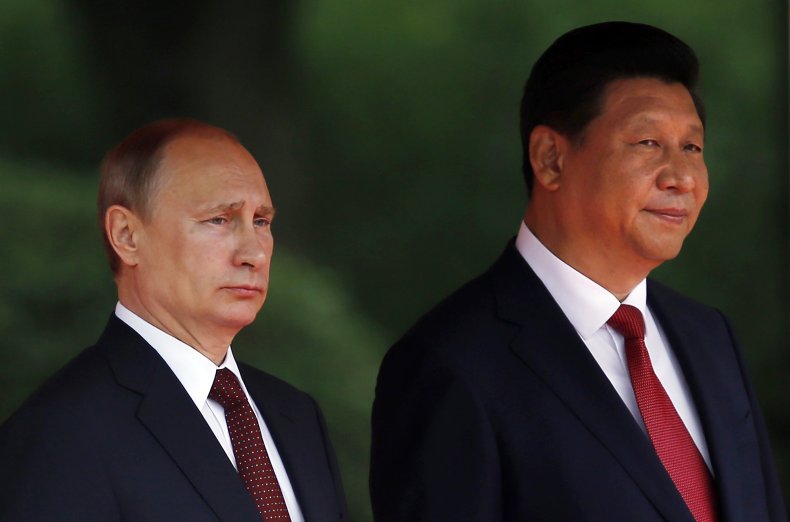 Wang said that China has already made efforts in this area. This includes a phone call between Russian President Vladimir Putin and Chinese President Xi Jinping on the second day of the Ukraine invasion, when the Chinese leader "expressed China's desire to see Russia and Ukraine hold peace talks as early as possible."
Wang said that Putin "responded positively" to this conversation and that some talks between Russia and Ukraine have already taken place, although these talks have reportedly made little progress.
"China believes that the more tense the situation, the more important that the talks continue," Wang said. "The wider the disagreement, the greater the need to sit down and have negotiation. China is prepared to continue playing a constructive role to facilitate dialogue for peace and work alongside international communications when needed to carry out necessary mediation."
Despite its self-determined stance as an independent mediator in the Russia-Ukraine conflict, Wang was clear about China's intentions in its relationship with Russia. He said that the friendship between the two nations is "ironclad" and stressed their plans to maintain those ties.
"No matter how perilous the international landscape, we will maintain our strategic focus and promote the development of a comprehensive China-Russia partnership in the new era," he said.
China's stance in the conflict has drawn scrutiny from some Western leaders and officials. On Saturday, Wang spoke with Secretary of State Antony Blinken about what the State Department calls "Moscow's premeditated, unprovoked and unjustified war against Ukraine," Reuters reported.
"The secretary noted the world is watching to see which nations stand up for the basic principles of freedom, self-determination and sovereignty," State Department spokesperson Ned Price said in a statement.
"He underscored that the world is acting in unison to repudiate and respond to the Russian aggression, ensuring that Moscow will pay a high price," the statement added.
Newsweek reached out to the State Department for comment on Wang's remarks but did not hear back before publication.