China has expressed regret over the loss of civilian lives in Ukraine for the first time, on the sixth day of a Russian military campaign that Beijing still refuses to call an invasion.
When Russian forces began bombarding Ukrainian territory on February 24, China's Foreign Ministry bridled at suggestions that there already had been non-military casualties in the conflict. Its tone softened on Tuesday, after the Ukrainian government counted at least 352 civilian deaths, among them 14 children.
"The current situation in Ukraine is a result of many complex historical and realistic factors. China regrets the casualties. The current situation is not what we wanted to see," ministry spokesperson Wang Wenbin told reporters at a daily press conference. Following inconclusive peace talks mediated by Belarus, China said it "supports and encourages all diplomatic efforts" conducive to ending the crisis. He emphasized the need for restraint on all sides.
In response to another question, the official repeated Beijing's position of solidarity with Moscow by calling for a sustainable security architecture in Europe without what China calls a "Cold War mentality" and military blocs.
"The legitimate security concerns of all countries should be respected. Given NATO's five consecutive rounds of eastward expansion, Russia's legitimate security demands must be taken seriously and properly addressed," he said.
The United States has described China's refusal to condemn Russia as tacit support for the actions of President Vladimir Putin. At a press briefing in Washington earlier this week, Chinese Embassy spokesperson Liu Pengyu said suggestions that Beijing was backing Moscow's attack were "a conspiracy theory."
As the West rallies behind Ukraine and leads global sanctions that threaten to collapse the Russian economy and turn the country into an outcast, China has already dismissed any possibility of taking part.
"As we have repeatedly said, we believe that sanctions are not an effective solution to solve problems," Wang Wenbin said. China and Russia would continue to trade with one another out of "mutual respect, equality and mutual benefit," he said.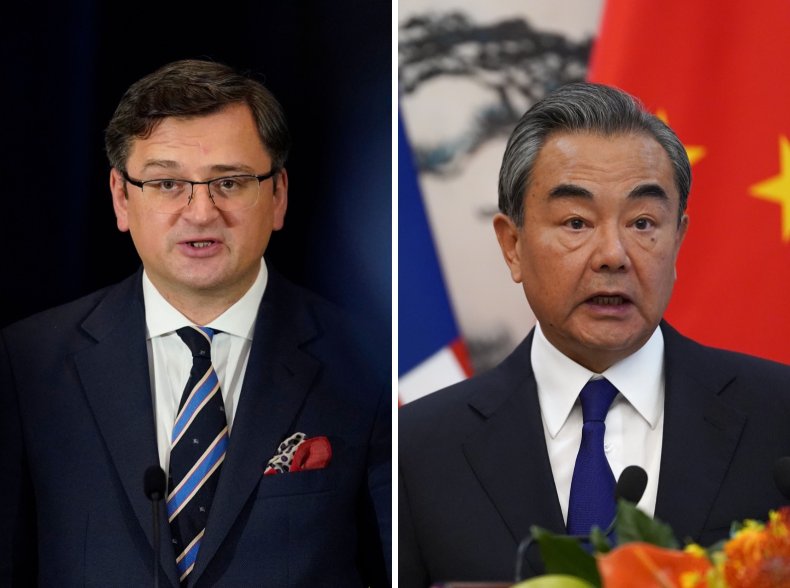 After Putin ordered troops into neighboring Ukraine on Thursday, China's Foreign Ministry said it hadn't attempted to contact any counterparts in Kyiv, saying everyone was "very busy." Hours later, Foreign Minister Wang Yi was on the phone with his Russian opposite number, Sergey Lavrov.
Six days into the deadly hostilities, Wang Yi finally took a call from Ukraine's Foreign Minister Dmytro Kuleba. The Chinese diplomat expressed regret at the "outbreak of conflict between Ukraine and Russia," according to a Chinese readout.
Wang reportedly reminded Kyiv of its "international obligations" to safeguard Chinese citizens inside the country. He held off on direct criticisms of NATO and the U.S., at least in Beijing's version of the call.
Kuleba, meanwhile, told Wang Yi he looked forward to China's role in mediating a ceasefire.
The first of some 6,000 Chinese nationals in Ukraine were evacuated by bus on Monday. About 1,000 had left the country by Tuesday, China's Foreign Ministry said. It comes after Beijing seemed to fail to anticipate the scale of the conflict, having decided against travel advisories before issuing conflicting advice to those trapped in the country.
The UN Refugee Agency estimates around 660,000 Ukrainians have already fled the country to neighboring states since the start of the war.
Follow our live blog for updates on the Russia-Ukraine conflict.