It Costs About 4,500 Rubles to Fill a Gas Tank After Russia Sanctions
Economic sanctions on Russia in the wake of its invasion of Ukraine have caused the value of the ruble to plummet and gas prices in the country to skyrocket.
Russia's decision to invade Ukraine has led to a flurry of international sanctions that are bleeding its economy. With the value of $1 equivalent to more than 104 Russian rubles as of about noon Monday, it costs Russians about 4,500 rubles to fill a 12-gallon tank of gas, based on the average U.S. price of $3.60.
On February 23, the day before Russia's invasion, $1 was equivalent to 83 rubles, meaning it cost about 3,870 rubles for a tank of gas.
In addition to the price of gas in Russia, interest rates have skyrocketed since the implementation of the sanctions. Russian banks have jacked up the interest rate to more than 20 percent, up from 9.5 percent before the sanctions.
In all, the ruble has fallen nearly 30 percent since the sanctions were imposed. On Monday, the country's central bank announced that the Moscow Exchange would remain closed.
The Associated Press reported that due to the rubles' massive decline, there has been a run on banks and ATMs, resulting in long lines and machines running out of currency. Additionally, the Russian government warned that people might have trouble accessing other financial services such as Apple Pay, Google Pay and Samsung Pay.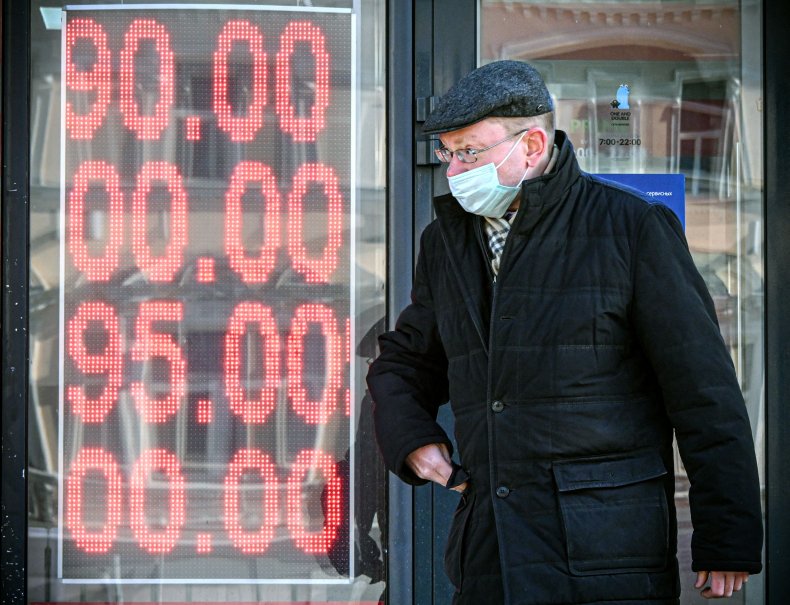 Several countries, including the United States, the United Kingdom and Canada, as well as the European Union, have hit Russia with sanctions aimed at the banking system, energy sector and individuals. Included those sanctions was cutting off several Russian banks from the SWIFT international banking system, effectively blocking imports and exports.
As the economic sanctions begin to wreak havoc on the ruble and the Russian economy as a whole, David Feldman, a professor of economics at the College of William & Mary, told AP that Russia might soon be left with only one choice to rescue its economy.
"It's going to ripple through their economy really fast. Anything that is imported is going to see the local cost in currency surge. The only way to stop it will be heavy subsidization," Feldman said.
Last week, U.S. President Joe Biden announced sanctions intended to harm Russia's economy as well as sanctions on Russian President Vladimir Putin and Foreign Minister Sergey Lavrov.
"This is going to impose severe costs on the Russian economy, both immediately and over time," Biden said. "We have purposely designed these sanctions to maximize the long-term impact on Russia, and to minimize impact on the United States and our allies."