China Shows Solidarity With Russia on Day of Ukraine Invasion
China leaned heavily into Russia's camp in the wake of Vladimir Putin's attack on Ukraine on Thursday, with Beijing's top diplomat calling his counterpart in Moscow but shunning his opposite number in Kyiv.
In an unprecedented Chinese Foreign Ministry press conference that lasted for over an hour, its senior spokesperson, Hua Chunying, told reporters that China's leaders hadn't made contact with Ukrainian officials in the hours after Russian forces were ordered across the border for a multi-front offensive. "Everybody is busy now," Hua said. At the start of the event, she balked at the term "invasion" and said Beijing wouldn't "rush into a conclusion" about the nature of the ongoing military offensive.
However, a few hours later, the ministry said the foreign ministers of China and Russia, Wang Yi and Sergey Lavrov, had spoken by phone. In the subsequent readout, Lavrov laid the blame for the crisis at the feet of the United States and NATO, while Wang backed Moscow's position against the West. "Russia was forced to take necessary measures to safeguard its rights and interests," Lavrov said.
"China always respects the sovereignty and territorial integrity of all countries," said Wang. "At the same time, we also see a complex and unique historical context behind the Ukraine issue, and understand Russia's legitimate concerns on security issues."
"China maintains that Cold War mentality should be completely abandoned, and a balanced, effective and sustained European security mechanism should ultimately be formed through dialogue and negotiation," he said.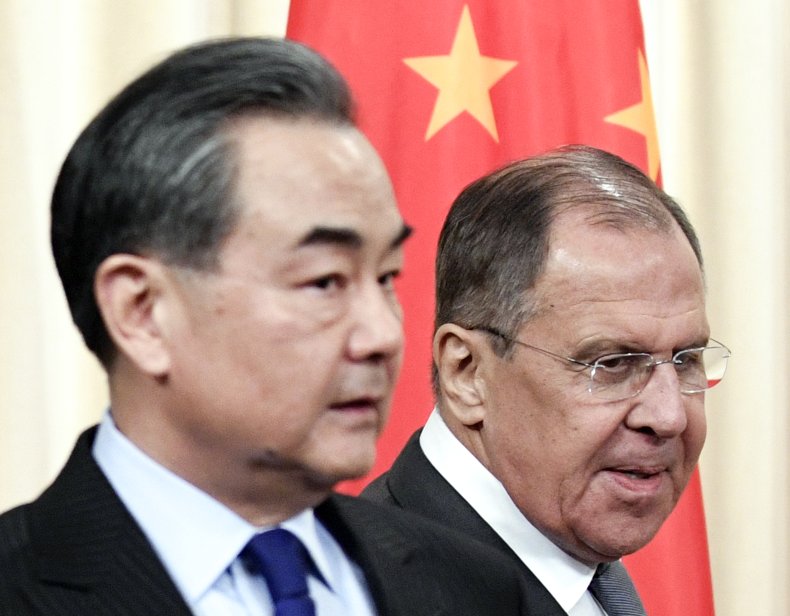 It was a stark departure from Wang's comments at the recent Munich Security Conference, two days before Putin granted formal recognition to Ukraine's breakaway regions of Donetsk and Luhansk, and then sent "peacekeeping" forces into the Donbas. The "sovereignty, independence and territorial integrity" of all nations should be respected and safeguarded," Wang said on Saturday. "Ukraine is no exception." He went on to call suggestions to the contrary "a distortion of China's position."
Yet recent responses out of Beijing fall in line with its brief and noncommittal statements at the emergency sessions of the UN Security Council on February 21 and 23. During both appearances, Chinese Ambassador Zhang Jun failed to condemn Russia, did not back Ukraine and repeated calls for restraint and dialogue. On Wednesday and after the invasion began on Thursday, Chinese Foreign Ministry senior spokesperson Hua accused the U.S. of "fanning the flames" of the Ukraine crisis.
On Weibo, China's main social media service, with more than 570 million active monthly users, a hashtag reading "Russia invades Ukraine" was censored and disabled. At the time of publication, a search of the term returned the phase: "Sorry, no related results were found for '#RussiaInvadesUkraine.'" On Wednesday, a state-owned news outlet accidentally shared censorship instructions that prohibited staff from publishing anti-Russian or pro-Western content.
Preceding hostilities in Ukraine, the Chinese Embassy in Kyiv issued a security notice that advised its citizens in the country to stockpile food and water. Two hours after Russia began a missile barrage on Ukrainian territory, the embassy issued another, recommending people remain indoors, away from windows and glass. Those traveling by car should affix a Chinese flag to their vehicles, it said. "Please don't panic. The embassy is with you all and will do our best to solve your problems."