Border Crossings With Wait Times Under 10 Hours
Tens of thousands of refugees fleeing Ukraine continue to wait in long lines to enter neighboring countries.
U.S. Embassy Kyiv shared a list of border crossings in Slovakia, Romania and Poland with wait times under ten hours on Tuesday. The embassy noted that wait times are constantly changing.
Slovakia:
Vysne Nemecke
Slemence (pedestrian)
Romania:
Poland:
Dołhobyczów
Hrebenne
Ustylah
*The crossings listed about have wait times under 10 hours, as of late Tuesday.
The United Nations reports some 677,000 refugees have fled Ukraine to neighboring countries, as of Tuesday. The U.N. estimates Ukrainian refugee numbers may exceed four million in the coming months.
Poland:
410,000 of those refugees have crossed into Poland since Thursday, according to the Chancellery of the Prime Minister of Poland.
On Tuesday alone, nearly 60,000 entered through the afternoon.
"Poland continues to evacuate those in need from Lviv, including children from the local hospitals," Poland's Ministry of Foreign Affairs tweeted Tuesday.
"Today a group of young oncology patients left Ukrainian territory. They are headed to Polish and German hospitals, where they will continue their treatment."
Moldova:
Tens of thousands of refugees have also fled to Moldova. Large groups of refugees waited in cold temperatures to board a bus in Palanca, Moldova on Tuesday.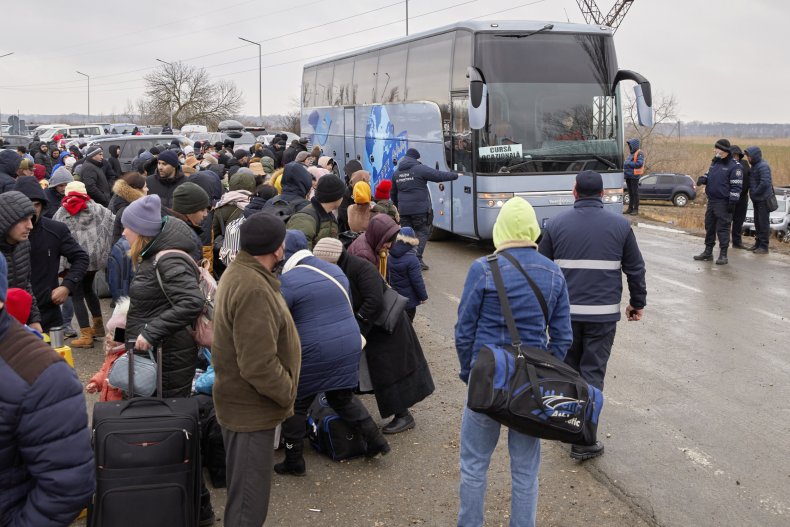 Moldova's President Maia Sandu was seen hugging a refugee over the weekend, as at the border crossing in Otaci.
Russia Level 4 "Do Not Travel" advisory:
Meanwhile, the U.S. State Department continues to advise U.S. citizens to avoid travel into Russia and to consider leaving the country. It cautioned, however, that flights are "extremely limited."
"Travelers may also experience difficulty securing airline tickets to depart Russia due to disruptions in the Russian financial system," the U.S. Embassy Moscow, Russia wrote.
"Further, an increasing number of airlines are cancelling flights into and out of Russia, and numerous countries have closed their airspace to Russian airlines.  In addition, air space around southern Russia is restricted and a number of airports in the area have closed."