China Makes 'Largest Arms Deal' of Its Kind with Pakistan After India Buys from Russia
China has reached a major deal to send military drones to Pakistan just days after Russia and India signed a multibillion-dollar arms sale in a display of defiance to the United States.
The Pakistani air force's Sherdils Aerobatic Team first announced Sunday via social media that the state-run Pakistan Aeronautical Complex company and China's own government-owned Chengdu Aircraft Industry Group would "jointly produce 48 Wing Loong II UCAV," an unmanned combat aerial vehicle in service with the People's Liberation Army Air Force. The deal was carried Monday by The Global Times, the official organ of the ruling Communist Party of China.
The newspaper cited oft-quoted Chinese military analyst Song Zhongping as saying that, if confirmed, the deal would prove to be China's largest drone export yet. The story was then featured on China Military Online, the official online portal of the Chinese armed forces.
The Wing Loong II UCAV is a reconnaissance and strike multirole endurance drone that conducted its maiden flight in February 2017, according to the official Xinhua News Agency. The article reported at the time that the Wing Loong II had been bought as part of China's largest overseas drone contract even prior to its debut flight, but did not specify which country had purchased it.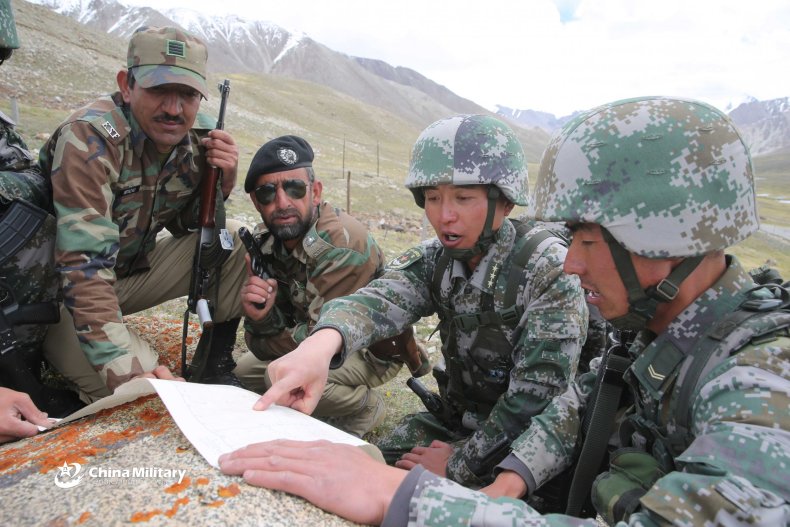 The drone itself is reportedly more than 36 feet in length, 13-and-a-half-feet in height and has a wingspan of more than 62 feet. It can reportedly hit a maximum altitude of 5.6 miles and a speed of about 211 miles per hour. The weapon has been billed at home as an equivalent to the U.S. MQ-9 Reaper.
In January, U.K.-based security analysis group Jane's 360 cited satellite imagery captured November 2017 by the Center for the Study of the Drone at Bard College showed what appeared to be a Chinese Wing Loong I, the predecessor to the Wing Loong II, at a hangar in the M.M. Alam air base in the Mianwali district of Pakistan's Punjab province.
Sunday's announcement did not provide many details of the reported Wing Loon II purchase, but Indian media were quick to note the timing of the deal just days after India signed a $5 billion dollar deal to acquire Russia's advanced S-400 surface-to-air missile system.
Pakistan and India have exchanged hostilities since being split by departing British authorities in 1947. The two have fought at least three wars as well as an ongoing border clashes over the contested region of Kashmir. Throughout much of the Cold War, their alliances were divided along another major regional dispute—the Sino-Soviet split that pit the world's leading communist powers against one another. Though India was a major supporter of the Non-Aligned Movement, which sought to avoid taking sides between Washington and Moscow, New Delhi embraced close ties with the Soviet Union, while Islamabad allied itself with Beijing.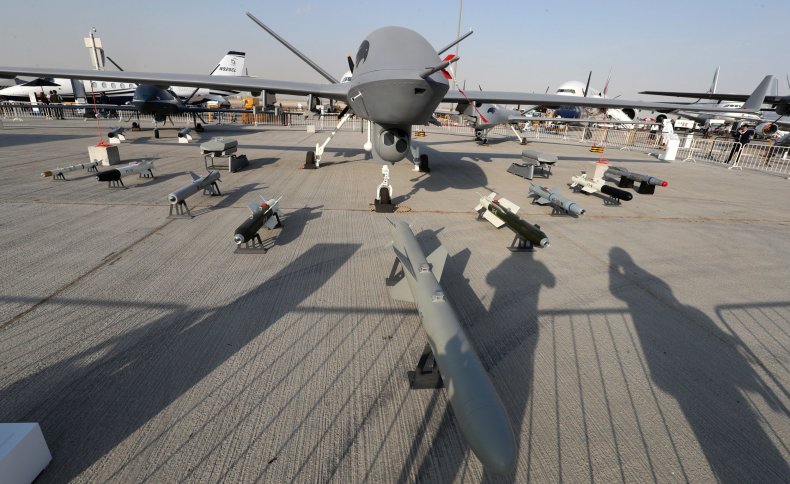 In recent years, both China and Russia have sought to expand their influence in Asia, and Chinese President Xi Jinping's One Belt, One Road initiative has seen greater investment in and defense cooperation with Pakistan. Despite nearly battling India over a border dispute that was eventually resolved peacefully last year, China has sought to use its regional pull to mediate tensions between India and Pakistan. During military exercises hosted by Russia, the two nuclear-armed South Asian rivals trained alongside one another for the first time ever in August.
Both the China-Pakistan and Russia-India deals represented a potential shift in international influence as India and Pakistan distanced themselves from the U.S. Also in August, Pakistani Foreign Minister Shah Mahmood Qureshi said that "the U.S. should understand that the world is no more uni-polar. It's now fast becoming multi-polar," according to Pakistani newspaper The Nation.
Indian Prime Minister Narendra Modi said in a similar vein on Friday that he and Russian President Vladimir Putin "are unanimous in strengthening multi-polarity and multilateralism in the rapidly changing world," as he finalized a deal that risked triggering U.S. sanctions against doing business with Russia's defense industry.