China Makes NATO Public Enemy Number One
The Chinese Communist Party's (CCP) leading newspaper hit out at NATO this week with claims that NATO is spreading lies about China's long-term ambitions, days after the alliance warned of China's opaque military buildup in a document referencing "systemic challenges" for the first time.
In a column on Tuesday, the widely-read People's Daily turned the same phrase on the North Atlantic Alliance, describing the bloc as posing "systemic challenges to global peace and stability." The editorial marked a continuation of the paper's anti-Western commentary since the start of the year.
"The long-outdated script of the Cold War must not be repeated in the Asia-Pacific. The turmoil and conflict currently happening in Europe must not be allowed to happen in the Asia-Pacific," writes "Zhong Sheng," the pen name used by the Chinese leadership in the international affairs pages.
The top CCP publication guides China's domestic and foreign policy; its talking points are often repeated by officials in the Foreign Ministry and by senior diplomats posted abroad. The People's Daily describes NATO's fresh focus on Asia as a potential threat to Chinese national interests, marking the bloc as public enemy No. 1.
NATO's new strategic concept, published on June 29, describes the People's Republic of China as challenging NATO's "interests, security and values."
"The PRC seeks to control key technological and industrial sectors, critical infrastructure, and strategic materials and supply chains. It uses its economic leverage to create strategic dependencies and enhance its influence. It strives to subvert the rules-based international order, including in the space, cyber and maritime domains," the NATO heads of government said in the jointly-endorsed document.
"We remain open to constructive engagement with the PRC, including to build reciprocal transparency, with a view to safeguarding the Alliance's security interests. We will work together responsibly, as Allies, to address the systemic challenges posed by the PRC to Euro-Atlantic security and ensure NATO's enduring ability to guarantee the defence and security of Allies," the document continued.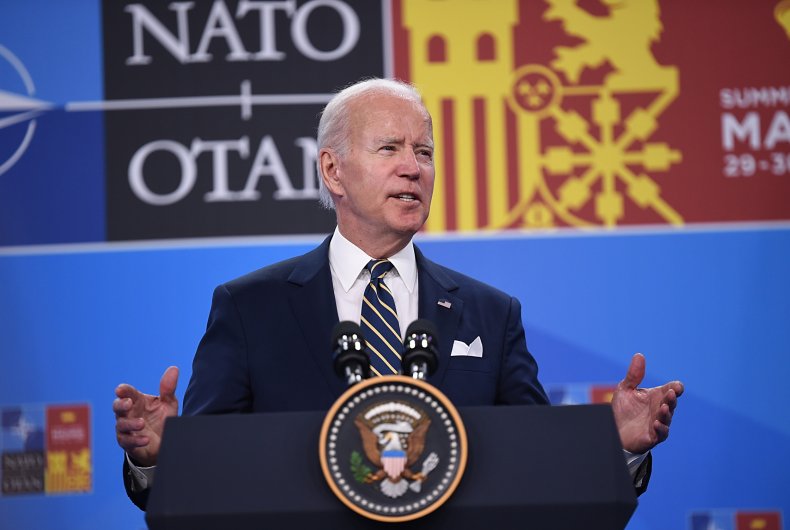 Tuesday's People's Daily column best demonstrates how China's opposition to NATO is really rooted in opposition to the United States.
"NATO's efforts to make and spread lies about China and hype the so-called 'China threat' are driven by the organization's reemerging Cold War mentality and ideological bias. It is just an awkward show staged by the U.S. to extend NATO's reach to the Asia-Pacific region," an English-language translation on the newspaper's website declared on Wednesday.
NATO's focus on China "is closely related to U.S. coercion," the leading CCP outlet claimed. The paper charged Joe Biden with inheriting "wrong practices" from the Trump era, including in his administration's view of Beijing as a "strategic competitor."
"China has to pay a high attention and make a systematic response to NATO's so-called 'systemic challenge' rhetoric. Any attempt to hurt China's legitimate interests will be met with strong reactions," the column said.
Ukraine: A Platform
China has had NATO in its sights since Russia's invasion of Ukraine. CCP mouthpieces have taken the Kremlin's side by pinning the conflict on the West and NATO in general, and the U.S. in particular—a position that aligns with its own strategic aim of undermining U.S.-led alliances in Asia.
To be sure, Beijing has a legitimate history of grievance against the alliance. In 1999, the U.S.-led NATO bombing of Yugoslavia killed three Chinese state media journalists stationed at the Chinese Embassy in Belgrade. The incident, which outraged the Chinese public and led to protests outside American diplomatic missions in the country, ended in an apology and compensation from the U.S., followed by a rapprochement after both were accepted by Chinese leaders of the day.
Amid the war in Ukraine, however, Chinese officials have been quick to remind the U.S. of what they call a "blood debt" owed to China.
Beijing's overarching goal of degrading U.S. credibility in Asia is evident in the way Chinese officials and state-owned publications have responded to the NATO's summits inclusion of Asia-Pacific heads of government for the first time. The leaders of Australia, New Zealand, Japan and South Korea were all present as their European counterparts met in Madrid last week.
"The NATO summit this year has not only hyped the so-called 'China threat,' but also invited some Asia-Pacific allies of the U.S. It exactly exposed the strategic scheme of the U.S. to make NATO's foray into the Asia-Pacific," the People's Daily wrote. Washington has repeatedly emphasized it has no plans to create an "Asian NATO."
Chinese Foreign Ministry spokesperson Zhao Lijian, responding to growing alignment between NATO and Beijing's historical rival Japan, accused Tokyo of looking for excuses to "justify its own military buildup."
"Japan says it welcomes greater input from NATO in the Indo-Pacific region. It seems Japan intends to spearhead NATO's foray into the Asia-Pacific. This is driven entirely by selfish interest and a Cold War mentality. It will only stoke bloc confrontation and create antagonism and division in the region," he said on Monday.
"Nothing good will come out of this for Japan or any other regional country," Zhao said.
On Wednesday, a NATO spokesperson referred Newsweek to recent comments by Secretary-General Jens Stoltenberg, who told the press in Madrid on June 29: "China is substantially building up its military forces, including nuclear weapons; bullying its neighbors and threatening Taiwan; investing heavily in critical infrastructure, including in allied countries; monitoring and controlling its own citizens through advanced technology; and spreading Russian lies and disinformation."
"China is not our adversary, but we must be clear-eyed about the serious challenges it represents. And we must continue to stand with our partners to preserve the rules-based international order, a global system based on norms and values instead of brute violence," Stoltenberg said.
"So NATO will step up cooperation with our Indo-Pacific partners, including on cyber defence, new technologies, maritime security, climate change and countering disinformation, because these global challenges demand global solutions," he said.
Update 7/6/22, 10:20 a.m. ET: This article was updated with a response from NATO.