Japan Alarmed by China, Russia Team-Up as NATO Turns Eye to Asia
Japanese officials lodged fresh protests with Beijing and rang up Moscow this week after Chinese and Russian government vessels were seen operating off the disputed Senkaku Islands, according to a report out of Tokyo.
Japan administers the uninhabited island chain in the East China Sea, but the islets are also claimed by China as Diaoyu. Tokyo has been tracking an alarming increase in Chinese coast guard and maritime militia activity around the islands in recent years.
A pair of China Coast Guard vessels chased a Japanese fishing boat through the 12-nautical-mile territorial waters of the Senkaku Islands on Tuesday in what was the 15th such incident this year, Japan's Kyodo News reported. Foreign Minister Yoshimasa Hayashi of Japan told reporters that Tokyo lodged a "serious protest" over the move.
Intrusions into the territorial waters around the islets remain relatively infrequent; almost all are done by white hull coast guard vessels. In the 12- to 24-nautical-mile contiguous zone, however, Beijing's attempts to enforce its territorial claim have been more direct.
Chinese government vessels had remained in the contiguous zone around the Senkakus for 81 days in a row as of Tuesday, the Japan Coast Guard said. They included a rare move by Russian and Chinese naval vessels, which sailed through the waters 40 minutes apart on Monday morning, news agency Kyodo said, citing officials with Japan's Defense Ministry.
Amid suggestions of coordination between China and Russia, the arrival of a Russian warship near the Senkakus led to a diplomatic note from Tokyo to Moscow.
Japan said it was taking a "keen interest" in recent Russian maneuvers around the islands; however it was not escalated to a formal diplomatic protest, following suggestions that the Russian vessel was attempting to avoid a typhoon, the report said, citing a source in Japan's Foreign Ministry.
Chinese Foreign Ministry spokesperson Zhao Lijian responded to Tokyo's protests on Monday by declaring the Senkakus "part of China's territory." Chinese coast guard activity in the surrounding waters were "legitimate and lawful," he said.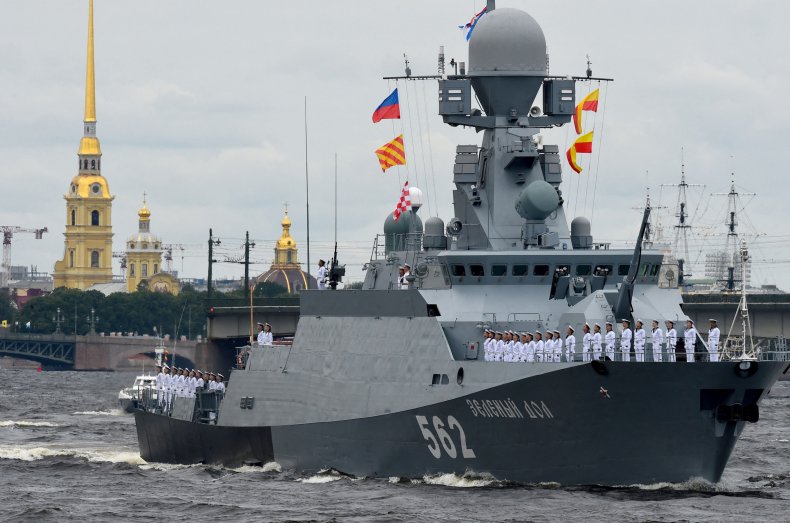 Last week, Japan's Defense Ministry said it had been monitoring a joint "show of force" by warships from China and Russia that had circumnavigated the Japanese archipelago over the span of three weeks between mid-June and early July.
Under the U.S.-Japan security treaty, American troops would intervene if Japanese forces are attacked around the Senkakus—a commitment U.S. President Joe Biden reaffirmed earlier this year.
Prime Minister Fumio Kishida of Japan would have brought his concerns to Madrid as he, and three other heads of government from the Asia-Pacific region, attended NATO's annual summit for the first time.
Amid the war in Ukraine, Beijing has pushed back against any NATO involvement in Asia just as the North Atlantic Alliance turns its attention to China in the long term.
China's "ambitions and coercive policies challenge our interests, security and values," NATO said in its new Strategic Concept published last week. "[China] employs a broad range of political, economic and military tools to increase its global footprint and project power, while remaining opaque about its strategy, intentions and military build-up."
The document also called attention to the "deepening strategic partnership" between Beijing and Moscow, and "their mutually reinforcing attempts to undercut the rules-based international order run counter to our values and interests."
"We remain open to constructive engagement with [China], including to build reciprocal transparency, with a view to safeguarding the Alliance's security interests. We will work together responsibly, as Allies, to address the systemic challenges posed by [China] to Euro-Atlantic security and ensure NATO's enduring ability to guarantee the defence and security of Allies," the bloc said.