China Says It Will 'Show No Mercy' to Those Behind Hong Kong Protests, U.S. Must End Support for Them
China has issued one of its strongest warnings yet to those organizing ongoing protests in the semi-autonomous city of Hong Kong and warned the United States and others backing them from abroad must end their support.
At a press conference in Beijing, Chinese State Council Hong Kong and Macao Affairs Office spokesperson Yang Guang warned that "the situation in Hong Kong remains complex and grim," with some instances of violence growing amid the months-long protest movement. Asked by reporters, he reaffirmed his previous assertion that months-long demonstrations were beginning to show signs of "terrorism" as they attacked public property such as airport and rail facilities and clashed with law enforcement, who have increasingly responded with force.
Yang expressed support for Hong Kong officers and the justice system there, which he said were responsible for restoring order and punishing wrongdoers, "especially for those hardcore violent criminals and the masterminds, organizers and agitators pulling the strings behind the scenes, we must show no mercy and pursue them until the end."
"All institutions with public authority should act quickly and decisively," he added, arguing that "the rule of law" must prevail over the current anarchy.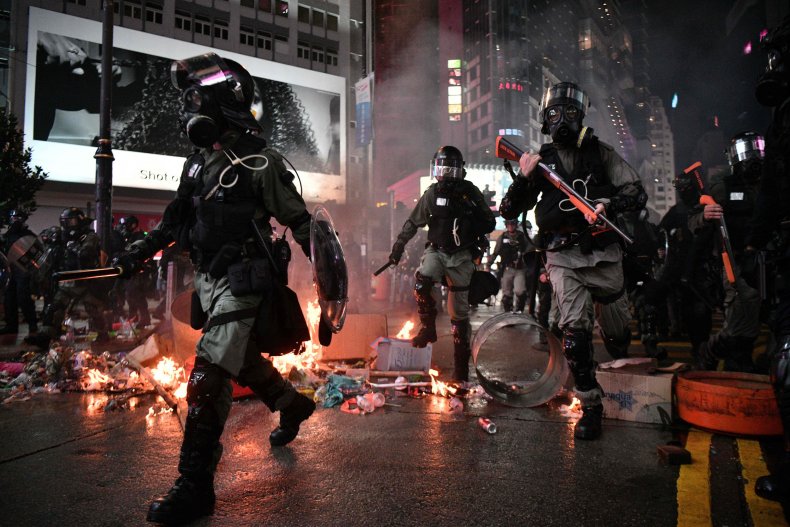 Hong Kong's unrest has its roots in Chief Executive Carrie Lam's controversial bill that would allow residents of the special administrative region who were suspected of a crime to be extradited to other parts of the country. A number of people began taking the streets, feeling this to be a breach of the "one country, two systems" framework guiding relations with the mainland government in Beijing since Hong Kong's handover from its colonizer, the United Kingdom, in 1997.
Lam suspended the bill in June, but the opposition movement only swelled as protesters then called for the proposed law to be thrown out altogether and for her to resign immediately in a bid to distance the city from the central government. The Hong Kong leader has so far resisted these calls, even as audio leaked Monday by Reuters which appeared to show her telling business leaders during a private meeting that if she had "a choice, the first thing is to quit, having made a deep apology."
In response to the report, Lam told reporters she "has not tendered" nor has she "even contemplated to discuss a resignation with the central People's government." She said the decision to stay was her own and that she was "very disappointed" that her remarks were leaked and taken out of context — an "unacceptable" move.
The leak also came up during Tuesday's press conference, where Chinese State Council Hong Kong and Macao Affairs Office spokesperson Xu Luying said Beijing "unswervingly supports" Lam's administration as well as police officers, who she said had suffered physical and psychological trauma at the hands of protesters.
Yang highlighted the role of foreign powers too, referring to recent statements expressing support for the demonstrations by leading figures in the United Kingdom and the United States. He noted that "some politicians in the West, especially in the United States, are constantly making irresponsible remarks about Hong Kong affairs," arguing "they are shooting off non-sense in a serious way, reversing black and white, confusing right and wrong" about the situation in criticizing police and backing those who stoke unrest.
"What they have in mind is definitely not the future of Hong Kong, but to exploit the situation and the turbulence in Hong Kong, to destabilize Hong Kong and create trouble for China. I want to warn these people in the West that Hong Kong is China's Hong Kong and no foreign country cannot interfere in Hong Kong," Yang told reporters. "While these tricks may have worked in other places, leaving them in ruins and vandalous social confrontation and hatred, but on Chinese soil in Hong Kong, such tricks won't work, it's time to wake up."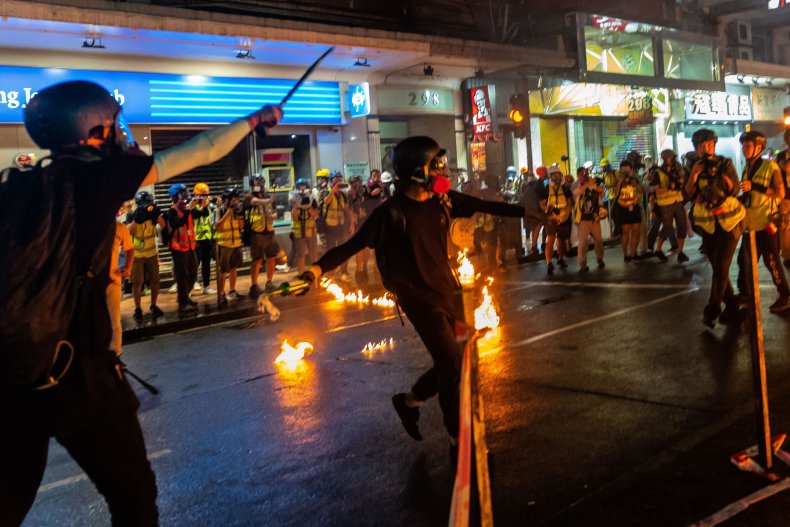 President Donald Trump has attempted to tie together the situation in Hong Kong with his ongoing trade war with Chinese President Xi Jinping, urging his counterpart in Beijing to meet directly with protesters and solve the issue before their multibillion-dollar, tit-for-tat tariff fight could be resolved. On Tuesday, Trump tweeted his administration was "doing very well in our negotiations with China," touting his hard-line position.
The Chinese government, meanwhile, has maintained that the military has the right to intervene in Hong Kong, if deemed necessary. Footage of additional People's Liberation Army arriving outside the city was recently aired by state-run television, though the Central Military Commission described the move as a routine rotation of personnel stationed to the nearby garrison in Shenzen.
Military spokesperson Ren Guoqiang described the incoming troops as "determined, confident and capable" of performing their duties, according to the Communist Party's Global Times tabloid.
Xi on Tuesday listed Hong Kong, along with the fellow special administrative region of Macao and self-ruling island nation of Taiwan and other issues as being among the "major struggles" China faces in a speech to the ruling Chinese Communist Party's Central School in Beijing.