China Tells U.S. to Stay Away Amid New Weapons Sale to Taiwan and Support for Hong Kong Protests
China has issued a new warning to the United States as it reportedly greenlit a new arms sale to Taiwan, a self-ruling island state backed by Washington and claimed by Beijing, and offered support for protesters in the semi-autonomous city of Hong Kong.
Amid reports Friday that President Donald Trump approved an $8 billion sale of F-16V fighter jets to Taiwan, Chinese Foreign Ministry spokesperson Hua Chunying argued that such moves "severely violate" the one-China policy—through which Washington only officially recognizes Beijing over Taipei. She also criticized three joint communiqués that bolstered bilateral ties and saw the U.S. promise to decrease military support for Taiwan. Hua warned the latest actions "constitute interference in China's internal affairs and undermine China's sovereignty and core interests."
"China firmly opposes this and has lodged stern representations with the US," Hua told reporters. "It must be stressed that the Taiwan issue concerns China's sovereignty, territorial integrity and security interests."
"China urges the U.S. to fully recognize the highly sensitive and harmful nature of the relevant issue, abide by the one-China principle and the three China-U.S. joint communiqués, refrain from selling F-16V fighter jets to Taiwan and stop arms sales to and military contact with Taiwan," she added. "Otherwise, the Chinese side will surely make strong reactions, and the U.S. will have to bear all the consequences."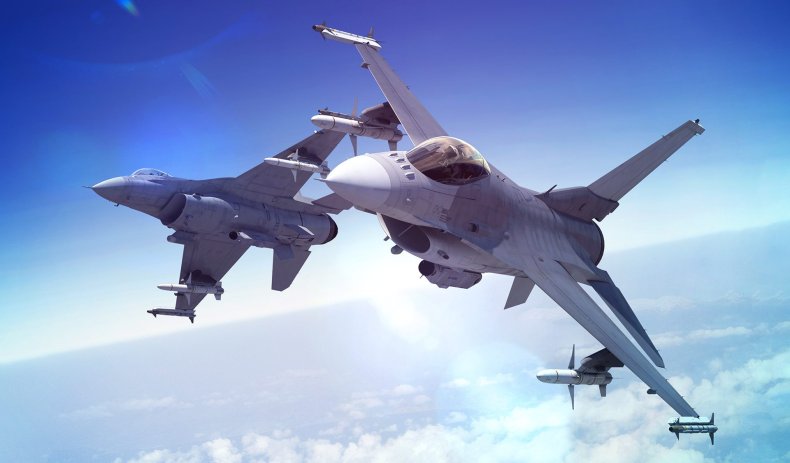 Taiwan's government evolved out of Chinese nationalist forces that fled after losing a civil war with revolutionary communists in 1949. The two governments both claim to be the legitimate government of China, with Beijing claiming the vast majority of the world's recognition, leaving Taipei with relations with only 16 countries and the Vatican.
The U.S. officially switched its recognition to the People's Republic in 1979, eight years after Beijing took control of the permanent position on the United Nations Security Council. Still, the U.S. has maintained informal ties that have expanded under President Donald Trump's administration.
One of the most contentious areas of this relationship is U.S. arms sales to Taiwan, which China routinely views as a violation of their prior agreements. Under Chinese President Xi Jinping, Beijing has sought to expand its military power and has stepped up threats to retake Taiwan by force, if necessary.
China has also offered a diplomatic solution, pointing to the "one country, two systems" approach that was applied to Hong Kong and Macao after they were handed over by former colonizers the United Kingdom in 1997 and Portugal in 1999, respectively.
Taiwan has resolutely rejected such a deal. Unrest toward the arrangement was also brewing in Hong Kong where anger toward a planned bill that would allow local residents to be extradited to other parts of China have erupted into mass, increasingly violent protests.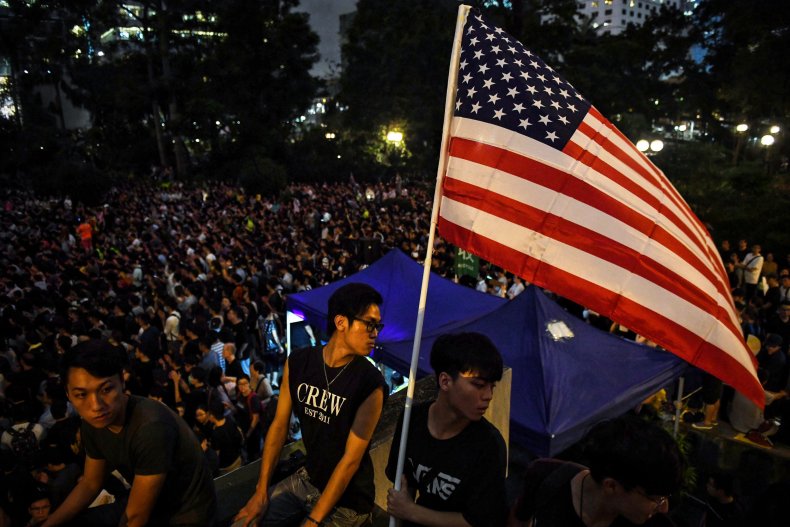 Though Hong Kong Chief Executive Carrie Lam called the bill "dead" in June, protesters demand the proposal be scrapped entirely. Protesters also want to see her resignation and looser election laws. The central government in Beijing has stood by the embattled Hong Kong leader, especially as petrol bombs targeted police stations and opposition activists attacked a suspected Chinese spy who turned out to be a reporter for a Communist Party newspaper—acts Chinese officials have compared to "terrorism."
China has accused the U.S. of interfering in its internal affairs as top officials and politicians in Washington offered their support for the protests. Leading Trump administration officials such as Vice President Mike Pence, Secretary of State Mike Pompeo and White House national security adviser John Bolton have all met with prominent Hong Kong figures in support of the demonstrations.
As Chinese troops amassed in neighboring city Shenzen, President Donald Trump has called in recent days for Xi to meet with activists in hopes of resolving the situation. Asked about this Friday, Hua simply said that "the most pressing and overriding task is to stop violence, end the chaos and restore order in accordance with law."
She cited Trump's own use of the term "riots" to describe the unrest and, at a previous press conference Thursday, also quoted the president's earlier remarks in which he said: "Hong Kong is a part of China, they'll have to deal with that themselves, they don't need advice." To this, Hua said that "we hope the U.S. side will keep its word."