A tabloid run by the ruling Chinese Communist Party hit out Tuesday at alleged attempts to separate Hong Kong from the central government in Beijing as demonstrations grew increasingly violent, with a man identified as one of the outlet's reporters seen being detained and beaten by protesters on video.
In footage widely shared online, a man expressing his support for police is seen being hit by activists opposed to Hong Kong Chief Executive Carrie Lam's administration amid clashes at the semi-autonomous city's international airport. The man, whose hands and feet were bound with zip ties as he was accused of being a government spy, was then identified online as Global Times journalist Fu Guohao by the newspaper's editor-in-chief Hu Xijin, who said Fu "has no other task except for reporting" and appealed for his release.
About an hour later, Hu reported that police had gotten to Fu and tweeted that he would "like to condemn all acts of violence against journalist[s]." Global Times then published a 44-second video detailing the incident, ending with the phrases: "There are no rioters, but only terrorists! We strongly condemn the assault carried out by rioters on our reporter!"
China's own State Council Hong Kong and Macao Affairs Office has also begun to escalate its criticism of increasing unrest throughout the city as the early "signs of terrorism" since a recent series of petrol bombings against police stations. Both officials and the state-run media have blamed the deteriorating security situation not only on rioters, but on their alleged backers abroad as well.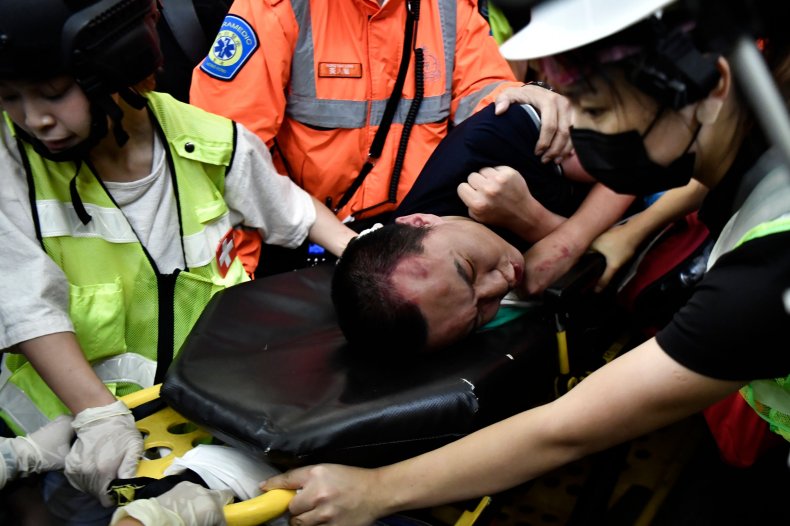 In an op-ed published around the same time that the incident involving Fu transpired Tuesday, Global Times compared what was happening in Hong Kong to a so-called "color revolution." The term most often refers to the series of demonstrations calling for regime change against governments deemed authoritarian, especially in Eastern Europe, but also across the Middle East, North Africa and other parts of Asia.
Russia and China have been deeply critical of "color revolutions" they view as a nominal pro-democracy guise for U.S. and Western attempts to undermine their respective governments. Both Moscow and Beijing have recently criticized politicians and officials in Washington for offering support to ongoing demonstrations calling for looser elections laws in the two countries.
The Global Times piece Tuesday acknowledged that the initial aim of the demonstrations was to oppose a bill that could allow Hong Kong suspects to be extradited to other parts of China, but argued they "have deviated from the original intent." The newspaper warned that now the goal was to "completely paralyze" the local administration "and undermine Hong Kong's status as an international financial center."
"By doing so, the radical protesters aim to force the central government to give up governance over Hong Kong, accede to universal suffrage and give the city back to the Western world," the publication added, vowing that the "Chinese government will never allow extreme opposition and the West to pull Hong Kong into the anti-China camp, nor will it allow the city to slip into long-term chaos or become a base for the West to subvert China's political system."
Both sides have accused the other of agitating the worsening situation in Hong Kong as it approached an all-out crisis. Scores have been injured and hundreds arrested in the months since the protests began.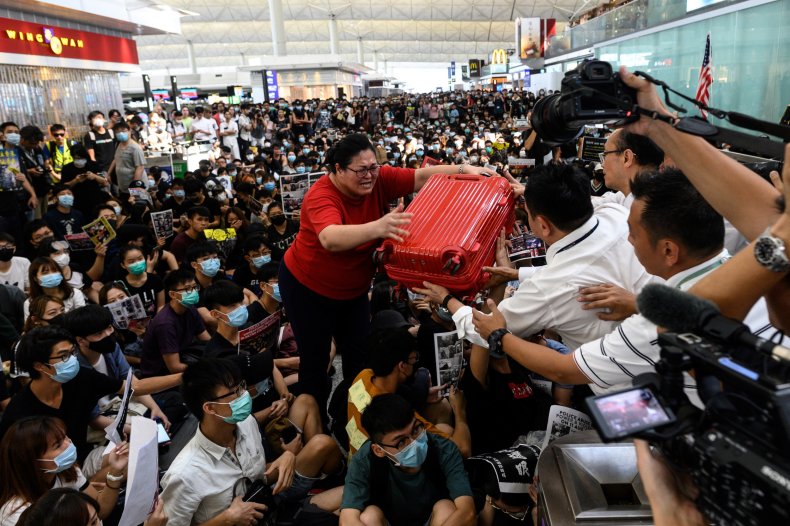 The United Kingdom took control of Hong Kong in the 19th century but the city was handed back over to China in 1997 as part of a "one country, two systems" framework that deemed it a special administrative region with partially autonomous structures. Beijing ultimately claims sovereignty over the city, however, and has been suspicious of any influence from its former colonizer as well as the U.S., where top officials like Vice President Mike Pence, Secretary of State Mike Pompeo and White House national security adviser John Bolton have met with prominent pro-opposition Hong Kong figures.
President Donald Trump, already embroiled in a bitter trade war with Chinese President Xi Jinping, retweeted a series of messages voicing support for the protesters Tuesday. Just before the retweets, the U.S. leader wrote: "Many are blaming me, and the United States, for the problems going on in Hong Kong. I can't imagine why?"
He then claimed that "Our Intelligence has informed us that the Chinese Government is moving troops to the Border with Hong Kong," saying "Everyone should be calm and safe."
Footage circulated since Monday by Global Times and other Chinese state-run media has shown what appeared to be Chinese forces amassing in Guangdong province's city of Shenzhen, located just outside of Hong Kong. Late last month, the Chinese military's Hong Kong garrison published a video showing "anti-riot" drills involving an array of weaponry including assault rifles, tanks, warships, helicopters and missiles as the local commander affirmed his forces would intervene to restore order if necessary.