China Warns of 'Terrorism' in Hong Kong Protests, Says U.S. Is Supporting It
China has warned of potential terrorism arising from increasingly violent protests in Hong Kong, where Chinese officials suspected the United States has played a role in stoking discontent.
Yang Guang, a spokesperson for the Chinese State Council's Hong Kong and Macau Affairs Office, expressed "deep indignation and strong condemnation" Monday at recent petrol bomb attacks that struck several police stations across Hong Kong, which has been hit by months of demonstrations against the city's Beijing-backed government. He praised the performance of police, some of whom were reportedly injured in the attacks, and escalated the official rhetoric against the protests.
"In the past few days, Hong Kong's radical demonstrators have repeatedly attacked police officers with extremely dangerous tools, which already constitutes serious violent crimes and has begun to show signs of terrorism," Yang said.
"This is a gross violation of the rule of law and social order in Hong Kong," he added, arguing that "violent crimes must be resolutely cracked down in accordance with the law, without hesitation or mercy."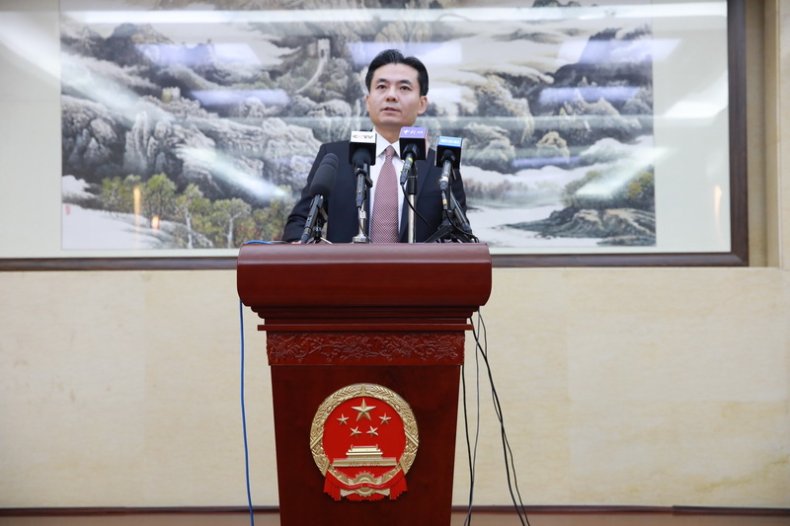 Hong Kong's protests initially came in response to a bill introduced in February that would allow the city's residents to be extradited by the central government, angering those who seek more autonomy for the special administrative region. Even with the bill being suspended, protesters have called for political reforms and for Hong Kong Chief Executive Carrie Lam to step down.
Beijing has repeatedly come out in support of Lam and her administration's efforts to stabilize the city, which has been under China as part of a "one country, two systems" policy since control was handed over by the United Kingdom in 1997. As the latest clashes worsened, however, officials have also warned that troops could be sent in to restore order.
Meanwhile, the U.S. and the U.K. have openly endorsed the demonstrations, further frustrating China. Beijing has pointed to Washington figures such as Vice President Mike Pence, Secretary of State Mike Pompeo and White House national security adviser John Bolton meeting Hong Kong opposition supporters and the presence of U.S. flags at rallies as evidence of foreign interference.
"The U.S. has been making various Hong Kong-related accusations that are wanton, fact-distorting and inflammatory. Some senior U.S. politicians and diplomatic officials met and engaged with anti-China rabble-rousers in Hong Kong, criticized China unreasonably, propped up violent and illegal activities and undermined Hong Kong's prosperity and stability. These facts are only too obvious. I'd like to ask the US this question again: what is the true intention behind your behaviors relating to Hong Kong?" Chinese Foreign Ministry spokesperson Hua Chunying told reporters Monday.
"I need to reemphasize a plain truth. Hong Kong is part of China, and its affairs are entirely China's internal affairs. We urge the U.S. to observe international law and the basic norms governing international relations, and to stop interfering in China's internal affairs at once," she added.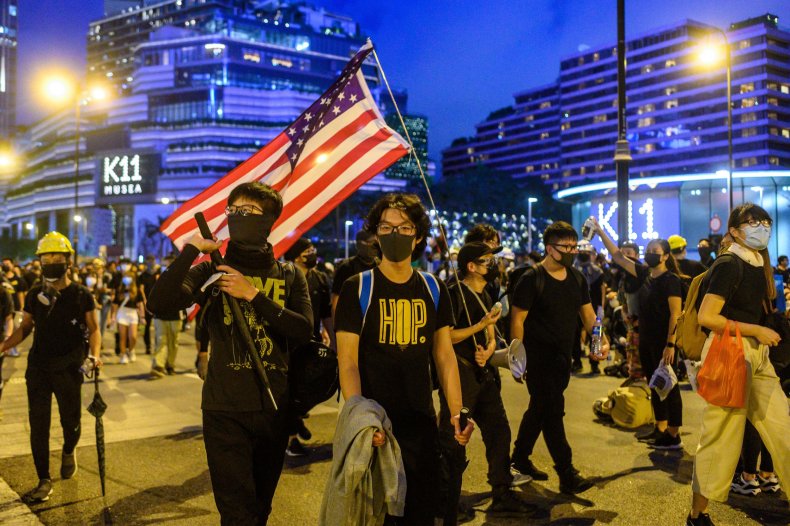 The U.S. has largely dismissed these charges, but State Department spokesperson Morgan Ortagus lashed out at China, calling it a "thuggish regime" Thursday after a pro-Beijing newspaper published a photograph of U.S. diplomat Julie Eadeh of the consulate's political affairs section meeting with young opposition leaders in Hong Kong. Ortagus also accused Chinese officials of leaking personal information about Eadeh and her family.
On Monday, Washington's consulate in Hong Kong issued a new message to U.S. citizens, noting that Hong Kong International Airport had suspended all incoming and outgoing flights due to protests at the site. The statement said both the demonstrations "and the government's handling of the ensuing protests have increasingly turned confrontational."
On Wednesday, the city's travel advisory was upgraded to a level 2 or "Exercise Increased Caution" by the State Department due to the turmoil further complicating U.S.-China relations.
Ties between Washington and Beijing are already strained due to an ongoing trade war between the world's top two economies. President Donald Trump has announced a 25 percent tariffs on up to $250 billion worth of Chinese goods and 10 percent on an additional $300 billion worth, with Beijing taking retaliatory measures.