China Says It Has the 'Power' to End Hong Kong Protests as Troops Gather Outside City
The Chinese envoy to Hong Kong's former colonizer has warned his country had the capabilities to restore order in the troubled special administrative region as protests raged on.
In a press conference with international media on Thursday, Chinese ambassador to the United Kingdom Liu Xiaoming said that "if the situation deteriorates further into unrest uncontrollable by the SAR government, the central government will not sit back and watch." He warned that "we have enough solutions and enough power to put an end, to quell the unrest swiftly."
His remarks came as months-long demonstrations against Hong Kong's semi-autonomous government grew increasingly violent, paralyzing the city's international airport for two days earlier this week and culminating in more dramatic scenes of clashes between protesters and police. The United States and the U.K. have actively supported the rallies, where the national flags of both countries have been spotted, fueling Chinese suspicions that the Western allies had a hand in them.
Liu told "foreign forces" Thursday to "immediately stop interfering in Hong Kong's internal affairs, stop interfering in China's internal affairs, stop conniving in violent offenses." He added: "They should not misjudge the situation and go down the wrong path, otherwise, they will lift the stone only to drop it on their own feet."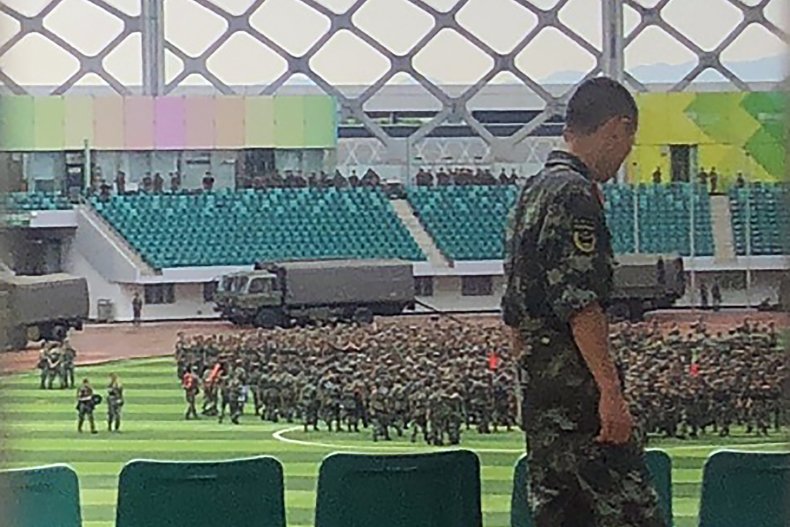 Popular discontent emerged February in Hong Kong in response to the local administrations' introduction of an extradition bill that would allow residents suspected of a crime to be extradited to other parts of China not bound by the "one country, two systems" policy in place since the U.K.'s handover in 1997. As protests swelled throughout the spring and early summer, Hong Kong Chief Executive Carrie Lam agreed to suspend the bill, but this alone did not assuage the grievances of the opposition.
Protesters have since called for Lam's resignation, along with looser election laws and greater distance from the central government in Beijing. Chinese officials there have offered their full support to Lam, but as the turmoil worsened, have upped their rhetoric, comparing petrol attacks against police stations and an attack on a Chinese Communist Party tabloid reporter to "terrorism."
The Chinese military already has a presence in Hong Kong, where the local garrison recently flexed its muscles with an explosive "anti-riot" clip. Outside the city, however, scores of troops and equipment have massed in the city of Shenzhen in China's southern Guangdong province to conduct drills that were widely seen as a message to neighboring Hong Kong.
As footage of Chinese personnel arriving circulated Tuesday, President Donald Trump tweeted: "Our Intelligence has informed us that the Chinese Government is moving troops to the Border with Hong Kong. Everyone should be calm and safe!" The president previously tweeted that day he "can't imagine why" he was being blamed for the unrest, but has since grown increasingly vocal in his support for the demonstrations.
On Wednesday, Trump appeared to tie in his willingness to make a deal in a bitter trade war with Chinese President Xi Jinping to Beijing needing to "work humanely with Hong Kong first." The U.S. leader said that Xi, like him, was "a good man in a 'tough business'" and on Thursday reiterated his call for Xi to engage in talks with Hong Kong's opposition, saying if he "would meet directly and personally with the protesters, there would be a happy and enlightened ending to the Hong Kong problem."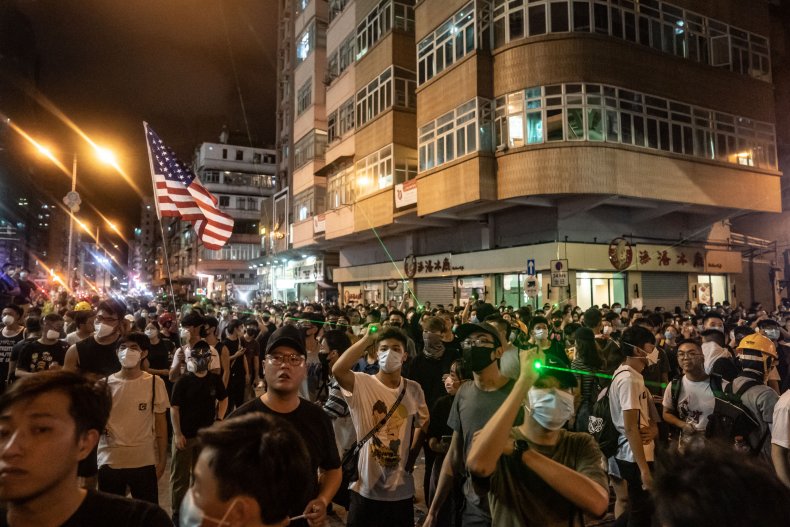 Chinese Foreign Ministry spokesperson Hua Chunying responded to Trump combing the tit-for-tat tariff battle between Washington and Beijing with Hong Kong's issues, telling a press conference Thursday that "Hong Kong affairs are entirely China's internal affairs."
"As we noted, President Trump also said previously that 'Hong Kong is a part of China. They'll have to deal with that themselves. They don't need advice.' We hope the U.S. side will keep its word," she added. "China holds a consistent and clear position on China-U.S. trade talks. We hope the U.S. can work in concert with China to implement the two presidents' consensus that was reached in Osaka, and to work out a mutually acceptable solution through equal-footed dialogue and consultation with mutual respect."
Other Trump administration officials have taken a more direct role, with top figures such as Vice President Mike Pence, Secretary of State Mike Pompeo and White House national security adviser John Bolton meeting with prominent Hong Kong figures supporting the demonstrations. A number of politicians in Washington have also expressed their backing for the movement.
"Some senior U.S. politicians and diplomatic officials met and engaged with anti-China rabble-rousers in Hong Kong, criticized China unreasonably, propped up violent and illegal activities and undermined Hong Kong's prosperity and stability," Hua said at an earlier press briefing Tuesday. "These facts are only too obvious. I'd like to ask the U.S. this question again: what is the true intention behind your behaviors relating to Hong Kong?"