China Only Evacuated Taiwanese Tourists From Typhoon Who 'Considered Themselves Chinese': Report
China's embassy only evacuated the Taiwanese tourists stranded in Japan by Typhoon Jebi who identified as Chinese, according to a South China Morning Post report on Thursday. The move was apparently intended to reinforce the mainland's claim over Taiwan.
Since Tuesday, more than 3,000 tourists were stranded at Osaka's Kansai International Airport after Typhoon Jebi caused all the flights to be canceled due to flooding. Of those, 750 were from the mainland and 500 were Taiwanese.
In addition to the alternative transport systems—including buses and boats—set in place by Japan for all tourists in the area, the Chinese embassy provided their own evacuation buses exclusively for their citizens. And the Taiwanese were welcome—if they identified as Chinese.
"A few Taiwanese asked if they could board the bus provided by the Chinese embassy for evacuation," a Chinese witness in the airport was quoted as saying, reported the Post. "[The Chinese people] all said, 'Sure, if you identify yourself as Chinese, follow your home country.'"
A Taiwanese trade office staff member in Osaka confirmed to the Post that Taiwan has not provided any transport systems for its residents.
"What we can do now is advise them to transit to other airports or railway stations so they can leave as soon as possible," the employee said. "But we are not aware that any Taiwanese boarded the Chinese bus."
According to ecns.cn, the Chinese consulate in Osaka had evacuated 1,044 tourists by Wednesday night. Of those, 32 were from Taiwan, five from Macau and 117 from Hong Kong.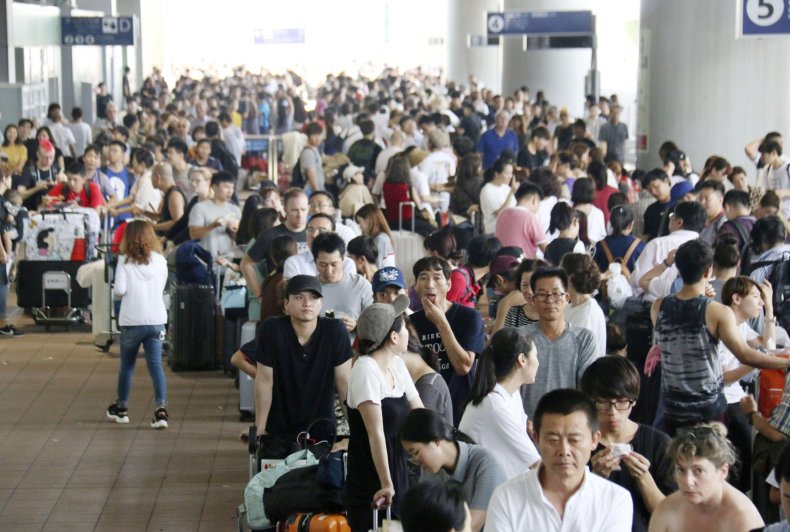 On Friday, Taiwan News reported that an anonymous citizen who was believed to have been at Kansai International Airport claimed he had no trouble getting on the Chinese embassy bus on Wednesday. The source claims a "well-intentioned" person informed him that the bus was for all citizens from China, Hong Kong, Macau and Taiwan.
China has attempted to claim sovereignty over all four of these territories, even though they each have unique historical contexts. Beijing considers Taipei to be a wayward province of the mainland and has never renounced the use of power to bring it under its control.
Beijing has long dissuaded other countries from recognizing Taiwan as an independent state by coercion and threats. In July, American Airlines and several other U.S. carriers bowed to mounting threats from China and removed all references to Taiwan from their websites.
"Like other carriers, American is implementing changes to address China's request. Air travel is a global business, and we abide by the rules in countries where we operate," Shannon Gilson, an American Airlines spokesperson, said in a statement to Newsweek.
Typhoon Jebi—officially the most powerful storm to hit Japan in the past 25 years—has killed at least 11 people and injured hundreds more. On Wednesday night, over 400,000 residences in the Kansai and Hokkaido areas were without power.