Will China Invade Taiwan? Xi Jinping's Plans for Island Nation May Not Include Full-Scale War
Over the past year, China has ramped up military drills around Taiwan, sparking fears of an imminent hostile takeover.
In 2017, the People's Liberation Army (PLA) carried out 16 drills near the self-governed island. Beijing said the exercises were routine but reiterated that it will not tolerate any attempt by the island to declare independence.
Chinese President Xi Jinping echoed the same sentiment at the National People's Congress (NPC) last month, where he warned Taiwan that all attempts to split China would be "doomed to fail" and will invite "the punishment of history." Xi's speech came shortly after President Donald Trump signed the Taiwan Travel Act, which allows for and encourages high-level official visits between Taipei and the U.S., aimed at deepening ties between the two lands.
Despite China's clear designs on the island it lost when Mao Zedong's nationalist enemies fled there when he declared the founding of Communist China in 1949, it's unlikely that Beijing would want to achieve reunification by means of a full-scale war. And even if it did, the mainland isn't guaranteed to win it.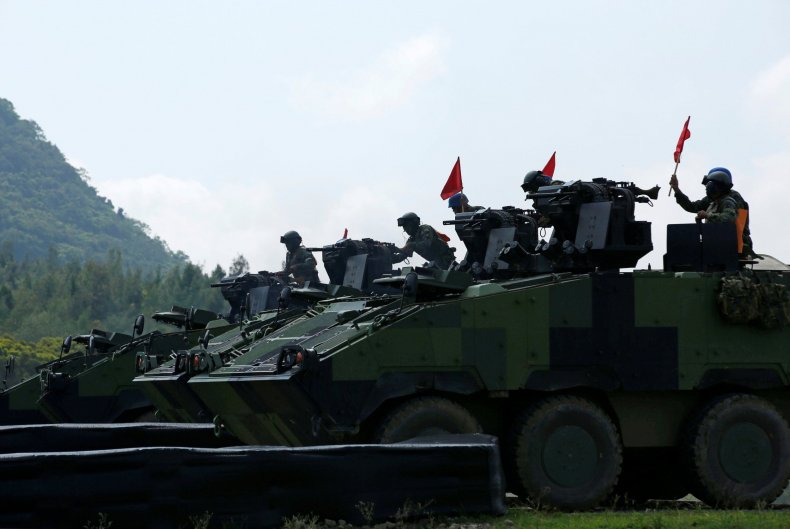 "China does not have the capability to do it in the next five years. If they did, an invasion could lose them most of their frontline, advanced equipment and troops in the process," Steve Tsang, political scientist and director of the SOAS University of London's China Institute, told Newsweek.
Even under President Xi, Beijing is relatively risk averse, Tsang argued. The PLA is unlikely to launch a military attack unless they struck a deal with the Trump administration to prevent U.S. interference.
Christopher R. Hughes, professor of international relations at the London School of Economics, is similarly pessimistic about China's chances. Taipei does not have a great military power, but the island is built like a natural fortress and its defenses are capable of inflicting substantial damage. "The cost of failure could potentially end the [communist] regime," he told Newsweek.
The small island nation, 110 miles east of China, is protected by coastal artillery, state-of-the-art mines, anti-ship missiles and batteries, and high-tech early warning systems. The equipment is there to protect 10 percent of Taiwan's shoreline that is suitable for amphibious landings. Taipei can also speedily transport its 150,000 army troops around the island to defend from the soldiers who successfully penetrate its fortress.
Rather than an invasion, Beijing will probably continue to play the "psychological game," Hughes said.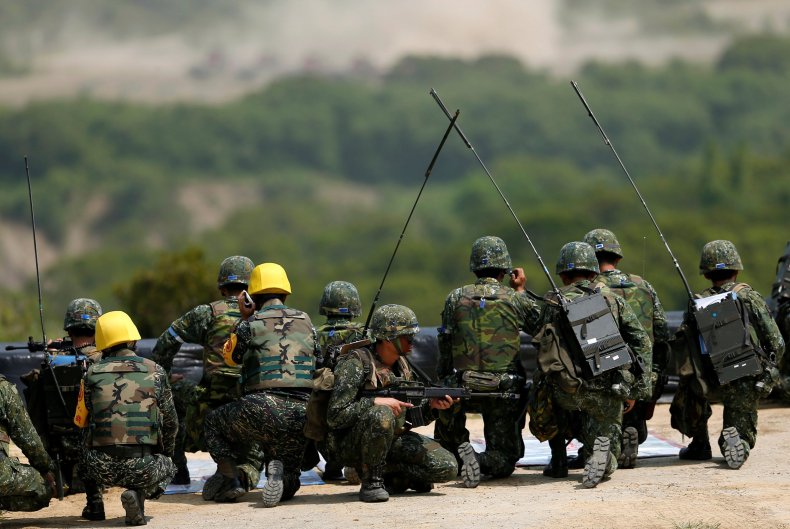 China has long persuaded other countries from recognizing Taiwan as an independent state, by way of threats, coercion, and at times, force. In January, Marriott International's mistake of listing Tibet, Taiwan, Hong Kong and Macau as separate countries on their website caused an enormous backlash from the Chinese government.
The world's largest hotel chain posted an apology on Weibo, a popular Chinese microblogging platform, after the Shanghai government demanded they "take down all relevant content" and "eliminate a negative impact." Beijing regularly scans websites of businesses who list Taiwan as a country, like the Marriott, those business will be reprimanded or told they are not allowed to do business on the mainland.
"China puts this pressure on Taiwan, to squeeze them, make people feel like they have no option but to negotiate," Hughes said.
Tsang called this "salami slicing."
"They will keep taking Taiwan, slice by slice, through diplomatic isolation, by forcing others to refuse to recognize Taiwan as a country and by reducing their allies," he said.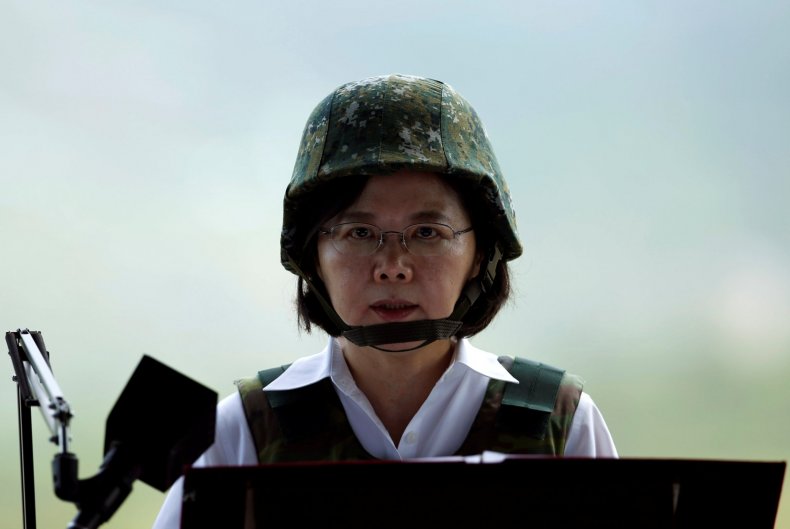 Beijing's strategy that economic integration will lead to political integration has so far caused the opposite effect. Over the past few decades, whenever China put pressure on Taiwan it has backfired. In 2016, citizens voted in the Democratic Progressive Party (DPP) and President Tsai Ing-wen in the face of oppression from Beijing.
According to Hughes, the DPP won a "huge landslide victory" because younger generations turned out to vote in a gesture of defiance. "Beijing is undermining their system. They grew up under democracy. They've been told they are Taiwanese, not Chinese," he said.
Tsang said the mainland's treatment of Hong Kong is also deterring Taiwan from agreeing to negotiate a similar deal. Beijing touted an agreement called "One Country, Two Systems" with Hong Kong when it was returned to them by the British in 1997. The mainland promised the territory a degree of self-governance and universal suffrage, but 20 years later, although its pseudo-democratic system does give citizens the right to vote, the list of candidates must be approved by Beijing.
"Taiwan's view on one country two systems is very simple and straightforward: No thanks," Tsang said.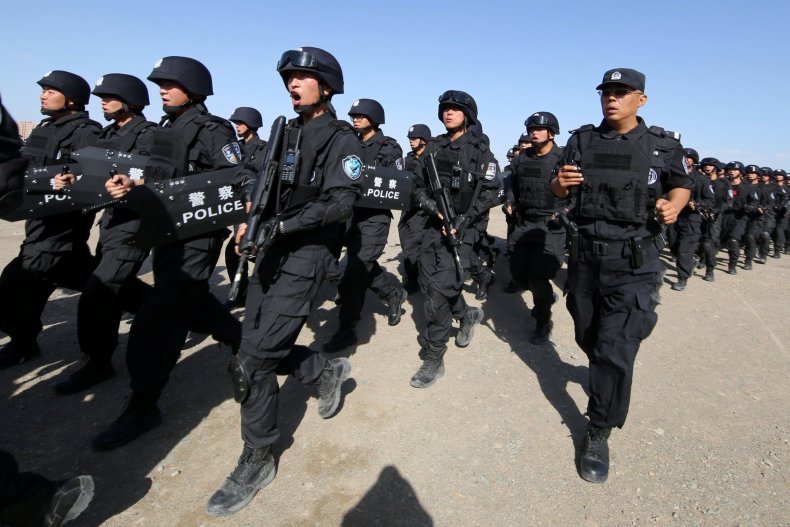 If negotiations are likely off the table, China may eventually have no choice but to take Taiwan by force. Beijing is rapidly modernizing their military to prepare for wars that may arise through tensions in the Taiwan Strait and the South China Sea. In the event of a military conflict with Taipei, the U.S. will undoubtedly be involved.
For decades, the Taiwan Relations Act (TRA), enacted in 1979, has facilitated Taiwan's economic expansion and democratization. The legislation provides that the White House must provide defensive arms and services to the wayward island, and maintain its own military capability to respond effectively to threats from China.
Despite the act, the U.S. government has remained relatively non-committal to the One China policy. America does not recognize Beijing sovereignty over Taiwan and regards the island's status as unresolved. While Washington has a "robust unofficial relationship" with the island, it does not recognize it as an independent state.
If the U.S. interferes in a cross-strait war, Beijing will stand no chance of success. A study by RAND Corporation last year predicted that U.S. submarines alone would be able to take down 40 percent of the Chinese amphibious invasion team. Beijing will not consider taking the island by force unless Xi does a deal with Trump to prevent his administration from triggering the TRA. "Trump is completely inconsistent and therefore it is practically impossible to know what he will actually do," Tsang said.
The outcome of a deal will depend on a whole range of other factors, such as North Korea and the brewing trade war.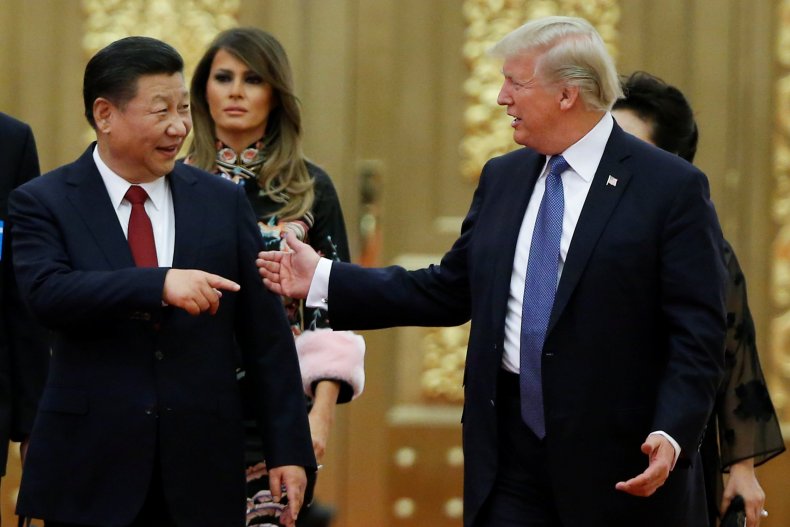 According to Tsang, despite the hawks at policy-adviser-level in the administration, Trump will have the final say at the end of the day. "Tillerson learnt that the hard way," he said.
"Trump himself has never said one single word that is less than positive and enthusiastic about Xi Jinping," Tsang added.
Last Sunday, Trump boasted about his friendship with Xi in the middle of an escalating trade battle between the world's two largest economies. Despite aggressive tit-for-tat tariff announcements, Trump took to Twitter to declare: "President Xi and I will always be friends, no matter what happens with our dispute in trade."
The bizarre public move, coupled with Trump's political priorities, suggests he fundamentally does not care about what Taiwan represents.