Chinese President Xi Jinping warned Taiwan at the National People's Congress (NPC) on Tuesday that any efforts on its part to split China into two is "doomed to fail" and will invite "the punishment of history."
"Any actions and tricks to split China are doomed to failure and will meet with the people's condemnation and the punishment of history," Xi said, during his half-hour long nationalistic speech. "Every inch of our great motherland's territory cannot be separated from China."
"The Chinese people have been indomitable and persistent, we have the spirit of fighting the bloody battle against our enemies to the bitter end."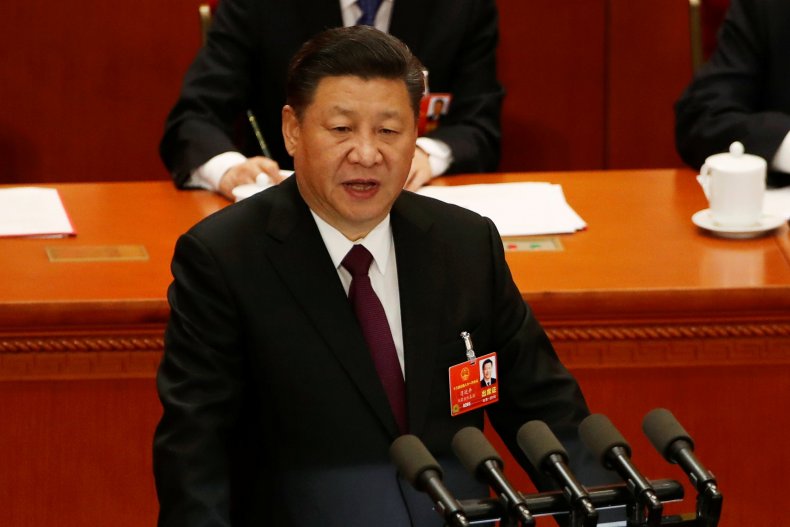 Xi's speech to the closing session of the NPC, which was held inside the Great Hall of the People, came soon after President Donald Trump signed the Taiwan Travel Act, which allows for and encourages high-level official visits between Taiwan and the U.S.
The Chinese Embassy in Washington strongly denounced the bill and said its existence "severely violates" the "political foundation of the China-U.S. relationship," reported South China Morning Post. The embassy also criticized the White House for ignoring Beijing's "one-China" policy on Taiwan.
In 1949, following a bloody civil war, Taiwan became a self-governed island, although it is still officially considered the Republic of China. Regaining control of the wayward province has been on the agenda for Chinese Communist leaders since the People's Republic was founded, nearly 70 years ago.
Earlier this month, China removed the presidential two-term limit from its constitution, giving Xi the right to remain in office indefinitely.
China ramped up military drills around Taiwan last year, and athough Beijing claimed they were routine, Taipei said they posed an "enormous threat" to its national security.
Taiwan's first female president and leader of the independence-leaning Democratic Progressive Party, Tsai Ing-wen, said she prefers to maintain peace, but has warned that if pushed, she will defend Taiwan's security.
Last October, The Washington Free Beacon reported that newly discovered internal military documents have indicated that China will invade Taiwan by force before 2020.