China Planning 'Unprecedented' Tiananmen Memorial Crackdown: Report
Beijing will take "unprecedented heavy-handed measures" to crack down on next month's vigil in Hong Kong to mark the Tiananmen Square massacre, a Beijing-friendly local outlet said Tuesday.
The annual gathering in Victoria Park—banned on health grounds for a second year running—is a "minefield" for those planning to attend on June 4, according to online news portal HK01. It will be the first memorial since China's sweeping Hong Kong national security law came into effect on June 30 last year.
Before last year, annual candlelight vigils had been lawfully held in Hong Kong since 1990, a year after soldiers and tanks rolled through Tiananmen Square in the Chinese capital and quashed a student-led protest for democratic reforms. Myriad questions still surround the Chinese government's handling of the crackdown, which is said to have resulted in the deaths of hundreds, or perhaps thousands, of demonstrators and several soldiers.
Members of the public and civil servants who participate in next month's memorial will be classified as "non-patriots," and serving councilors or legislators face "immediate disqualification," said HK01's report, which cited persons with knowledge of the matter.
It said Hong Kong's newly amended Basic Law—the city's mini-constitution—means those who take part in the candlelight vigil may fail to meet the government's "loyalty" requirement and have "no political future" in the semi-autonomous territory.
"Beijing will take unprecedented heavy-handed measures to handle matters" related to the event, which, like last year, will be considered an "unauthorized gathering," it added. A heavy police presence is expected, as are "mass arrests" and prosecutions, the website said.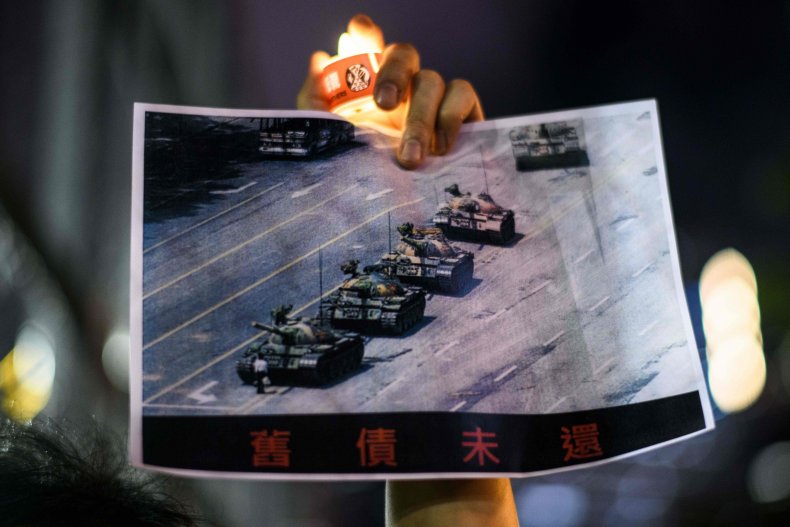 The strict enforcement by Hong Kong authorities is believed to be linked to upcoming events in Beijing, where Chinese leader Xi Jinping plans to lead the country in a landmark celebration for the centennial of the Communist Party of China on July 1.
Being the first Tiananmen anniversary since the national security law was enacted last summer, HK01's report predicts additional implications for participants under the legislation.
Members of the Hong Kong Alliance in Support of Patriotic Democratic Movements of China, which was established during the six-week protest in Beijing 32 years ago, are expected to take part in the memorial. One of the group's five operational goals is the end of a one-party dictatorship.
HK01 has been described as leaning toward the views of mainland China. It was founded by a former editor of pro-Beijing newspaper Ming Pao, and has been criticized for its coverage of Hong Kong's pro-democracy protests, among other sensitive topics.
If its report is true, Hong Kong observers may see a repeat of last year's Tiananmen vigil, which drew tens of thousands and resulted in multiple arrests and convictions of pro-democracy activists, including Joshua Wong.
Wong, 24, was sentenced to additional 10 months in jail for taking part. He had already been serving 13.5 months and four months for two separate charges under the national security law.
Hong Kong and Macau are the only two Chinese cities allowed to mark Tiananmen. The topic is rarely discussed in mainland China, where references to the event—even variations such as the numbers "64" for June 4—are censored.