China Ready to Bring Power Back to Venezuela, Russia Will Keep Buying Oil
China and Russia have continued to defy the United States on Venezuela, vowing to assist the cash-strapped and crisis-stricken government that has been targeted by President Donald Trump.
Venezuela has been hit by major power outages in recent days, deepening a political feud between President Nicolás Maduro and opposition leader Juan Guaidó, the National Assembly head who declared himself head of state in January. Washington has endorsed Guaidó, while Beijing and Moscow have backed Maduro, who has accused his opponent of conspiring with foreign allies in a cyberattack that caused the recent blackout.
During a news briefing on Wednesday, Chinese Foreign Ministry spokesperson Lu Kang seemed to back Maduro's version of events, saying China "expressed concern that the accident was caused by a cyberattack on the Venezuelan power supply system."
"The Chinese side hopes that the party will find out the cause of the accident as soon as possible and restore normal power supply and social order. China is willing to provide assistance and technical support for the restoration of the power system," Lu told reporters, later reiterating that "China is willing to provide assistance to the Venezuelan power system to the best of its ability."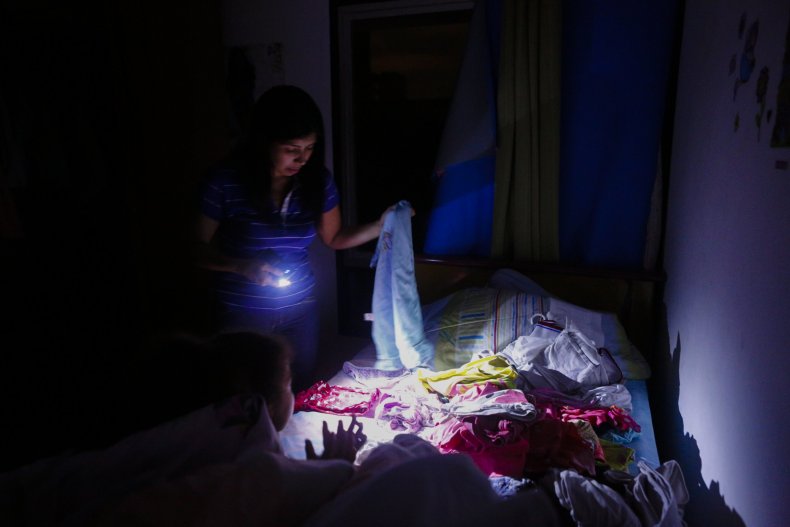 Electricity has reportedly begun to return to various parts of the country affected by the power outages, which were caused by a failure at the Simón Bolívar Hydroelectric Plant by the Guri reservoir in Bolivar state. Maduro has blamed both Guaidó and "American imperialism" for the outage, but the opposition leader called the accusations "absurd" and instead blamed the country's ongoing economic crisis, which has led to historic hyperinflation and lack of essential goods.
The New York Times reported earlier this week that U.S. sanctions have restricted Venezuela's government from importing or producing fuel required to operate thermal power stations that may be used to back up the dam.
Maduro vowed to open a "special presidential commission to investigate" the causes behind the dam failure during a speech broadcast Wednesday on Periscope. He sought assistance from China, Cuba, Iran, Russia and the United Nations—all of which still recognize him as president. The U.S., which was joined by dozens of allies in Latin America and abroad in sponsoring Guaidó, has threatened further sanctions against any country doing business with the Venezuelan government.
The Treasury Department announced Monday that it would roll out new measures against Russia's Evrofinance Mosnarbank bank, because it "has materially assisted, sponsored or provided financial, material, or technological support for, or goods or services to or in support of, Petroleum of Venezuela (PDVSA), which is itself an entity that has long been a vehicle for corruption, embezzlement and money laundering by Maduro and his cronies."
That same day, Secretary of State Mike Pompeo criticized Russia, along with Cuba, of "thwarting the Venezuelan people's legitimate democratic hopes and their dreams." He specifically called out Moscow's government-owned Rosneft oil company for continuing to "purchase crude oil cargoes from PDVSA, Venezuela's state-owned oil company in defiance of U.S. sanctions."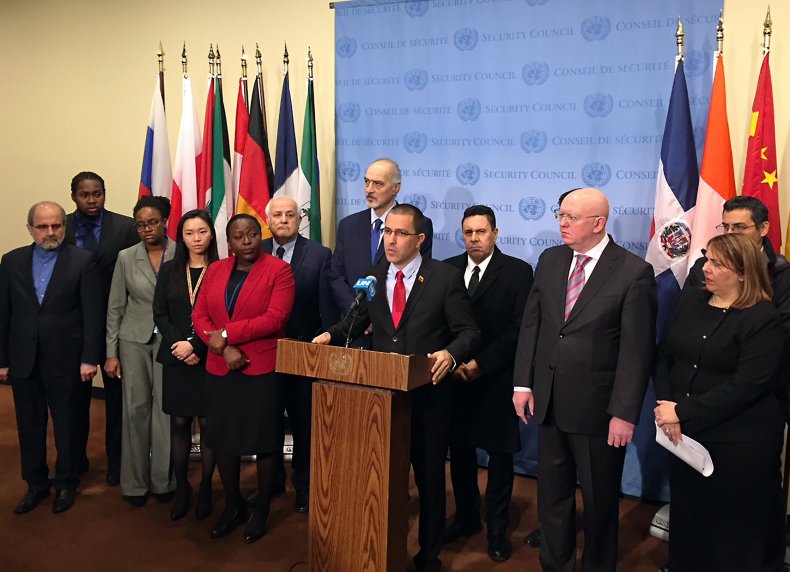 The Russian Foreign Ministry responded Wednesday in a statement saying that "the United States, which claims that Nicolás Maduro is an illegitimate leader, forgets that he is the democratically elected president of a sovereign state and that it is illegal to adopt sanctions outside the framework of the U.N. Security Council." The ministry brushed off the bank's sanctions because of "meager results of the numerous restrictions imposed on Russia" by the U.S.
"On the other hand, this ban has delivered yet another blow to the U.S. national currency, to global trust in it and to its status as a tool of international settlements," the ministry wrote. "Washington seems to be doing its utmost to destroy the global trust in the U.S. dollar and to encourage the world to stop using the U.S. currency."
The statement further criticized Pompeo's "pointless" remarks on Rosneft, arguing that the company has "continued to work productively" in spite of sanctions imposed by Washington as far back as 2014. The ministry urged "the United States to rethink this policy, to stop imposing bans on foreign companies and banks and to start working together under U.N. leadership to help stabilize Venezuela on the basis of international law."