China Rapidly Developing Amphibious Assault Ships to Dominate Seas
China is building amphibious assault ships at a "world record" pace, local media outlets reported as the People's Liberation Army sent another helicopter carrier out for sea trials.
The Chinese Navy's second Type 075 landing helicopter dock—launched into the water just this April—was pictured leaving Shanghai's Hudong-Zhonghua Shipyard en route to the East China Sea on Tuesday.
Media outlets in China have touted the 40,000-ton warship as being key to Beijing's ambition of dominating military exchanges in the Taiwan Strait and South China Sea, where frequent encounters with the United States Navy have occurred this year.
A total of eight Type 075 amphibious assault ships have been ordered by the PLA, with the third currently under construction and expected to be delivered in early 2021.
There were only 10 months between the launch and maiden voyage of China's first Type 075 helicopter carrier in August. It was assigned to the South Sea Fleet and took part in recent live fire exercises as part of a group.
The eight months between the completion and trial of China's second Type 075 show the country is building vessels of the class at a "world record" pace, Shanghai news website Eastday reported. The report likened China's ship-launching speed to "cooking dumplings."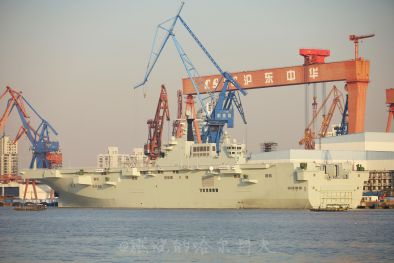 The Type 075 landing helicopter dock will carry 30 attack helicopters and 900 troops at capacity, according to reports in 2019. Analysts this year said the Chinese military now would need to supply it with aircraft, and that it could take until the end of the decade for the first warship to be fully operational.
In a November report, the Center for Strategic and International Studies said Chinese landing vehicles could be launched from the warship's wet well—a floodable well dock.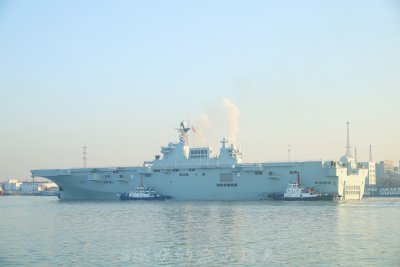 Communist Party newspaper Global Times said the amphibious assault ships will give China the ability to conduct "vertical deployment" during military operations on islands and reefs, citing self-governing Taiwan and the South China Sea as examples.
The vessels will also have uses in disaster relief or humanitarian aid missions, the CSIS report predicted.
Last week, after Taiwan unveiled its first domestically produced Tuo Chiang-class guided-missile corvette, media outlets dubbed it the "aircraft carrier killer" and security experts suggested it could help turn the tide against the Chinese Navy in the event of an invasion of the island.
Global Times dismissed the potential threat the vessel would pose to China's overwhelming numerous maritime forces, saying each of Taiwan's 11 new warships could be sunk by a single Z-9 attack helicopter.