China and Russia Say U.S. Has Failed in Venezuela, Now It's Time to Give Up
China and Russia have lashed out at the United States' recent embargo on Venezuela, calling it a desperate attempt to save a troubled policy designed to overthrow the Latin American nation's socialist government.
President Donald Trump's signing Monday of an executive order that "blocks all property and interests in property of the Government of Venezuela that are within the jurisdiction of the United States," sanctions supporters of Venezuelan President Nicolás Maduro and puts further pressure on Beijing and Moscow's interests there.
Responding to this on Wednesday, Chinese Foreign Ministry spokesperson Hua Chunying argued that the U.S. committed "gross interference in Venezuela's internal affairs and severely violates basic norms governing international relations."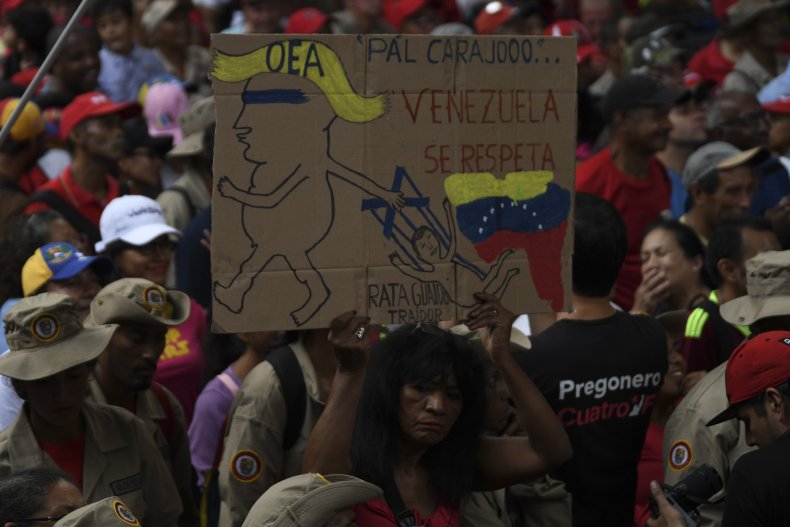 "We have to point out that which political party rules the country is the domestic affair of that country and should be decided by its people," Hua told reporters. "With whom a country will cooperate should also be decided by the country itself. Facts have proven time and again that sanctions will never help resolve the Venezuelan issue."
"Instead, they will only increase the risk of the situation getting out of control," she added. "China urges the U.S. to face up to the essence of the Venezuelan issue, return to the right path of respecting the international law, support the dialogue process of the Venezuelan government and the opposition. It should let the Venezuelan people decide their future and immediately stop the bullying behavior of wantonly suppressing another country."
Chinese companies have invested billions in Venezuela's energy sector, home to the world's largest proven oil reserves, even as Maduro's economy began to collapse and U.S. sanctions exacerbated the worsening financial crisis. So-called oil-for-loans deals have further helped keep the Venezuelan leader afloat as the Trump administration accelerated efforts to depose him in favor of opposition leader Juan Guaidó, who accused Maduro of corruption and proclaimed himself president in January with the support of Washington and its allies.
China, however, has opposed the measure and has become the country's top oil export destination, eclipsing the United States. Hua described Beijing's position on the matter Wednesday as "clear and consistent" in that "China-Venezuela cooperation has been conducted with equality, mutual benefit, win-win results and market principle" and "such legal and legitimate cooperation has delivered benefits to the two countries and peoples and brooks no interference from others."
"China is fully convinced that the China-Venezuela cooperation will go on as usual no matter how the situation changes," she added. "We advise the U.S. to draw lessons from history and give up sowing discord immediately."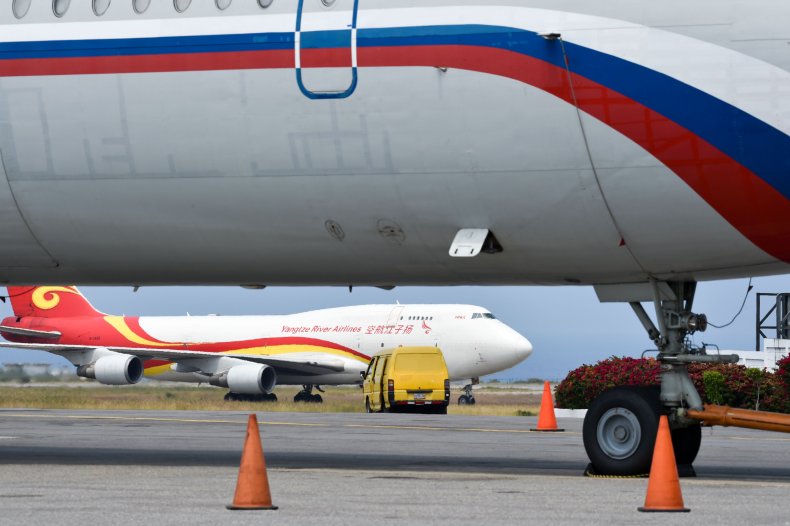 Joining the U.S.' top economic competitor in backing Maduro was its top military rival, Russia. Since the beginning of Venezuela's political standoff, Moscow has maintained "military-technical cooperation" with Caracas and has vowed to continue sending defense personnel there and striking oil deals regardless of Washington's threats.
Responding to the latest U.S. actions, Russian Foreign Ministry spokesperson Maria Kazkharova said Tuesday that "Washington continues to wage economic terrorism against Caracas in its customary 'cowboy' manner," arguing that "these steps have no legal justification from the standpoint of international law and domestic Venezuelan law."
The U.S. has a long history of intervening against leftist forces in Latin America. In over seven months since Maduro and Guaidó's feud erupted, however, the former has refused to step down, facing down an abortive uprising in late April and early May. White House national security adviser John Bolton and Secretary of State Mike Pompeo blamed Maduro's resistance on Russia and Cuba, the communist island state subject to even more stringent sanctions than Venezuela.
"Clearly, U.S. strategists have miscalculated the level of popular support for the legitimate President and his readiness to defend the genuine independence of his country," Zakharova said Tuesday, claiming that now "Washington is relying on efforts to aggravate the socioeconomic situation" in enforcing "brutal indiscriminate restrictions first of all impact the most vulnerable population strata, including senior citizens, unwell people and children."
She went on to cite economists Jeffrey Sachs and Mark Weisbrot whose April report for the Center for Economic and Policy Research found "an estimated more than 40,000 deaths from 2017 to 2018" in Venezuela due to U.S. sanctions, which they described as illegal, according to both the United Nations and domestic U.S. law.
Speaking to Newsweek a month before the report, Weisbrot was critical of some of Maduro's own policies, but argued that the U.S. restrictions were "the main problem" and have "been absolutely devastating for several reasons: They decimated oil production, causing a further sharp decline in imports, including necessities such as food, medical supplies, medicine, and spare parts needed to keep the economy running. They also cut off most credit, which further accelerated the depression and then hyperinflation."
In an interview with news site The Grayzone on the anniversary of an apparent attempt to kill the Venezuelan president using explosive-laden drones, Maduro said Tuesday he had "proof that the assassination attempt was ordered by John Bolton in the White House," though he did not offer evidence for this claim.
In a series of tweets that same day, Bolton hailed Trump's latest measures against Venezuela as a "decisive & historic action" that "protected the Venezuelan people, Interim President Guaido, Venezuela's democratic institutions, and ensured that Venezuelans will still have access to humanitarian relief and needed goods."
Both representatives of Maduro and Guaidó have held recently held talks in Barbados, though little was known about the potential progress made in these conversations as both sides have remained steadfast in arguing their claims to the presidency were legitimate.