Russia Promises More Support for Cuba, Including 'Military Technical' in Face of U.S. Pressure
Russia has vowed more support to Cuba in various fields, including defense, in order to shield the communist-led island nation against U.S. sanctions.
Russian Foreign Minister Sergey Lavrov met Thursday with his Cuban counterpart Bruno Rodriguez Parrilla during a trip to Havana, where Moscow sought to further develop Cold War-era relations in the face of a hard-line administration in Washington. The top Russian diplomat criticized President Donald Trump's decision in April to impose new trade restrictions on Cuba, actions he dismissed as "unacceptable" and "unlawful economic coercion."
"We shall fully support Cuba's people not only politically, not only morally, not only by means of developing military technical cooperation but also through encouraging trade and economic projects to help the country's economy become more resistant to all kinds of external threats," Lavrov said.
"I hope that we will succeed," he added. "Today, we talked about this in detail. The economic departments of our two countries are constantly working on this."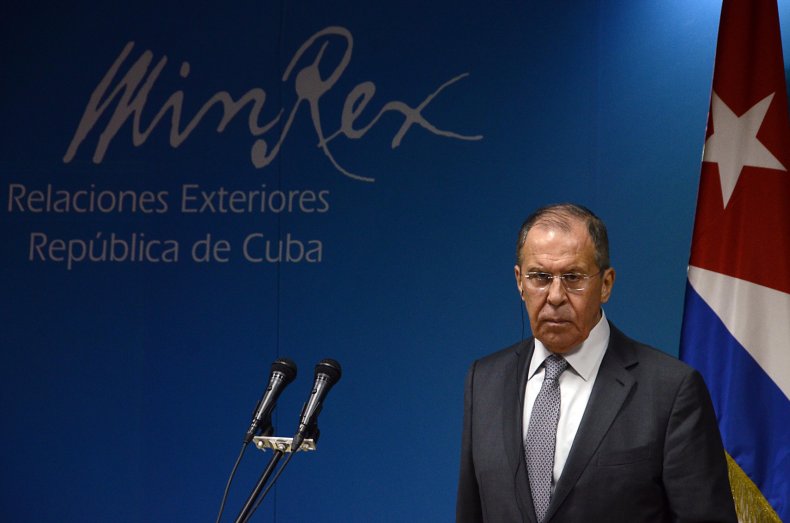 Havana's ties with Moscow has in the past directly affected its troubled relations with Washington. The 1952 Cuban Revolution that overthrew Washington-backed President Fulgencio Batista and brought to power Fidel Castro saw local industries nationalized en masse, angering the U.S., which ultimately enacted a comprehensive economic embargo on the country just 90 miles off the coast of Florida.
Castro, who famously survived hundreds of CIA-linked assassination attempts before dying of natural causes in 2016, was succeeded in 2011 by his brother Raul, who stepped down last year to allow for the election of President Miguel Díaz-Canel. While former President Barack Obama had begun to reverse his country's stiff, decades-long restrictions against Cuba, Díaz-Canel's tenure began at an especially tough time for relations with the U.S.
A series of alleged sonic attacks said to have targeted U.S. diplomats in Havana has yet to be explained, though an academic study released Tuesday suggested they had brain-altering effects on diplomatic staff. Trump has also sought to further cut off Havana, tightening the already-controversial blockade criticized by even European allies of Washington. In April, the administration rolled out a new set of sanctions to further prevent the flow of U.S. capital to Cuba due to its support for Venezuela, another one of many Latin American countries in which the U.S. has sought the ouster of a left-wing government.
Venezuelan President Hugo Chavez, who succeeded close Castro ally Hugo Chávez in 2013, has overseen a downward economic spiral made worse by U.S. sanctions. Amid a financial crisis and allegations of government election-rigging, opposition-controlled National Assembly leader Juan Guaidó declared himself president in January in a move swiftly backed by the U.S. and a number of its allies in Latin America and beyond. Cuba, joined in the region by Bolivia, Mexico and Nicaragua, has maintained recognition of Maduro and has offered him extensive support.
Russia also backed the Venezuelan socialist leader, as did China, Iran and a number of other powers abroad, while the European Union and other close international U.S. partners have opted to back Guaidó. This has led the U.S. to condemn what it claimed to be foreign influence from Moscow, Beijing, Tehran and others in Caracas.
"To hear from the representative of the United States of America the allegations that someone from the Eastern Hemisphere cannot have partners in the Western and vice versa is, frankly, simply ridiculous. Look at the map where the U.S. is present with its military bases" Lavrov said Thursday, also citing the example of the U.K. base on the Faulkland Islands off of Argentina. "It seems to me that there is no ground for a serious conversation."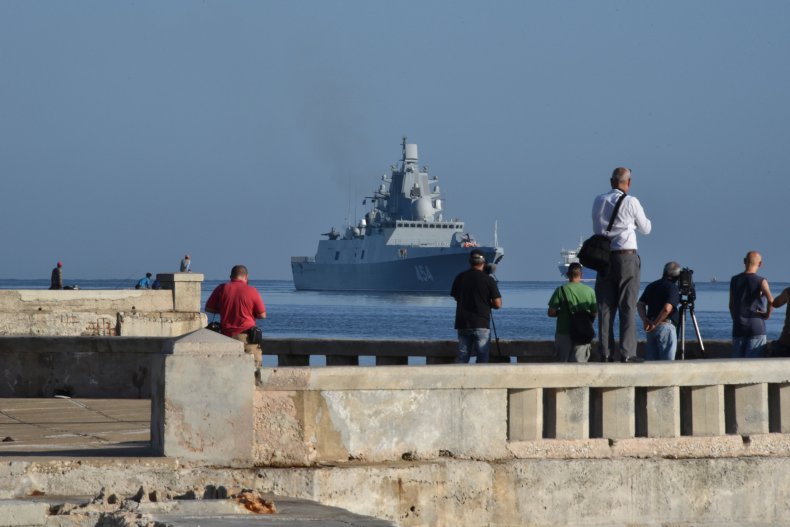 Reports emerged last year of a potential desire by Russia to build a military base in Cuba, eliciting memories of the 1962 Cuban Missile Crisis that saw the U.S. and Soviet Union standoff over the deployment of medium and intermediate-range ballistic missiles near one another's borders in Cuba and Turkey. These weapons were ultimately removed to resolve the crisis and the entire class of such missiles banned by the 1987 Intermediate-range Nuclear Forces (INF), but Washington suspended the agreement in February, followed by Moscow earlier this month, raising concerns that these weapons would soon reappear.
Warnings swapped by Russian and U.S. officials on arms control predominantly involved potential positions in Eastern Europe, but Moscow's military footprint in Latin America has also raised concerns in Washington. Russian defense personnel have continued to offer "military-technical cooperation" to Venezuela and a Russian naval contingent arrived Monday in the port of Havana, where it remained during Lavrov's visit.
In recent days, the top diplomats of the U.S. and Iran also visited Latin America, condemning one another's positions in the region. While Iranian Foreign Minister Mohammad Javad Zarif accused the U.S. of "economic terrorism," Secretary of State Mike Pompeo said he hoped that "every foreign power will leave" Venezuela, a country in which the U.S. sought to expand its own influence.