China Says Donald Trump 'First to Blame' for COVID Devastation
China says Donald Trump is trying to "shift blame" for his administration's poor pandemic response, after the former president said Beijing "has to pay" for COVID-19.
During an interview on Fox News show Sunday Morning Futures, Trump repeated his belief in the so-called "lab leak" theory about the virus' origins. He told host Maria Bartiromo that SARS-CoV-2's links to a Wuhan laboratory were "so obvious."
"And I think if anybody thinks anything differently, they're just kidding themselves," he said. "China has to pay. They have to do something. They have to pay reparations."
Trump estimated that the pandemic had caused $60 trillion of damage worldwide. "China doesn't have $60 trillion," he said. "But they have to do something to make up for what they've done. What they've done to the world is so horrible. It's been horrible, all over the world. And it doesn't stop."
On Monday, the day after Trump's Fox appearance, China's Foreign Ministry offered a sharp retort. Spokesperson Zhao Lijian said: "The United States registered more than 24 million COVID-19 cases and over 410,000 deaths from COVID-19 during Trump's tenure of office.
"No matter how hard some hypocritical politicians try to divert attention and shift blame, they will not change the fact that they disregarded people's lives and health and botched their pandemic response.
"Trump's repeated scapegoating will only remind the world who should be first to blame for all these miseries."
The U.S., where just over 60 percent of the population is fully vaccinated, has reported more than 50 million COVID-19 cases since the start of the pandemic, accounting for just under 20 percent of all cases worldwide. Its virus death toll of more than 800,000 accounts for around 15 percent of all related deaths worldwide.
In June, Beijing dismissed Trump's view that the Chinese government should pay at least $10 trillion in pandemic reparations.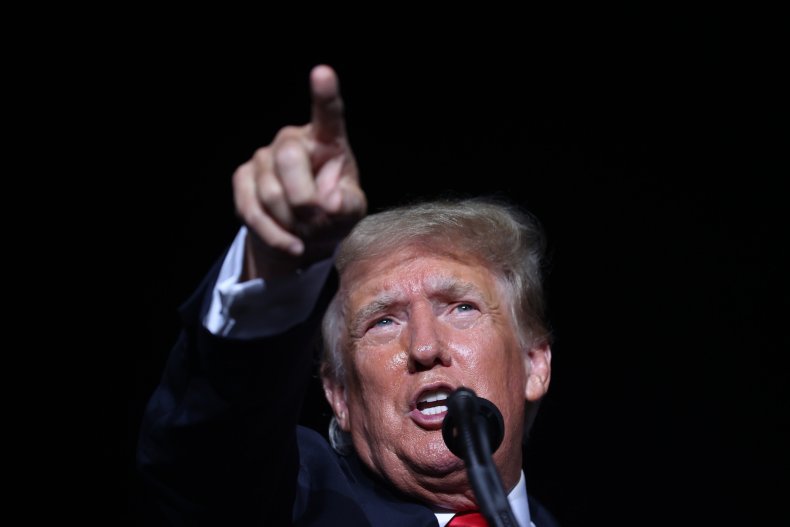 In his 40-minute Fox interview on Sunday, the former president appeared to surprise Bartiromo when he recalled his "great relationship" with Chinese leader Xi Jinping, later agreeing that he "is a killer."
He added: "I really believe he liked me, and I liked him."
Trump described China as a "great military power" that has been "ripping us off for many years." He touted the success of his administration's "Phase 1" trade deal with Beijing but highlighted the coronavirus as the turning point in the relationship.
"Once COVID came, it was a different story," he said. "Not only this country—they've really destroyed the world, the whole world."
Zhao, of the Chinese Foreign Ministry, called Trump's comments about the economy "just nonsense."
The former president has a delicate relationship with his conservative supporters when it comes to COVID-19. He has spoken out against vaccine mandates, but insists Americans should be proud about the country's development of effective vaccines.
During a speech at the American Airlines Center in Dallas on Sunday, Trump was met with boos when he told a crowd he had received a booster shot.