China Says U.K. 'Flexing Muscles' After Britain Commits Two Warships to Asia
Beijing has warned Britain against "flexing muscles" around China after the United Kingdom announced plans to permanently station two of its newest warships in Asia beginning in August.
The forward deployment was announced by the U.K.'s Defense Ministry on Monday and confirmed again by the country's top defense official, Ben Wallace, during a visit to Tokyo the following day.
Chinese Foreign Ministry spokesperson Zhao Lijian said China respects freedom of navigation and overflight in its surrounding waters, a right "enjoyed by all countries in accordance with international law."
But Beijing "firmly opposes the practice of flexing muscles at China," Zhao told reporters at a daily press briefing on Wednesday, saying the military signaling "undermines China's sovereignty and security, and harms regional peace and stability."
Following meetings with Japanese Prime Minister Yoshihide Suga and Defense Minister Nobuo Kishi, British Defense Minister Wallace said the two countries had a duty "to protect those that are unable to protect themselves from adversaries that will threaten them."
As part of the U.K.'s realignment to the Indo-Pacific and its commitment to collective security, he said Britain would permanently deploy two vessels to the region to support operations with Australia, Japan and Singapore, as well as presumably the United States.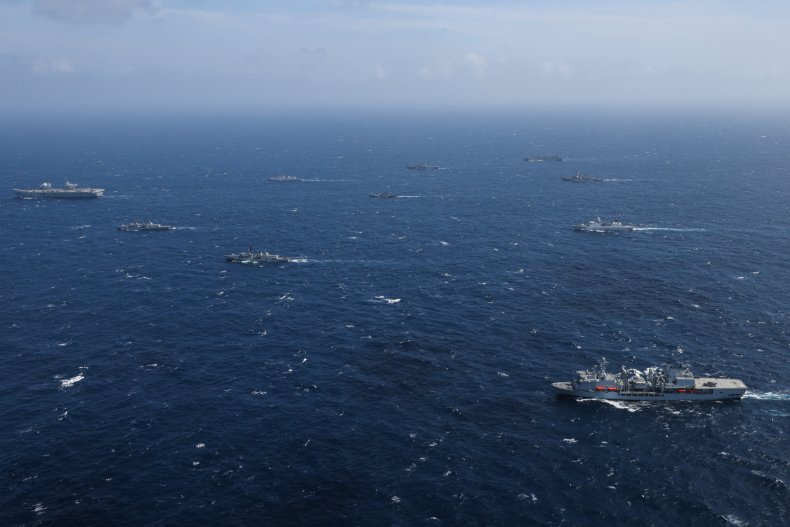 The Royal Navy's new River-class offshore patrol vessels HMS Spey and HMS Tamar will deploy to Asia at the end of August, the U.K.'s Ministry of Defense said. It was still unclear which ports they would be stationed at.
A British carrier strike group led by Royal Navy flagship HMS Queen Elizabeth is in the Indo-Pacific and headed for various port calls in Japan in September. It is currently engaged in three days of joint exercises with the Indian Navy in the Bay of Bengal, the British High Commission in New Delhi reported on Thursday, on day two of the maritime drills.
The embassy said an Indian warship would participate in exercises with the Royal Navy off the coast of the U.K. in August.
The Queen Elizabeth Carrier Strike Group, which also has U.S. Navy and Royal Netherlands Navy escorts, is scheduled to transit the contested South China Sea on its way to Japan. China claims almost all of the energy-rich sea as part of its expansive "nine-dash line."
Tokyo has welcomed additional security commitments by allies and partners to the region at a time when its own security identity is changing in the face of China's growing economy and military, which already make it Asia's dominant power.
On July 13, the Japanese Defense Ministry's annual white paper accused China of trying to unilaterally alter the status quo in its surrounding waters, including in the East China Sea where Chinese coast guard vessels continue near-daily patrols around the disputed Senkaku Islands.
Critics, which include the Chinese government, say Japan is exaggerating the threat in order to justify its policies to rearm.