UK to Permanently Deploy Two Warships to Indo-Pacific: Defense Minister
The United Kingdom will permanently station two Royal Navy warships in the Indo-Pacific, the country's top defense official reiterated on Tuesday, in a sign of further commitments to collective regional security, in addition to its flag carrier fleet's upcoming visit to Japan.
Britain's Queen Elizabeth Carrier Strike Group (CSG) is on its maiden voyage and scheduled for a number of port calls in September, Japanese Defense Minister Nobuo Kishi confirmed following a meeting in Tokyo with the U.K. Defense Minister Ben Wallace on Tuesday.
Wallace, who is on a two-day visit to Japan, said during a joint statement: "Following on from the strike group's inaugural deployment, the United Kingdom will permanently assign two ships in the region from later this year."
The Royal Navy's River-class offshore patrol vessels HMS Spey and HMS Tamar will represent the country's permanent presence in Asia beginning late in August, according to a U.K. Defense Ministry announcement it had published on Monday.
Kishi said HMS Queen Elizabeth and its escorts would split up and make separate port calls to U.S. and Japanese naval bases in Sasebo, Okinawa, Kure, Yokosuka and Maizuru. Yokosuka is the Japan Maritime Self-Defense Force headquarters as well as the home port of USS Ronald Reagan, the U.S. Navy's only forward deployed aircraft carrier.
The U.K. carrier group is expected to train with Japanese and American forces during its deployment to the Indo-Pacific. Japan hosts the largest concentration of U.S. troops outside of U.S. territory—roughly 50,000 strong—mostly in Okinawa.
"Together we will send a message to the world that further strengthening of defense cooperation between Japan and Britain will contribute to ensuring peace and stability in the Indo-Pacific region and in the international community," Kishi told the press, according to Japan's Kyodo News.
Wallace said the two countries had a duty "to protect those that are unable to protect themselves from adversaries that will threaten them."
Britain's defense relationship with Japan "is the closest it has been in the last century," he added in their joint statement. He called the Queen Elizabeth CSG's upcoming port calls "a clear demonstration of our commitment to maintaining regional security and upholding the rules-based international order with Japan."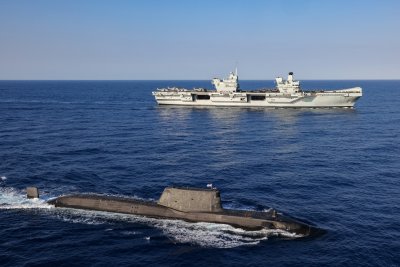 Tokyo's urgency in ramping up defense capabilities over the past decade and its increased military engagements with the U.S. and other allies come as China emerges as the country's top security threat. Beijing's economic and military growth remain unpredictable, and recent challenges—including around the Japan-controlled Senkaku Islands in the East China Sea—have led to a reevaluation of its security identity.
Britain, meanwhile, is undergoing its Indo-Pacific "tilt," the country's ambitious realignment following Brexit. Its increased presence in Asia also dovetails with U.S. attempts to solidify a coalition of democracies—centered on the Quadrilateral Security Dialogue (Quad) of the U.S., Japan, India and Australia—to meet challenges posed to the existing regional order, mainly by China.
The Royal Navy carrier group, which is complemented by fifth-generation F-35B stealth fighters, has planned port calls in India, Singapore and South Korea after transiting the contested South China Sea.
Its escorts include Type 45 destroyers HMS Diamond and HMS Defender, Type 23 frigates HMS Kent and HMS Richmond as well as an Astute-class submarine. Naval contributions from the U.S. and the Netherlands include Arleigh Burke-class destroyer USS The Sullivans and De Zeven Provincien-class frigate HNLMS Evertsen.
Announcing the forward deployments of HMS Spey and HMS Tamar on Monday, Britain's Ministry of Defense said the warships would support operations with Australia, Japan and Singapore. It would also be deploying a Royal Navy Littoral Response Group in the coming years, it added.
"As we witness a tilt in power towards the Indo-Pacific region, we are committed to working with our partners here to defend democratic values, tackle shared threats and keep our nations safe," Wallace said in an accompanying statement.