China Slams 'Wanton Destruction' of International Norms after G7 Nations Voice Concern on Hong Kong, Tibet, Uyghurs
China condemned the Group of Seven (G7) nations on Thursday for committing a "wanton destruction" of international norms after its representatives issued a joint statement accusing the country of abuses against Tibetans, Uyghur Muslims, and citizens in Hong Kong.
In a statement issued Wednesday by the G7, which comprises Canada, France, Germany, Italy, Japan, the United Kingdom and the United States, foreign ministers cast China as a bully and accused the nation of committing several human rights violations.
"We continue to be deeply concerned about human rights violations and abuses in Xinjiang and in Tibet, especially the targeting of Uyghurs, members of other ethnic and religious minority groups, and the existence of a large-scale network of 'political re-education' camps, and reports of forced labour systems and forced sterilization," the statement said.
China has repeatedly been accused of placing over 1 million Uyghurs—a predominantly Turkish Muslim minority—into detainment camps in the Xinjiang region and forcing them to work in hazardous conditions against their will.
The country has also been accused of using sophisticated techniques to hack into the phones and technologies of ethnic minorities. In January, the U.S. government declared that China's actions against the Uyghurs are genocide.
The G7 statement also added that the ministers "remain gravely concerned by China's decision fundamentally to erode democratic elements of the electoral system in Hong Kong." Last year, China implemented a harsh new law that cracked down on political dissent in Hong Kong and essentially crushed its pro-democracy movement.
The joint statement also accused China of using "coercive economic policies" and warned the nation against "any unilateral actions that could escalate tensions" with Taiwan. The ministers also said they supported Taiwan's "meaningful participation" in World Health Organization forums and the World Health Assembly, a prospect that has previously been blocked by Beijing.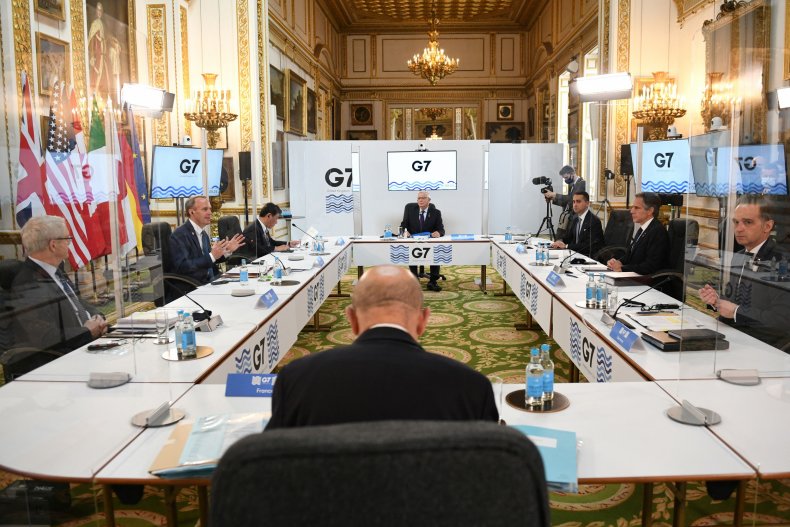 In response to the joint statement, a Chinese spokesperson on Thursday slammed the G7 for meddling in the country's affairs.
"This constitutes a gross interference in China's national sovereignty and wanton destruction of the norms governing international relations, which goes against the trend of peace, development, and cooperation for win-win results," said Foreign Ministry spokesperson Wang Wenbin, according to the People's Daily.
Wang added that issues related to Xinjiang, Tibet and Hong Kong are an "internal affair" and reiterated that China has authority over Taiwan's participation in international organizations, the People's Daily said.
Wang then accused the G7 member states of hoarding COVID-19 vaccine supplies and failing to help underdeveloped countries struggling to contain the pandemic.
"We urge relevant countries to face their own problems, rectify their selfish behavior over pandemic responses and stop abusing the concept of national security," Wang added.
Reached for comment on Friday, a White House representative declined to discuss China's response but directed Newsweek to the G7 statement.
"We encourage China, as a major power and economy with advanced technological capability, to participate constructively in the rules-based international system," the statement said. "In line with its obligations under international and national law, we call on China to respect human rights and fundamental freedoms."