Fearing Abandonment, Hong Kong Activists Look to Biden Amid China Crackdown
Trump's unilateralist, chaotic brand of foreign policy had many nations—American allies included—hoping for a Biden victory in this month's election. After years of an unpredictable president, many foreign leaders and diplomats are hoping for a "back to normal" Biden presidency, though plenty of observers have warned that will not possible regardless.
But in Hong Kong, Trump's bullish style and dismissal of diplomatic conventions won the president many fans.
The president was initially disinterested in the pro-democracy movement in the former British territory, now ruled as a purportedly semi-autonomous region of China, even praising Chinese President Xi Jinping's reaction to the unrest.
But Trump eventually came around to supporting the protest movement, approving bipartisan legislation condemning China's incursion on the city's autonomy and sanctioning those believed to be responsible. The issue played nicely into Trump's own campaign to contain China, which American lawmakers, military leaders and analysts increasingly see as Washington's next generational strategic threat.
For all his controversies, Hong Kong's pro-democracy movement saw Trump as a valuable and steadfast ally in their fight against the Chinese Communist Party.
Now faced with a new administration led by President-Elect Joe Biden—a veteran politician and central part of a previous administration accused of being too soft on Beijing—some in Hong Kong fear they will be forgotten.
Nathan Law, a prominent pro-democracy activist who fled Hong Kong fearing persecution under the new national security law there, told Newsweek that Biden's administration will need to lead the global pushback against Chinese authoritarianism.
"Hong Kong people are expecting a really strong U.S. administration," Law said from London, where he now lives, noting Biden will need to marshal the world's democracies against Beijing while being careful not to be drawn in by Chinese promises to cooperate on other issues, like climate change for example.
Biden has put multilateral rhetoric and a commitment to human rights and democracy at the heart of his foreign policy platform. Hong Kongers now want to see action.
While America was counting votes, Beijing took a new step to silence anti-government dissent in Hong Kong. The National People's Congress—the CCP's top legislative body—passed a new law last week allowing for pro-democracy lawmakers in Hong Kong's Legislative Council to be expelled from the body.
Four lawmakers were immediately disqualified and the remainder quickly quit in protest. Within days, Beijing had purged the LegCo of any meaningful pro-democracy opposition. The move was seen as retaliation against the additional Trump administration sanctions applied days before, and a signal from Beijing that it will brook no American meddling in its takeover of Hong Kong, regardless of who sits in the White House.
One of those expelled was Alvin Yeung, the leader of the pro-democracy Civic Party. He told Newsweek there is concern in Hong Kong that Biden will not maintain the tough line Trump has set out for China over Hong Kong.
This fear is "widely shared by a lot of Hong Kongers over the U.S. presidential campaign," Yeung said. "They feared either Joe Biden is too soft on China, or he has something to do with Beijing—on a personal level or on a financial level."
The Trump campaign worked hard to depict Biden as soft on China, and sought to magnify reports accusing his son Hunter of conducting business with Chinese individuals and firms, trading off his family name.
Biden's campaign pushed back, dismissing the accusations and noting that the Trump Organization maintained a bank account in China, from which the company paid nearly $200,000 in taxes to the Chinese government.
"It makes perfect sense that people are extremely concerned," Yeung said, noting that even if the questionable reports around Hunter's business activities are discounted, Biden is still part of the establishment that allowed, and even funded, China's rise.
"Biden is a veteran, he has been in politics for half a century," Yeung said. "So the way he conducts politics is highly predictable. By predictable I mean you can refer to how Obama, or Clinton, or even how Bush dealt, which is engagement or tolerance."
"I can't blame people sharing that sort of concern," Yeung said. As to how Biden can convince skeptical Hong Kongers he is tough on China, Yeung replied: "Do not just show me—prove it."
Trump certainly proved it, though polls show he still received mixed reviews among Hong Kongers.
"I think Hong Kong people do treasure the point that the current U.S. administration understands that China would abuse a lot of international organizations like the United Nations," Law said of Trump's pressure campaign on Beijing.
"The current administration indeed adopted a lot of strategies that caught China off guard, and then effectively managed to send very strong signals and damage China's overseas infiltration, and also propaganda campaign."
This, he said, will hopefully continue under Biden. But Law and others know there will be some change with a Biden administration, though how fundamental remains to be seen. "Of course in the future we will not be able to see as much of a decoupling message as we will have under the Trump administration," Law said.
"The binary division of the authoritarian camp and the democratic camp won't be as strong as we have now for the Trump administration. So this is actually one of the worries of Hong Kong people towards the development of the U.S.'s China strategy."
But Hong Kong, like America, must be wait for the transition. Samuel Chu, the director of the U.S.-based Hong Kong Democracy Council told Newsweek: "We have a system of government where there's only one president at a time. And so it would not be advisable nor would it be legal for a president elect to comment or directly engage in any kind of foreign policy conversation."
"We want the next administration to be ready on day one," Chu added. "But with that said, I think it's good to temper expectations on what's going to happen between now and January 20."
Chu also suggested Hong Kongers remember that it took Trump time to come round to the Hong Kong issue, and that the biggest legislative achievements came through bipartisan work with Congress.
"Don't rely on one politician or one party, because what we have actually been able to get from the U.S. is really from our work as Hong Kongers," he said.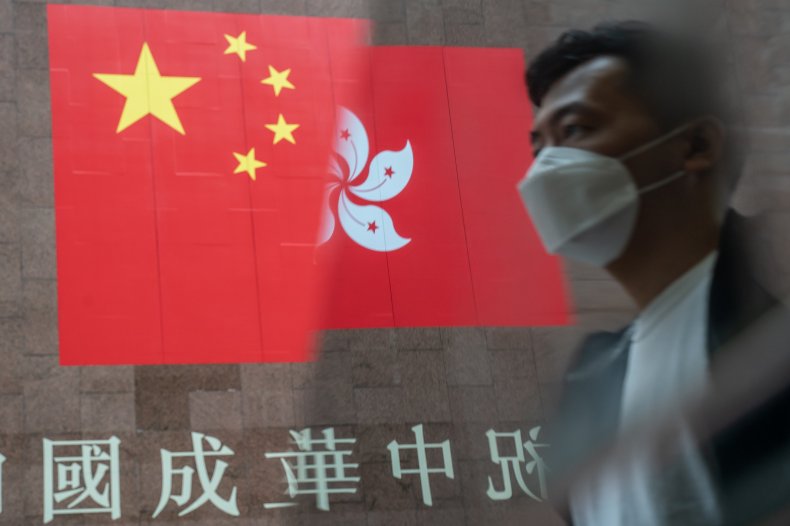 Biden said his administration would be "clear, strong, and consistent in pushing back where we have profound economic, security, and human rights concerns about the actions of China's government." The president-elect also condemned China's "deepening repression in Hong Kong" when Beijing introduced its draconian national security law.
But it remains to be seen how hard a line Biden will take on Hong Kong, which some see as a lost battle. The Biden transition team did not reply to multiple requests for comment on the incoming administration's Hong Kong policy.
Robert Manning, a resident senior fellow at the Atlantic Council, told Newsweek the new president won't have that many clear options to escalate the Hong Kong dispute. "At the end of the day, Hong Kong under the Basic Law is Chinese territory," he said, referring to the constitution the territory adopted on its 1997 handover from British to Chinese control.
"No question Biden will speak out on the horrific travesty and in defense of democracy," Manning said. "That said, short of going to war with China, not sure how the U.S. can change the outcome. Sanctions will make us feel good, but won't impact Beijing's behavior."
"I'm not sure China is capable of shame, so U.S. condemnations—while important as a statement of policy—won't change things. We have a complex relationship with China, and Hong Kong is just one issue."
The Trump administration has turned to sanctions on Chinese and Hong Kong individuals and entities accused of undermining Hong Kong's autonomy. The State Department is also now conducting regular reviews of Hong Kong's autonomy, and rescinded the territory's previous status that gave it preferential trade treatment. But financial sanctions against an economy as powerful as China's does not necessarily mean results.
Peter Quinter, a shareholder at the GrayRobinson law firm in Miami and the chair of its U.S. Customs and International Trade Law Group, said the Trump administration took an "aggressive and provocative approach" to China over Hong Kong, where he said Beijing's takeover is "already completed."
Quinter, who formerly helped enforce sanctions as a counsel for the U.S. Customs and Border Protection's Southeast Regional Headquarters, old Newsweek: "Economic sanctions against Hong Kong residents and companies is not a productive means of reversing this inevitable change."
"Sanctions are always a two-way street," Quinter added. "Whatever sanctions the U.S. may impose will in turn result in sanctions by the Chinese against U.S. persons and companies hastening the 'decoupling' between the two countries, and forcing the countries of the world to choose between China and the United States."
Quinter, Manning and Chu all said the Trump and Biden administrations could hit China by making it easier for Hong Kongers to move to the U.S.
"One thing that would raise costs to China is to open the door to Hong Kong students, entrepreneurs, and tech talent, helping a brain drain and enriching the U.S. economy and innovation," Manning said. " I suspect Biden would be more willing to accept Hong Kong emigrants to the U.S."
Chu said this is one of the HKDC's main goals. "It's hard to describe how much the immigration and refugee asylum program has been decimated in the last four years," he explained. "We are now almost essentially shut down to all people who are not just fleeing from Hong Kong or from China, but anywhere."
A Biden administration, Chu hopes, will "reorient our overall policy for China around human rights versus just trade," which was the driving force under Trump. Chu said his contact with the incoming Biden team is encouraging, and he believes the next administration will be true to their word on Hong Kong.
Regardless, "We're going to be holding their feet to the fire," he told Newsweek.
Meanwhile, the pro-democracy fight in Hong Kong continues. Gone are the days of million-person marches choking downtown, or hundreds of protesters breaking into and ransacking the LegCo building. Pro-democracy activists are still keeping the flame burning, but demonstrators now face long prison sentences if convicted under the national security law.
"People are working quietly on other fronts," Law said. "So, for example, the economic front and in other professions that resist the infiltration of authoritarian power."
"So these are not as obvious as we could see on the streets, like people demonstrating and having conflict with the police," Law said. "But I think in every corner of civic society, there are people working really hard to cut authoritarian infiltration."
America's authoritarian adversaries have mocked the chaotic U.S. elections. This is habitual; part of their effort to smear the very concept of democracy and legitimize their own systems. Trump has played into this messaging by refusing to concede, and by resorting to long-shot litigation and conspiracy theories to dispute the result.
Asked whether Trump's behaviour has damaged the message of the pro-democracy movement, Law replied: "The reason people could raise those conflicts is because they're entitled to speak freely."
"Sometimes it may be troublesome, sometimes it may consume our energy to really sort out what is real and what is not. But at the end of the day, that is something that democracy grants us. And it comes with that cost."