Young Hong Kong activists have spent years pushing back against Chinese encroachment on the semi-autonomous territory, organizing online, running for elected office and when all else fails, taking to the streets despite tear gas, rubber bullets and batons.
Beijing's controversial national security law means Hong Kong's activists now face their most daunting threat yet. Under the new law, any protesters convicted of the broadly-defined crimes of subversion, secession, terrorism or collusion with foreign nations may face life imprisonment.
Many activists have fled Hong Kong, fearing a broad and uncompromising crackdown by security officials. Backed by the national security legislation, the state has a free hand to prosecute and silence those speaking out. This was the final straw for many.
Among them is Nathan Law—a fixture of the pro-democracy scene in recent years. Before the national security law was adopted, Law told Newsweek that he and other activists would stay in Hong Kong, doing all they could to hamper the proposed legislation.
Now living in London, Law has had little time to settle in his new home. His daily schedule is packed with interviews and meetings. The most prominent activist outside Hong Kong and able to speak freely, Law is quickly becoming the international face of the resistance movement.
Law told Newsweek that the passing of the security bill left him no choice but to take his fight abroad, where he intends to drive the West's nascent re-evaluation of ties with the brazenly authoritarian Chinese Communist Party.
Law told Newsweek he left Hong Kong once "we realized how harsh the national security is."
The contents of the bill remained a tightly-guarded secret until it was already in force. When details were released, pro-democracy advocates and observers were appalled at how broad and punitive the legislation was. "If you do what we did last year... then it may endanger you," Law said.
Since touching down in the U.K., Law has swept up into a whirlwind of interviews with international media and meetings with leading politicians, including Secretary of State Mike Pompeo who visited the U.K. earlier this week. But, Law said, he has not been in touch with those activists left behind, explaining, "It's just too dangerous."
The 27-year-old cut his teeth as a student activist supporting the 2013 Hong Kong dock strike, after which he rose to senior positions in student union bodies. He later emerged as a leader of the pro-democracy 2014 Umbrella Movement and Occupy protests that brought one of the world's most dynamic cities to a standstill.
In 2016, he co-founded the pro-democracy Demosisto organization—since shuttered for fear of Chinese prosecution—along with Joshua Wong and Agnes Chow, and the same year was elected to Hong Kong's Legislative Council as its youngest ever member. Law and three other pro-democracy members were quickly expelled from the LegCo after using their oath-taking ceremony to protest Beijing's control of Hong Kong.
Law was imprisoned in 2017 with Wong and Chow for their roles in the 2014 Occupy protests, the conviction barring all three from running for public office again for five years.
The 2019 Hong Kong protests—which was sparked by a proposed pro-China extradition bill but soon morphed into a broad pro-democracy, anti-Beijing movement—thrust Law and his colleagues back into international headlines, though the movement was leaderless by design.
The national security law is designed to smother the movement and its demands. Protesters remain on the streets despite the danger, though have been forced to be more subtle and creative with the placards and chants they use.
Outside Hong Kong, public and political opinion appears to be turning against Beijing. Hong Kong is just one element of China's deteriorating relations with the global community. Territorial disputes, malign trade practices and espionage, continued human rights abuses, and the COVID-19 coronavirus pandemic have all pushed democratic nations—particularly the U.S.—to reconsider their ties with the CCP.
Law believes he can help drive this evolution. "It's important that we have a voice outside Hong Kong," he said. "Politicians are getting more and more aware of Chinese authoritarian expansion and human rights violations in Xinjiang and Hong Kong," he continued.
The U.K. and Hong Kong have a historical connection—the region was ruled as a British colony before being handed back to China in 1997. The Sino-British Joint Declaration that governed the handover was supposed to protect Hong Kong's way of life and market economy until 2047, but the national security law has fatally undermined that accord.
British Prime Minister Boris Johnson last month announced that some 3 million Hong Kongers—those holding British Overseas National Passports, a hangover from the city's colonial status—would be given a pathway to citizenship if they wished to flee Chinese encroachment. Opposition lawmakers backed the plan, showing the cross-party nature of support for Hong Kong.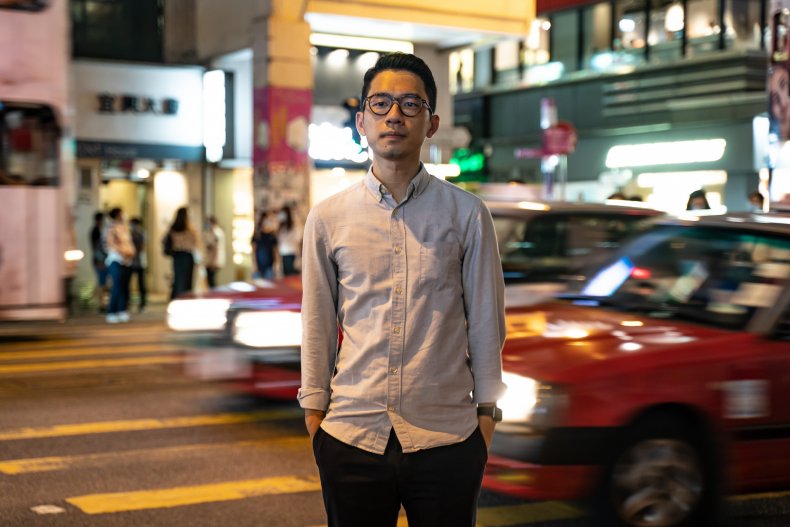 Law said British politicians are now taking a tougher stance against Beijing. "We see it from the way the government responded to the national security law and also the Huawei infrastructure retreat," he said. "I think that that trend will continue."
Britain has a unique link to Hong Kong, and can also serve as a bridge for activists like Law to plead their case in Europe, though the U.K. officially left the European Union earlier this year and remains locked in a tortuous and seemingly futile negotiation process over future trading links with the bloc.
"In the U.K., we are witnessing a structural change in terms of China policy," Law said. "It's important that we recognize China is not willing to liberalize or democratize, but we need to hold them accountable by multilateral and coercive actions."
"In the U.S. we've already seen the change, but in Europe and the U.K. the change is happening. So I think my presence and my arrival could facilitate that change." Law said the world needs a "value bound community that could defend democratic values and our democracy" against Chinese authoritarianism.
"It's more than my personal choice or my personal preference," he said of his relocation to the U.K. "It's a strategic move to bring the narrative into Europe and build an international alliance containing the authoritarian expansion of China."
Law said his long-term plan remains unclear beyond helping build cross-party consensus on Hong Kong. Other activists have also fled abroad and pro-democracy organizations have shifted their work to countries like the U.K., U.S., Taiwan and Australia. Law said that while he is not yet working with such groups, he hopes to in the future.
Meanwhile, he is in no doubt that China is watching him closely. "Of course they're collecting information, no doubt," Law said. "And that would become the so-called evidence whenever they decide to act to prosecute me, even though I'm overseas."
"So that's why there is a logical possibility that I may not be able to go back to Hong Kong in the near future," he added, though said the risk is a necessary one so that he can say "what Hong Kong people cannot say on the ground."
Newsweek has contacted the Chinese embassy in the U.K. to request comment on Law's activities in the U.K. and whether he is in any danger of prosecution.
Those protesters on the ground will have to adapt to survive. "It is important that we understand the restrictions and the boundary it draws," Law said of the national security law, "even though it is really uncertain and the Beijing government can manipulate that."
"But I think also Hong Kong people will try to adapt and find new ways to protest and make it more subtle and creative," he said. "Also, there will be a group of protesters that will still do whatever they want given this difficult situation...We need a lot of different ways to really concentrate or make our protest more efficient."
The ingenuity of the Hong Kong protesters caught the attention of observers worldwide. The leaderless movement coordinated via encrypted messaging apps and established a division of roles and variety of street tactics to keep protesters safe and supplied.
Protesters in the U.S. have adopted some of these during the recent unrest, forming the same makeshift shield walls and umbrella covers that become synonymous with Hong Kong protests.
Law said it is difficult to compare the turmoil in the U.S. to that of Hong Kong. "We've seen a wave of protests around the world and I hope that people can really stand up and fight injustice," he said.
Some Hong Kong protesters have taken to violence to fight the injustice. Peaceful marches were met with tear gas and less lethal munitions, water cannons and batons. Protesters have used makeshift clubs, Molotov cocktails and even bows and arrows in clashes with police. Some police were stabbed and at least one improvised explosive device has been used with more seized.
Law said the impunity with which police abused demonstrators "triggered a lot of protesters to resort to protests in a more aggressive manner." He urged the pro-Beijing government to consider this factor in trying to understand or stop the violence.
Law's relocation would have been a difficult experience at any time, but in the midst of the pandemic has been especially demanding. "It's been quite intimidating to move in this period of time, but I basically had no choice," he said. "London is a welcoming city—there are a lot of familiar things with Hong Kong."
Law maintains he is only an outlet for those who cannot speak out. "It is important for Hong Kong people that we've got room to express our demands and opinions when we cannot say it on the ground," he said. "I'm just saying what people want to say and being the voice of them."