China Military Base in Solomon Islands Ruled Out in Blow to Naval Ambitions
Manasseh Sogavare, the Solomon Islands leader who inked a security agreement with China in April, sought to balance competing interests on Thursday by appealing for trust in his repeated assurances that the deal would not lead to the creation of a Chinese military base in the Pacific.
At the close of the four-day Pacific Islands Forum (PIF) in Suva, Fiji, Sogavare told Western press that concerns about a permanent Chinese military presence in the Solomon Islands had been blown out of proportion.
A number of Pacific neighbors, including fellow PIF members Australia and New Zealand—along with the United States—have expressed unease at Honiara's deal with Beijing, which was among the topics at the annual regional dialogue. Provisions of the security pact allow Chinese naval vessels to make calls at local ports, and for the Solomons to call on China's police and military for assistance, according to documents leaked ahead of the signing.
During violent demonstrations in the Solomons capital in November 2021, the Sogavare government turned to an existing agreement with Canberra to request the deployment of Australian police and defense forces to protect infrastructure. Beijing, meanwhile, supplied riot gear and later sent police advisers to train law enforcement personnel in the Solomons.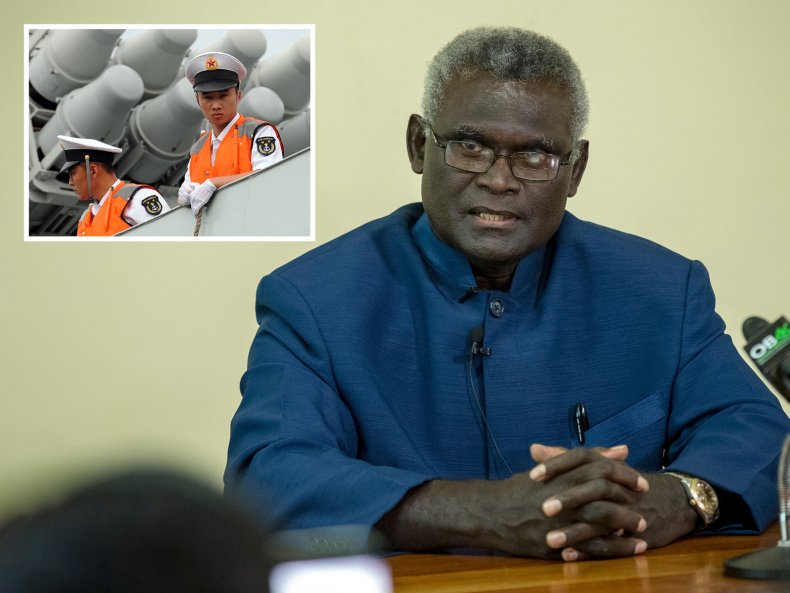 Amid increased scrutiny, Prime Minister Sogavare has cut an at times frustrated figure. Along with Beijing, he has sought to assuage fears about Chinese power projection deep into the Pacific.
"Let me assure you all again, there is no military base, nor any other military facility, or institutions in the agreement. And I think that's a very important point that we continue to reiterate to the family in the region," he said in an interview with The Guardian, Radio New Zealand and Solomons public broadcaster SIBC.
"I have said it before and I will say it again, that is not in someone's interest, nor the interest of the region for any military base, to be established in any Pacific island country, let alone the Solomon Islands," Sogavare said.
"I think the reason is simple; the reason is regionalism, the moment we establish a foreign military base, we immediately become an enemy. And we also put our country and our people as targets for potential military strikes," he said, hinting at a potential future clash between the U.S. and China.
"We will not do anything that will put any member of our Pacific family at risk," the Solomons PM stressed.
What the deal with Beijing can do, he said, is allow Honiara to call on China in the same way it called on Australia during 2021's unrest.
"If there is any gap, we will not allow our country to go down the drain. If there is a gap, we will call on support from China," he said. "But we've made it very clear to the Australians, and many times when we have this conversation with them, that they are a partner of choice…when it comes to security issues in the region, we will call on them first."
Australian Prime Minister Anthony Albanese, who attended his first PIF this week, told Australian breakfast program Today that a personal meeting with Sogavare had left him feeling "very confident" the Solomons wouldn't allow the construction of a Chinese military base in the Pacific island nation.
"The interests of Australia would not be served by having a military base so close to where Australia is," he said.
China has insisted for months that it doesn't intend to establish a forward military presence in the Solomons. However, under the leadership of President Xi Jinping, China has undergone a notable force modernization program that aims to produce a blue-water navy capable of "far seas" operations. China's third aircraft carrier, Fujian, was laid down as part of that process—and more are in the works.
In June, Chinese Foreign Minister Wang Yi went on an eight-day, 10-nation tour of the Pacific that concluded with a number of bilateral economic and security agreements. He also proposed an ambitious cooperation deal for all 10 countries that was eventually rejected, but Beijing has suggested it will try again to get a deal agreed.
Both Washington and Beijing are stepping up their engagement with the Pacific Islands to ensure their respective offers win favor, with the region quickly becoming the latest arena in the wider U.S.-China rivalry.
During a virtual address to the PIF on Wednesday, Vice President Kamala Harris announced plans to establish new U.S. embassies in Tonga and Kiribati, as well as a tripling of funding for the region to $600 million over the next 10 years.
The Biden administration said it would create and publish its first-ever national strategy on the Pacific islands under its Indo-Pacific strategy in another sign of increased attention on the region.