China State Media Blasts U.S. Senators' 'Treacherous' Visit to Taiwan
China's state news outlets continue to decry Sunday's high-profile stopover in Taipei by three serving U.S. senators, with Beijing's official press agency Xinhua calling the whirlwind visit a "political farce" and a "treacherous move" by Washington.
In separate editorials on Monday, Xinhua and Communist Party newspaper China Daily were highly critical of the United States and Taiwan, which they suggested accused of using humanitarian assistance as a pretext to provoke the Chinese government.
Senators Tammy Duckworth (D-IL), Dan Sullivan (R-AK) and Chris Coons (D-DE) landed at Taipei's Songshan Airport in a military transport plane early Sunday and announced the Biden administration's intention to donate 750,000 U.S.-made vaccines to the island, which is only just now going through its first serious coronavirus outbreak since the start of the pandemic.
The trio were met by President Tsai Ing-wen, who expressed her country's gratitude for the timely donation amid Taiwan's own vaccine shortage and rising death toll.
State-run media in China, however, have focused on the senators' mode of transport.
The officials were ferried to and from Taipei in a conspicuous U.S. Air Force C-17 Globemaster III, marking the first time in over four decades that an American military aircraft had touched down on the island for official business.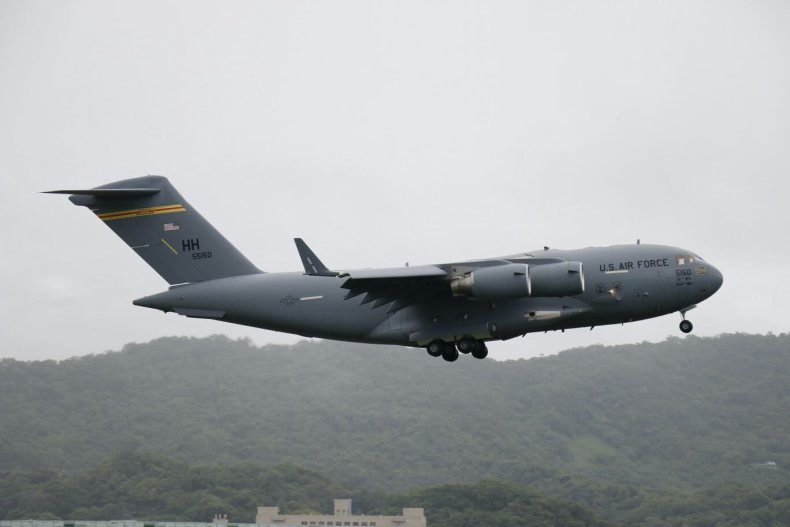 Chinese press agency Xinhua said Washington was "once again challenging Beijing's red line over the Taiwan question." The visit was an attempt to "stage an anti-China political farce and offer some symbolic support for the current Taiwan authorities that are overwhelmed by the raging pandemic situation in the island," the editorial surmised.
"Such a treacherous move of Washington has nothing to do with fighting COVID-19 as it claimed, and will only increase tensions in the region," Xinhua added.
China Daily, which is also circulated in the U.S., accused the Biden administration of "fueling the frictions in cross-straits relations" by sanctioning the brief stop in Taiwan, which the Chinese government claims as a province despite having never had jurisdiction over it.
"The Taiwan authorities and Washington are well aware that the use of a military aircraft would be provocative and cause a stir. But that seems to have been the intention," China's party newspaper wrote.
Prominent news outlets in China have blasted Taipei for refusing vaccine donations from Beijing while accepting similar assistance from the Washington and, just recently, Tokyo.
However, Taiwanese law currently forbids the importation of vaccines from China. There also appears to be an overwhelming public preference for U.S.-developed jabs over China's Sinopharm and Sinovac, despite both having received World Health Organization emergency approval.
Also on Monday, China's foreign ministry spokesperson Wang Wenbin said Beijing "strongly opposes" any interaction between officials from the U.S. and Taiwan. He said China had lodged "solemn representations" with Washington.
The relatively tame statement was the subject of some ridicule on Weibo, China's largest social media platform, where users felt the government was not taking the appropriate measures to back up its rhetoric.
"It looks like [China] has no bottom line," one user wrote under a Global Times post quoting Wang.
"Stop these verbal protests—show me some action," another said.
"No bottom line, yet [he] wants a third term. [He's] going to have a hard time," a third wrote, apparently referring Chinese leader Xi Jinping.
A fourth Weibo user added: "It looks like Taiwan will never be unified."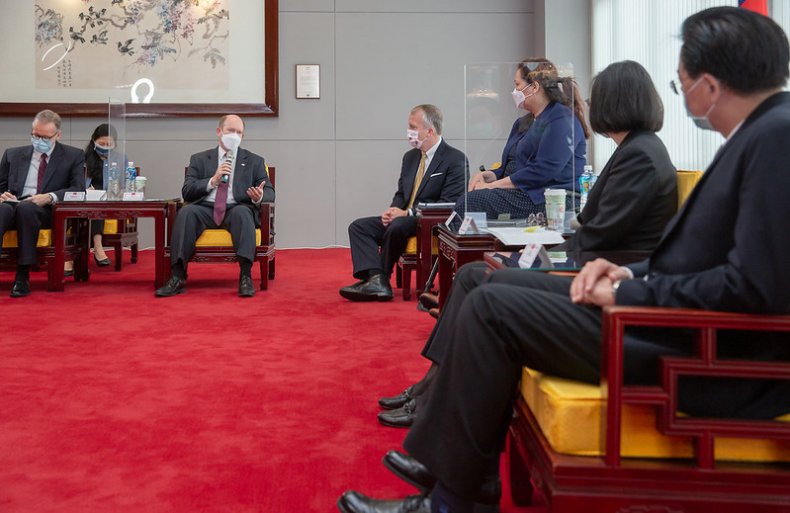 President Joe Biden's decision to donate 750,000 doses of vaccines to Taiwan means the democratic island will receive more than 10 percent of the 7 million jabs allocated for Asia.
They are among 25 million U.S.-made vaccines being distributed to countries around the world, with the Biden administration planning to donate a total of 80 million units.
During her brief stop in Taipei, Senator Duckworth, an Iraq War veteran, said the U.S. recognized Taiwan's "urgent need" for vaccines.
"We will be by your side to make sure the people of Taiwan have what they need to get to the other side of this pandemic and beyond," she told reporters at a press event at the airport.
Republican Sullivan stressed the U.S.' bipartisan and "rock solid" support for Taiwan. He recalled Taipei's mask donations to Washington last year and described the vaccine donations as "love from America."
Coons, who spoke last, added: "There are some countries that question whether the United States will come to the aid of our friends in Taiwan. This is a moment we thought it was urgent and important for us ... to make it clear that we intend to do so."
Taiwan's central health authority has reported 11,694 COVID-19 cases and 308 deaths to date, the majority of which have resulted from a large spike in community transmission since May 15.